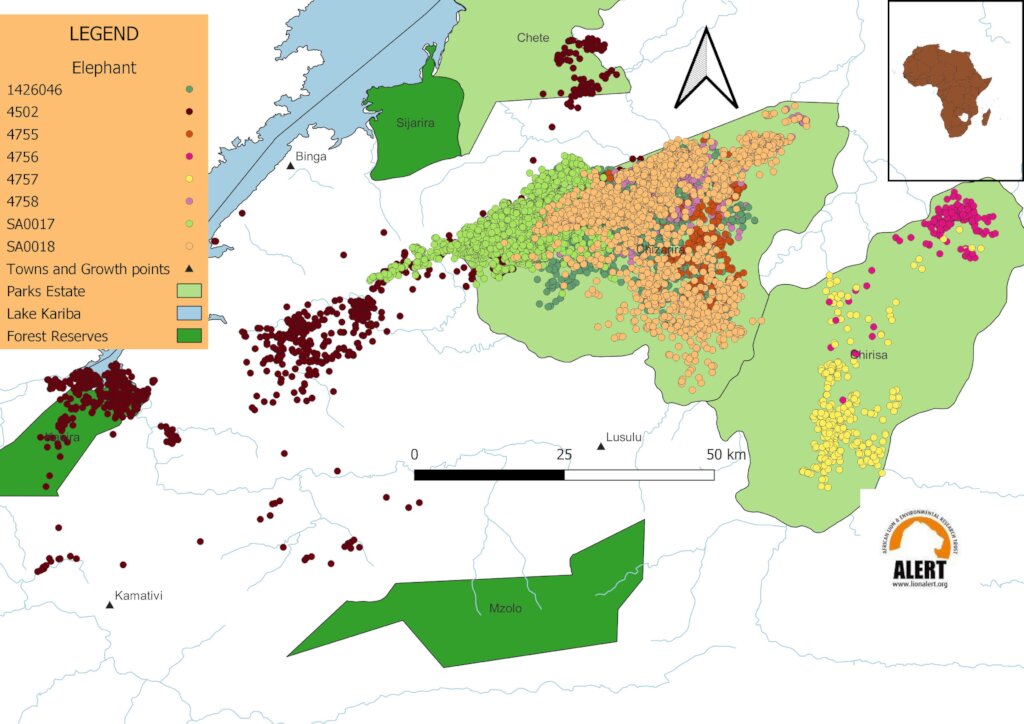 Dear Sponsors and interested friends,
Since we last posted an update on our elephant project, we have been able to collar one more male elephant and now have one collar left to deploy on an elephant.
We work in the 1,910km2 Chizarira National Park which is situated on the escarpment overlooking the Zambezi Valley in northern Zimbabwe, and have now collared 9 elephants (5 male and 4 females) with GPS satellite collars. We are able to regularly track the collared herds both via satellite downloads onto our computers, and on foot so that we can obtain herd demographics.
Our data is shared with the Zimbabwe Parks and Wildlife Management Authority, specifically the Park Manager and Park ecologist, and contributes to the National Elephant movement map. From a wider regional view, the Elephant Project feeds into the greater KAZA objectives for elephant conservation which are: "to facilitate the development of an integrated land-use planning process to secure long-term ecosystem integrity and connectivity of KAZA's elephant population; and to maintain and manage KAZA's elephants as one contiguous population".
On the 21st September this year we were able to dart and collar a big bull elephant in the vicinity of the Kavira Forestry area which lies alongside the western reaches of Lake Kariba. The bush was almost impenetrable but we were able to follow elephant paths until we saw three elephants ghostlike through the dense vegetation. We crept up to within 30 meters and after much manoeuvring we were able to dart a huge bull in the upper left thigh. The elephant moved off and we followed until the bull went gently down on his belly. We quickly fitted the collar all the while keeping him cool by pouring water over his ears where thick veins allow warm blood to be cooled down. We then reversed the anaesthetic drug and within 3 minutes he was up on his feet, and after getting his balance, he moved off and was soon lost in the bush.
We are keen to see where this bull goes as Hwange National Park and Matusadona National Park are equidistant from the collaring site. Identifying corridors between Protected Areas is an important aspect of our research work. Establishing the presence of corridors and lobbying to keep them open and functional will allow for genetic transfer in elephants ad other wildlife species including lions.
The map below will show how much movement there is in the elephant population from Chizarira. Fortunately, there are no fences between the large Protected Areas although between them are subsistence farmers. By opening up corridors we can reduce human-wildlife conflict which will be of benefit to both human and wildlife in the long run.
Thank you for supporting this project.