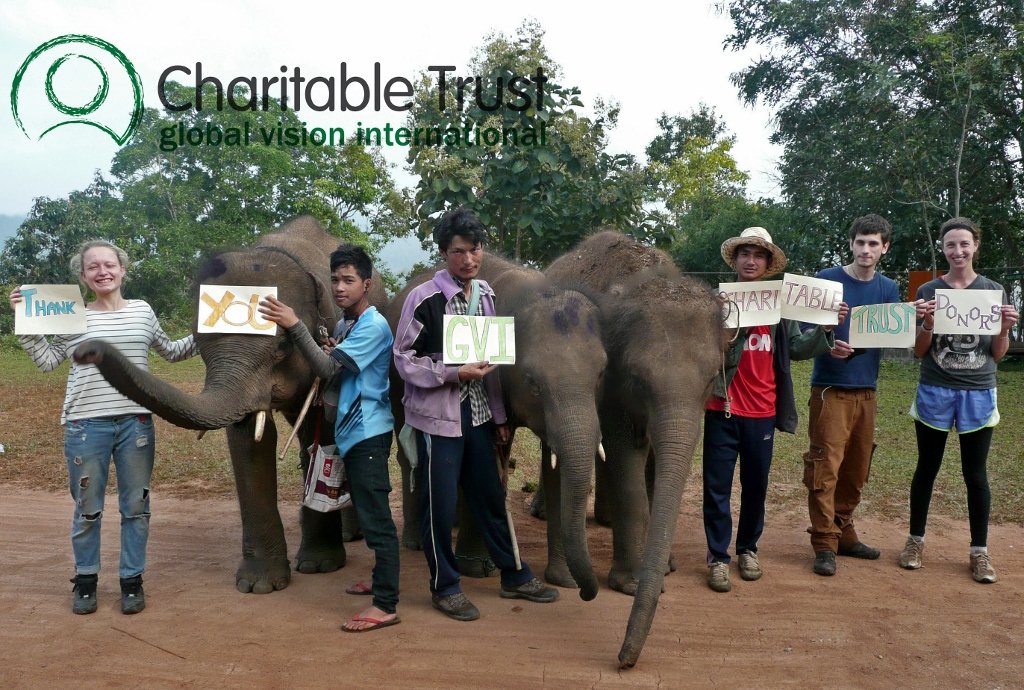 Thank you from the Karen community, Mahouts, GVI Thailand and the GVi Charitable Trust for all your support in 2013!
The year started for us on a sad note; the loss of our young Songkran due to an unfortunate accident with a farmer in the community leaving out pesticide. This then spurred on our initiative for moving forward to put mahouts through ethical elephant training, teach the community about sustainable farmer methods and raise money to build a clinic for elephants in the village in case there's any emergency.
This week, we had a visit from the vets from the conservation centre in Chiang Mai. They had come out to do health checks on our elephants and to look for any signs of illness or wounds. They began their health check with our three calves, Mario, Bpee Mai and Lulu by checking their weight, their height, their ears and their feet. Mario appeared to have some kind of insect living in his ear which they gave him an injection for and they also gave the calves some vitamins and deworming tablets.
Next we moved on into the forest to visit our first adult herd, Thong Dee, Mae San Jep and Mana. As soon as we arrived with Thong Dee, all the mahouts minus Patti Syee ran away from Thong Dee since they are terrified of being near her but Thong Dee seemed calm with the vets around her. Again the weights, feet and ears where checked and all seemed healthy with this herd. They were given some de-wormers, which Thong Dee and Mae San Jep ate off the ground and which Mana was given with pumpkin.
Next we moved onto our final herd, Kha Moon and Khum Suk. The health check on Kha moon went smoothly and she had no problems and ate her de-worming tablets no problem. Once the vets went to check Khum Suk, she started to get agitated and we had to give her a lot of elephant grass in order for her to keep still long enough for the vets to carry out their health check. Once the health check was completed, we found that all was healthy with this herd too.
Once the vets were done, they noticed an injury with one of our mahouts – Jordoh had stepped on a nail earlier on in the day whilst in the forest and was limping. The vets tended to his foot by flushing it with hydrogen peroxide several times and bandaging it up. Once they were finished, they vets had completed their job and where back on their way to Chiang Mai leaving us feeling more confident with the elephants health.
Thank you again and if you are looking to support a project this Christmas or New Year, please consider the Songkran fund
All the best
GVI Thailand
Links: