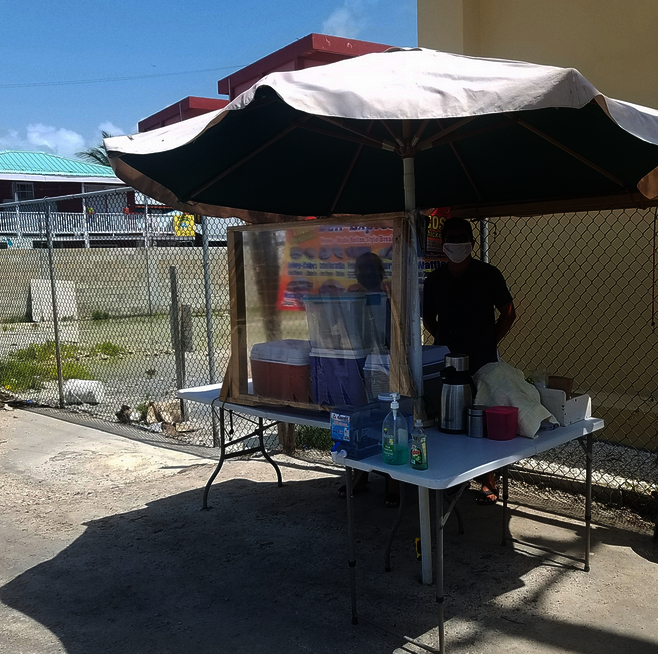 Dear Friends,
Unfortunately, but not surprisingly, the changes, stresses and realities of our world in pandemic have had a major impact on Holy Cross Anglican School and the community it serves in the San Mateo area on Ambergris Caye, Belize. While the number of COVID infections in Belize has remained relatively low, the Belizean government's strict lockdown measures have had a deep impact on daily life and work--and pockets of COVID continue to flare from time to time. Conservatively, 50% of the population has suffered a reduction and/or loss of work during this time, resulting in a large increase in both food, housing, and medical insecurities.
As of the middle of August, most known cases in Belize were among people under 40 and the majority of symptoms were mild to moderate. However, the Belize medical system has only little ability to cope with seriously ill patients: there are only 12 ventilators nationwide, three were in use, 1 patient died, and doctors were beginning to become infected.
As a result, the Holy Cross Education Foundation has been active in helping disburse funds for use in increasing the availability of food and water on the island where the school is located.
Furthermore, the most recent lockdowns --- extending through much of the month of September -- have further postponed the installation of the new Zero-Grid-Feed units mentioned in our last report.
These zero-grid feed units are well worth the investment --- including the following three crucial benefits: (1) Calculations based on data available from the monitoring systems (figures shown in previous reports) indicate savings of an additional 10% off of the base (no PV solar at all) bill of about $11,000 per year; (2) because the unfair overproduction penalty will be eliminated, the current efficiency limitation resulting from that penaly will also be alleviated. This will allow our PV systems to scale up; (3) most importantly, the overall savings will substantially contribute to the ability of the school to become fully self-reliant in what we hope will be a 3-5 year time frame.
That said, our faculty and staff at the school are doing an incredible job in attempting to resume the fall K-8 semester and curriculum and we are very proud of them and indeed all that share in our mission to support and enable a high-quality education for all our students, including our generous donors.
Thus, any and all amounts that you can provide at this time will continue to help the school and its many students to have a brighter future.
Thanks again for all you continue to do to help support the ability to provide an education for 500 students that --- otherwise --- would not have a place to attend school.
Warm regards, John