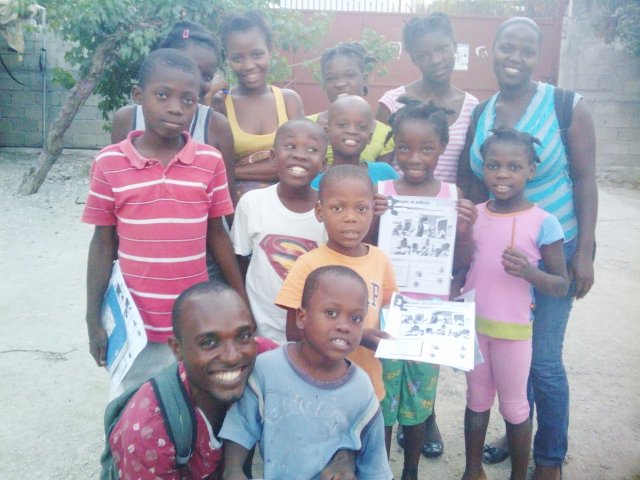 We can't believe it's already the week before Christmas. If you haven't finished your shopping yet, there's still plenty of time to give a gift that will change the life of a disaster survivor in Haiti. Because of you, we've already been able to build classrooms, support community groups, and through education give survivors the tools they need to build themselves a brighter future.
Our involvement in Haiti continues to grow, and your donations support projects like our "English for Orphans" programme. The programme was proposed by the teachers of the English in Mind Institute. They wanted to give something back, so they've asked us to support their efforts teaching English for free in orphanages. While they don't get paid for their time, they can't afford the books and school supplies they need for this work.
Because of your generosity, we've been able to provide those supplies, and today the kids are learning English, gaining confidence and growing into tomorrow's leaders. Your support allows these inspiring teachers to help the most vulnerable members of their own communities. Thank you so much.
This holiday season, you can support survivors in Haiti while finding the perfect last minute gift. When you make a donation on behalf of a loved one to support community based disaster recovery in Haiti, they'll receive a lovely card. You can even select an ecard which will be ready almost instantly.
GlobalGiving gift cards are great, meaningful last minute gifts. You can send your card by visiting the project page and selecting the "Gift or in-Honour of" icon below the orange "Donate" button.
If you're ready to do a little more, why not set up a recurring gift and make 2013 a year of giving? Your recurring donation will be matched by an anonymous donor, doubling your impact and making a huge difference. You can set up a recurring donation by clicking on "Monthly Recurring" under the orange donate button.
Thanks so much, and Happy Holidays!