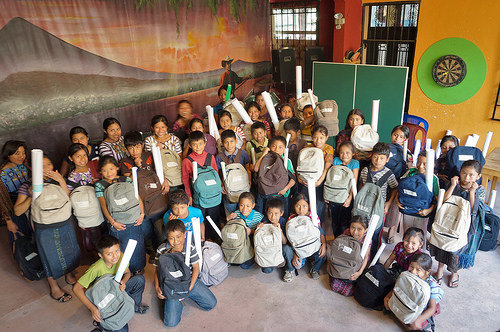 Over the past two months our Primary Education Scholarships project staff has worked tirelessly to equip this year's selection of scholarship students with the first wave of school supplies, personal support, and medical vouchers that will allow them to stay in school until graduation in October.
"It's hard to articulate how valuable this support is for families," says Johanny Quiejú, our Project Manager. "Imagine that a father goes to cut coffee for a day and earns 15 quetzals, which is all the income that a family will receive, but school supplies cost 150 quetzals for each child. What do you do if you have three children?"
It's a vexing question, and one that parents in Santiago struggle to answer on a daily basis. To mitigate financial pressure on these families, all 108 of our sponsored students this year are benefitting from a three-pronged support system.
First, they receive periodic deliveries of notebooks, pencils, markers, pens, pencil sharpeners, paper, folders, binders, crayons, and othermaterials required by the school. Teachers are actively involved in the deliveries to ensure that they meet the students' needs as effectively as possible.
Each student also receives an identification card that guarantees free access to medical care at a local health clinic, including the costs of appointments for dental checkups and medications.
Finally, as the year progresses, our staff conducts home visits to all students at risk of dropping out or failing a grade, providing these students and their families with the encouragement that they need to get back on the right track and finish the school year as proud graduates.
With your support, we're positive that we can translate our resources into a generation of educated, literature children in communities across Guatemala. Thanks so much for all you do, and we hope you'll continue to take part in our work.