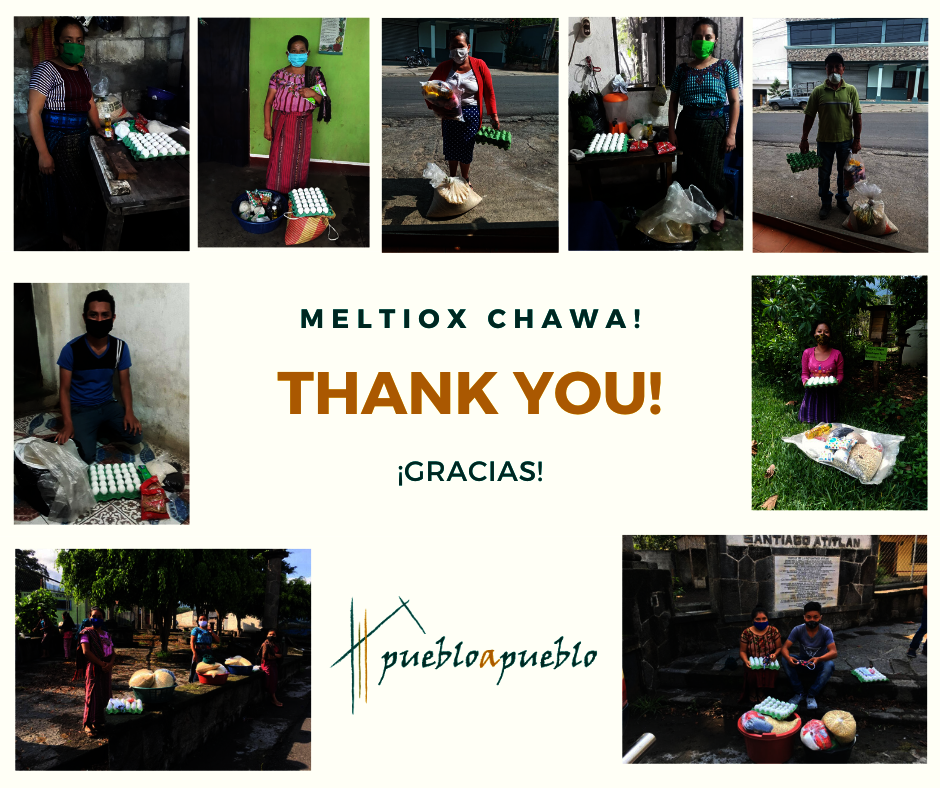 As the world adjusts to the changes the COVID 19 pandemic has brought, each place adapts according to its own realities. The first cases in Guatemala appeared in mid March, the national government quickly established measures like closing schools, prohibiting public bus transportation, shutting the borders, limiting businesses and shops, establishing a curfew. To ensure the safety and well being of Pueblo a Pueblo staff and the people we serve, we postponed all face-to-face meetings and trainings and started working remotely.
All these measures have helped reduce the spread of cases, but have had great impact in daily life and economy. This has had a dramatic impact on the communities we serve, leading to widespread food insecurity as most people live day-to-day, are in the informal economy, and rely directly and indirectly on tourism.
Since the schools shifted to remote classes, the school buildings have remain closed, but classes are still on-going so we continue to support the students that are receiving sponsorships. We have also been in touch with school principals and teachers to keep in touch and be aware of the current challenges as well as the upcoming needs. We have conducted trainings online, and done short videos to raise awareness on topics that are important in the communities we work in.
Pueblo a Pueblo analyzed what the short and long term impacts to the communities we work with and we determined the most immediate are increased food insecurity, and loss of family incomes. These will cause even more impact long term on education, health and malnutrition. To reduce immediate food insecurity we set up donation drives, with help of some matching grants, to collect funds to distribute food baskets to prioritized families we serve.
In the medium and long term we've started adapting our projects to the changing needs of the communities we work with so that our actions lead to more positive impact. As we continue to adapt, we will provide food baskets to people in the communities we serve.
Links: