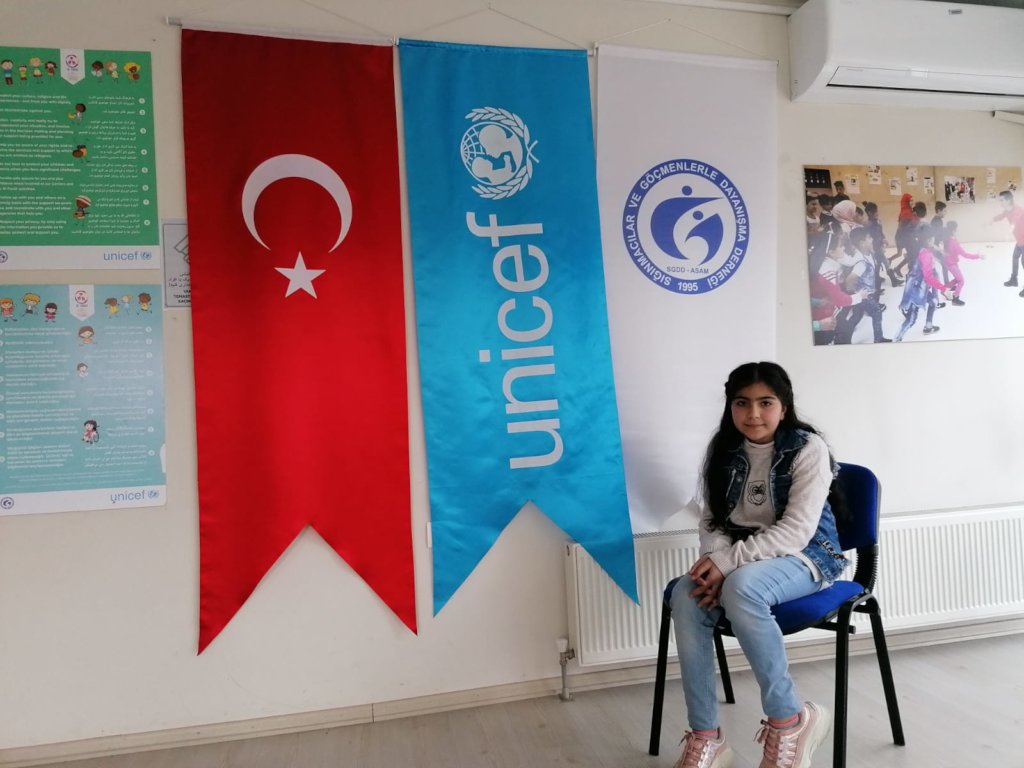 (Good People of Good Country)
Her name is Meryem, was born in 2011 when the Syrian Civil War erupted. While Meryem, now a fifth-year refugee student, has started a new life in Turkey, the Syrian Civil War at the 10th year of anniversary. One of the thousands of beneficiaries of the Association for Solidarity with Asylum Seekers and Migrants (ASAM) Ankara Al Farah Children and Family Support Center and its close collaboration with UNICEF, is Maryam whose biggest dream is to be a teacher and to drive a car.
The story of Maryam has begun in Damascus. Her mother and father continuously moved from one place to another to ensure her daughter Maryam's safety. One year after Maryam, her sibling Rabee was born. The mother Afraa Baker, stated that at that time we spent difficult times, both us and our children scared of bombings. "We do not remember how to raise our children, we are not able to understand what we went through. It was enough for us if we just fed our children, says Mother Afraa.
After Maryam and her family struggled to survive in Damascus for a few years, they migrated to Lebanon but they still suffered from difficulties, and then, the family moved from Lebanon to Turkey. Her mother expressed her emotions in a way that although we were not speaking the same language with our neighbors at the first time of their arrival, we empathize and communicate well with each other. The mother Afraa stated that "God brought us, good people of the good country".
After 1.5 years, she came to Turkey, she has started going to school near her house. While her mother states that they did not face any difficulties in school enrollment, Maryam learned Turkish at school. Her teachers supported Maryam in this regard. I have also started language courses initiated for women, my daughter and I helped and supported each other, Maryam speaks Turkish with me at home, and she has even helped me and her father speak Turkish Mother Afraa says.
Maryam's mother is a homemaker and her father is a day laborer. Mother Afraa, I hope that the future of children would be better than ours, what the most important thing is that their attendance to school and reach a good position in their lives, their efforts should not go to waste. Maryam said that her most favorite courses are mathematics and English and added that mathematic is simple. Saying that she loves her school, "when I have started school, most of my friends were Syrians, then I have also made lots of Turkish friends". Saying that she gets along well with her friends, "I love my teacher, and that's why I want to become a teacher in the future." She speaks that "when I will be a teacher, I teach children many things." Her biggest dream is to drive a car, says Maryam.
Center Manager of the Ankara Al Farah Children and Family Support Center, Emine Engür, states that since 2016, we have been working to provide a safe place and to enhance their mental, emotional, and psycho-motor development for refugee children and their families. Engür, our support center provides school-aged children access to the right to education and all necessary professional support by specialists to ensure that the dynamics of school children and family function properly and minimizes the problems occurred in the school registration period. At Al Farah Support Center, we provide Maryam and her family access to education and access to health services and livelihoods at the same time, he addresses. We have been often conducting workshops and training to empower social cohesion. Our goal with the works that we have done is to ensure that the children affected by the Syrian War which began 10 years ago, do not become a lost generation, he states.