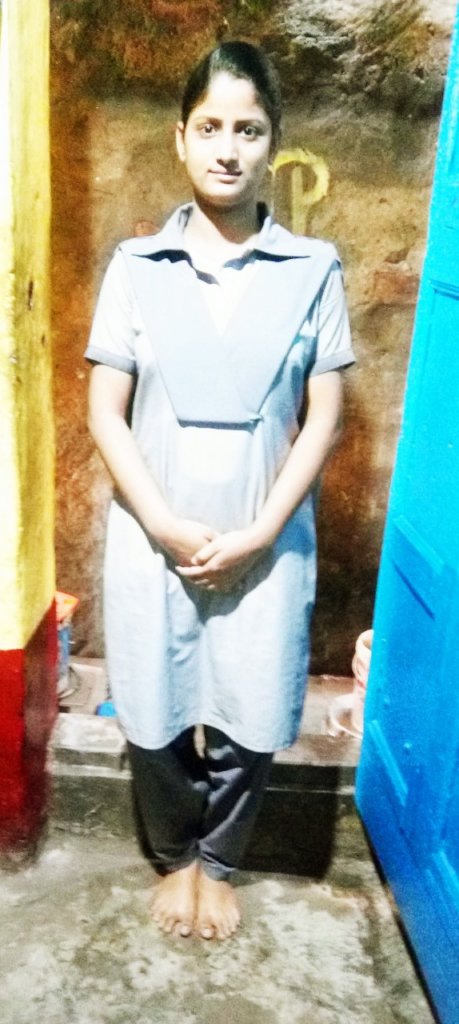 You'll read below reports from Kolkata about two of our students who are on the brink of completing their school education and who want to continue their studies. This is a huge challenge for them and their very poor families. Financial pressure drives youngsters to give up on education and start work. Both Papiya and Gopal have disabled fathers and mothers who have been forced to become maidservants in order to make ends meet. This is a distressingly common scenario. Illiterate men take on labouring jobs which eventually leave them crippled, and their illiterate wives end up as domestic helpers for tiny and unreliable salaries. Papia and Gopal desperately need your help so that they can support their families and avoid the fate of their parents.
PAPIYA is 18 and lives resides in a single room with her family. Her father works as a labourer but as he is handicapped he is not paid proper wages. Her mother works as a maidservant, very exploitative low paid work. She has one brother who dropped out of studies after completing his year 10 examinations. He now works as a labourer for an entrepreneur who rents out sound boxes and mike.
Papiya will be sitting her Class XII examinations next year but desperately needs educational support to continue with her studies. This is a vulnerable moment for her: many girls complete school and then end up married off without continuing to higher education. With a degree she will truly be able to lift herself and her family out of poverty.
GOPAL is also 18. His father is disabled and cannot work properly. His mother works as a maid servant. He has two brothers and one sister.
Gopal is studying in class XII and will be appearing for examinations. His brother and sisters are all studying this puts a lot of financial pressure on the family finances . Gopal works in a catering company to augment family income. The money he earns is spent on his education .If he receives any support this will go a long way towards mitigating financial pressure .He is very keen to continue with his studies and is also very ambitious.
The families in these two case studies are truly in need, as you'll read. But despite this they are determined that the children will stay in education. This project provides the necessary support to ensure children from Kindergarten upwards are encouraged to stay in education. Every day we run after school classes in our Community Centres where the children come for remedial help with schoolwork. They have computer classes, singing lessons, homework support, sport, drama, nutritious snacks, occasional excursions and health care. The parents are engaged too: they are almost all illiterate themselves but they understand the importance of education and are encouraged to see the big picture and not to marry their daughters off early or withdraw their sons from school to send them to work.
Just £11 a month keeps a child like Papiya or Gopal in education.