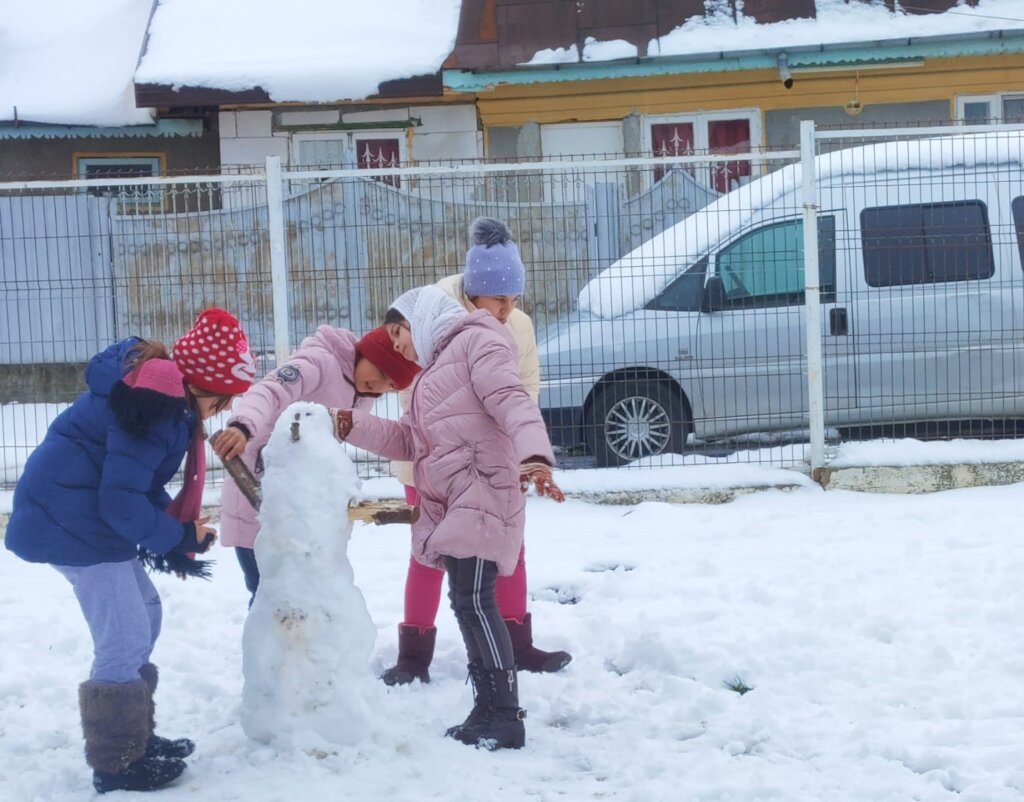 Dear friends,

for our periodic project report we share the experience of Giulia and Sophia who have returned to Panciu after more than two years.

Giulia and Sophia are two former volunteers who made several months in Panciu of European Voluntary Service through ERASMUS+ within the project called "Activ8 Competences", in 2019.

"It has always been our wish to return some day to meet the kids and the staff again. Due to the Pandemic and the uncertainties of the last years, we had to postpone the travel a lot.
But this spring, the wish finally came true. On a mild Thursday night in the end of March, we met each other again at Otopeni airport in Bucharest. The travel continued with a long time of waiting, we don't know why. But finally, the bus departed to Panciu. We arrived in the middle of night and fortunately the heaters were turned on, because it was freezing cold.
As we walked up to the gates of the Centre Pinocchio where we had spent countless hours volunteering in the past, we felt a mixture of nerves and excitement. It had been some time since we had last been there, and we wondered if we would be remembered by the staff and children.
The next morning, we were very excited to meet everybody again. Entering the building, the familiar smells and sounds of the Centre greeted us, and it felt like coming home.
Walking towards the kitchen we could already recognize the voices of Mihaela and Larisa. It felt exactly like three years ago, as if time had never passed on. The Reunion was beautiful, even thought after all this time, we forgot a lot of the Romanian that we used to know. Anyway, the conversation worked with Romanian, Italian, English, the google translator or the hands.
Shortly after, we were also introduced to the new staff members Oana and Mihai. From the first moment on, they included us and treated us with kindness and warmth. Some members of the staff, that used to work in the centre in our times are not there anymore, but we had the pleasure to meet them during the week. The reunion was just as emotional. These were the people who had become our second family during our time of volunteering. Together, we had shared so many incredible moments and had formed unbreakable bonds that time and distance could never sever.
One of the former staff members invited us for an evening during the week to have dinner at her house. She prepared local specialities like gogosi and zacusca for us. We had a beautiful evening full of remembering old memories and getting on track about what happened in each others lives during these years.
And what about the kids in the centre?
As they started to arrive at the centre, we were thrilled to see the children who we had formed bonds with over the time. They remembered us, and their faces lit up with joy as they called out our names. It was a heartwarming feeling, and we knew that returning to the place where we had volunteered was the right decision. At the beginning it was difficult with the language barrier again, because we were not used to speak Romanian to them anymore, we had become rusty. But they made it very easy to adapt with their open hearts and patience for us. After all, they are still kids who just want to play and have fun, no matter the language. As the days went on, we found ourselves slipping back into the routine of playing, singing, and learning with the children.
They still love to play football, they still enjoy to make bracelets for each other, but they still don't like to do their homework.
It was incredible to see how much they had grown and how much they had accomplished since we had last been there. Some kids had grown so much, we remember the times when it was easy to lift them up and now, they have almost reached our height (it's not that difficult because we are both small). Others learned now how to read and to write. Some left the city and are no longer coming to the centre. Speaking to the children, they also started to tell us with excitement about what happened in their families. There are new siblings, someone got married and somebody has a new crush. There was a lot to catching up to do.
Returning to the place of volunteering it was a reminder of the impact that volunteering can have on both the volunteer and the community they serve. Giving back brings joy to both ourselves and those we serve.
As we said our goodbyes and made our way to the airport, our hearts felt full. Full of love, joy, and gratitude for the experiences and memories of this week that will stay with us forever. We realised again how special and important the work is that they do there. And for that, we are very grateful.
We want to thank the staff of the Centre that they have made this reunion possible for us.
Sophia and Giulia. Panciu, 06.04.2023