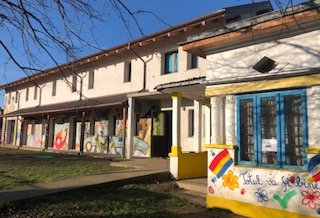 The year 2021 has started in the best way in the Center Pinocchio! Lights on, doors open, the smell of freshly baked cake populated by faces and stories from many different countries: France, Germany, Spain, Italy, Portugal and Vietnam! In the office, the new coordinator and social worker, Mihai, is committed to promoting and supporting the activities of the center in the best possible way, to create a network on the territory, to strengthen relations with the families of the beneficiaries. In the kitchen every day Mihaela prepares hot and always different meals with her mother's hands, to feed the children who have just come out of school and the volunteers who are waiting for them to spend the afternoon together. After lunch, divided into groups, our volunteers together with Oana give support in carrying out the tasks and propose non-formal education activities to develop the creative potential of all the children present. Given the gaps accumulated during this year of pandemic for children who were unable to follow school consistently, it was decided to build a "special" program to recover the basics necessary for attendance and understanding of the lessons, made up of games and engaging activities to train the basics of writing, reading and math, cultivating the motivation to learn.
One of the volunteers present through the European Solidarity Corps program, Elena, decided to tell us about her experience of these first months of service, made up of surprises, great challenges, learning and new friends!
Buna ziua!
My name is Elena, I am from Berlin and four months ago I went to Romania to do a social voluntary project with children in Panciu, a small city in the eastern part of the country. Many people have been asking me "Why Romania?" and I always thought to myself "Why not?". The world is big and I want to see as much of it as possible! And it is true - ever since I left my country, I got to know a whole other world that I never could have imagined before. Being part of a project in an unknown context really made me get the feeling than I am more than a tourist and I want to share with you here what i mean!
The Center Pinocchio is a daily Center for children, most of them are part of the Roma community. After school, they come here and we have lunch together and help them with their homework. After this, we do creative activities or games outside, at one point we also did a treasure haunt through Panciu. For this, we hid small notes in different places, starting at the supermarket, and then proceeding at the pharmacy and the local Cafe – and in the end they recieved a price. So you see – we are trying to be creative!
On the one hand, we sure want them to have fun and be happy, but on the other hand, we also try to support their education. Many of them lack essential bases, like reading, writing and calculating with bigger numbers. But not because they are stupid or simply don't want to learn but because their school system does not provide enough help for them. Besides this, their family sitautions are often complicated, dealing with violence or alcohol problems – shortly: they often lack the needed support.
This is why we started with a special afternoon program where we seek to expand their bases. We try to keep everything non-formal in order for them to have fun and stay motivated. Even if this is not always easy - with the right methods we have already done a lot - and with the time I have become really creative! Once for example we did a game where they had to write letters using their butts or a big maths game where we hid the results for the different tasks all over in the room – so it stays exciting!
It is clear that the childrens' life will not change just because of an afternoon program done by volunteers but it is essential to ensure the basis in order to be able to do the fist step to break the circle. With some children that I have been doing plus and minus tasks regularly during the last weeks, I could already notice some progress and seeing the children so happy and proud was unbelievable and one of the most beautiful things I have experienced here so far.
For what concerns the language I have made the experience that there is no better way of learning than learning with children! As almost none of them speak english we have no other choice than doing everything in Romanian and by doing this, the progress comes very quickly. The most popular sentences are: "Nu vreau" (I don't want to), "Nu mai vorbesc cu tine" (I don't talk to you any more") but also "Te iubesc" (I love you).
Of course, it is not always easy. Many things I imagined differently and sometimes I really feel the need to express myself better than I am able to. But I am so happy to be part of this project and I can feel myself growing from day to day. The love and affection you can give to the children and the amount of love they give back to you is incredible and provides you with the needed motivation - I will stay blessed!
I will go on hiding maths results and I am happy about new ideas for non-formal ways of leraning and teaching, so feel free to hit me up!
Until then, o zi frumoasa and la revedere! Have a nice day and see you soon!