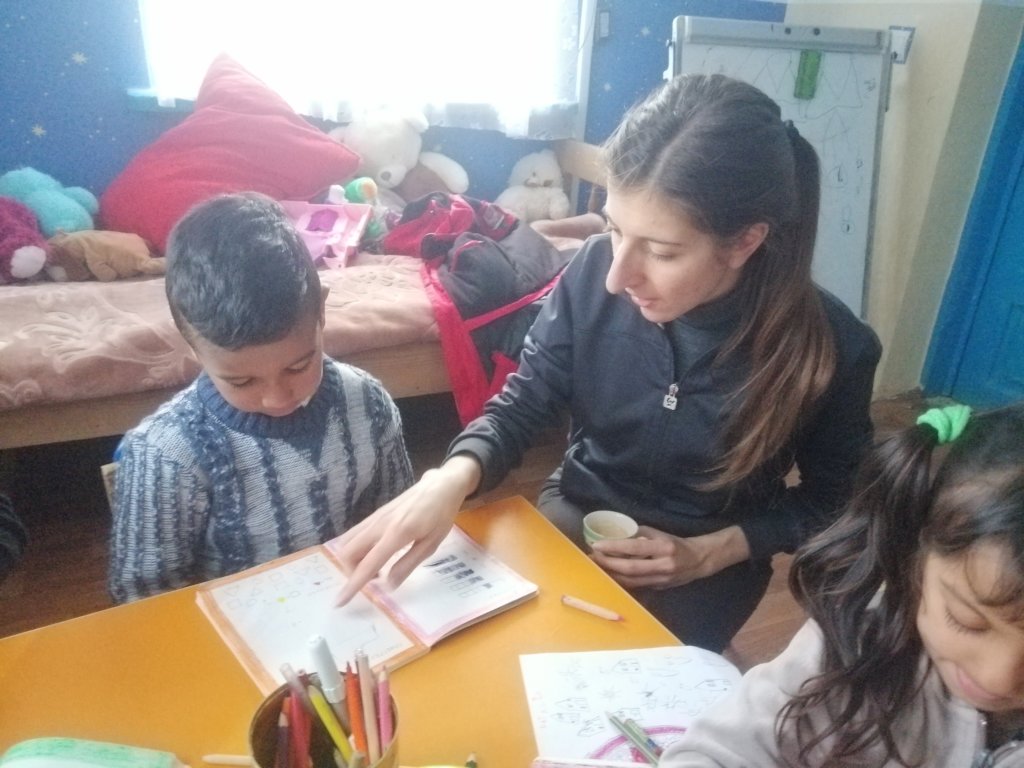 Dear friends,
September has come, a September of a very difficult year for everybody and everywhere.
In Panciu, life is trying to go on as always, even if the new context born out of the recent COVID-19 pandemic has further aggravated inequalities and economic problems. The number of vulnerable families is increasing and the fear for the future is constantly growing.
School is going to re-open after many months. Since 9th March 2020 - since the state of emergency was imposed - the school and the daily centre Pinocchio have been closed due to governmental provisions to limit contagion and teaching has turned into distance learning. As a consequence, children with huge scholastic difficulties found themselves completely deprived of their right to learn, because in the majority of their homes no computer, no tablet and neither any internet connection is available. Furthermore, most of their families are illiterate and, thus, cannot follow the rhythms of distance learning or provide support for homework.
The role the Centre Pinocchio is called to carry out is thus even more important in this particular context. The Centre is still closed and we are re-organizing spaces, resources and daily programmes in order to guarantee safe and healthy conditions for the staff and the children. Re-opening means also to respect a series of special measures (hygienic-sanitary devices, limited number of accesses, the reorganization of work and personnel, etc.) aimed at limiting the danger of contagion. These provisions lead to an increase in costs for the Centre Pinocchio, which, combined with an extremely difficult economic situation, cause serious concerns.
The Centre, now more than ever, needs the help of friends and donors in order to be again a point of reference for disadvantaged children, to offer them socio-educational support and to guarantee a daily meal for the poorest ones.
Here below, we want to share with you all the words of the Centre Pinocchio's educator.
"When, some years ago, we thought about changing the name of the association from "Rom pentru Rom" ("Roma people for Roma people") into "Lumea Lui Pinocchio" ("Pinocchio's world"), we did not imagine that the change itself will be something positive and it will achieve results in short time. Now I only can imagine that every child is a Pinocchio. Their life has changed since the moment when they stepped from the center gates. As I am working here for 15 years, I met many generations of children, of volunteers, and of colleagues. Each of them had left something behind, and you can find their mark in every corner of the Centre Pinocchio. Between us and the children, the exchange was reciprocal teaching. I learned that we should be happy about every simple thing which life had given us, about every smile those wonderful children had shown. Speaking about changes and results, there is much to say and maybe words can not show reality. I am not able to make you understand how much it matters for this center to continue working and how important is this reality for children of Panciu. At the Centre they are children, here they live their childhood, here they receive love and affection which they do not find home, here they can smile.
Center Pinocchio is "home" for these children. Imagine that when this project started, only 6-7 children were going to school. Now all children who are attending the center are also enrolled in school, that is 54 children. Their attendance to school is a good result. Thanks to after-school programs, scholastic drop-out decreased, school results increased and the rejection rate has decreased. Relations with the institutions are much closer than in the past. School respects now what we are doing; they realized that thanks to the Centre these children are cleaner and healthier,also thanks to to the canteen program that provides food necessary for good growth of their age. They are more respectful and they have improved school conduct. I realize how much this center is important for these disadvantaged children and families, just thinking about their individual stories...Just to give you some examples:
-M., a child abandoned at 2 months by his mother, left under the care of his grandparents, lived in a single room with many more family members. It was difficult to register him to school, and when he came to the center he was very dirty and neglected. Now he goes to school, but without his grandparents encouraging him, which makes his frequency not very good, but it is a good start. At the center he receives hot water, soup, a toothbrush, warm food, help with the homework, educational activities, and most importantly warmth and affection. It is not easy, he grew up and vices are easy to be taken. He started smoking, he started to skip school, we were with him with advice and rebuke. Here there would be need for a special help such as a counselor or a psychologist, which the center lacks. It is important that M. is healthy, happy when he comes to the center, where he does the homework, eats healthy and plays football with the volunteers. He likes playing football a lot like other boys from the center.
Another boy who likes playing football is F. He come from a very poor and disaggregated family. His father had never agreed to let him goes to school, but he went in spite of this. He is now grown up, continues going to school and enjoys coming to the center. He is a kind and intelligent child. I like to underline that his older sister Dorina has never been to school and she learned to write and read with us, with Pinocchio. Now she is attending "second chance" program for children who exceeded the school age and can no longer be register at the normal school program.
Another child about whom we can speak is N., a girl who is now no longer a girl, she has grown up. She is at fifth grade which is a good result as she continues to go to school in spite of the fact that she came from a big family with big financial problems. Her courage exceeds the difficult situation, and makes her go forward with her grandmother and sister M. who is at first grade this year. She really needs a lot of support with her homework but she's ambitious.
There are many other children, each one of them with a complex story and with little daily achievements. I hope these words make you realize how much it matters that this center continues working and how much we appreciate your support. It would be extraordinary to keep in touch and to be able to offer those wonderful children a chance of serene life, our support, and the education that a child needs to grow up and become a beautiful adult.
The Centre Pinocchio thanks you for all your supports and hopes that you will keep standing by our side, even in this particularly difficult moment!"