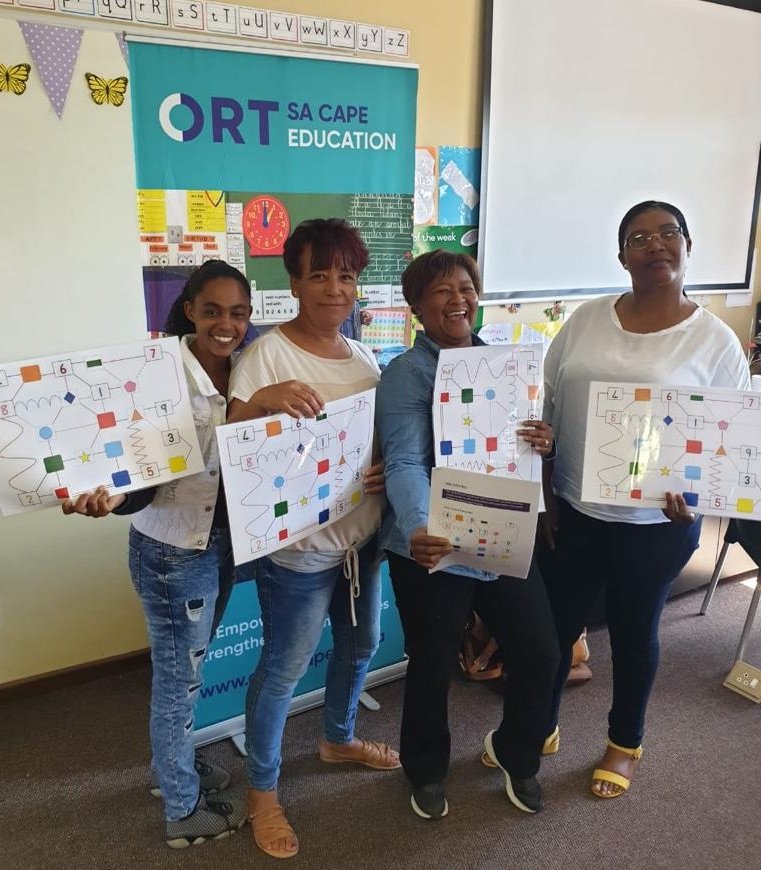 Thank you very much for supporting ORT SA CAPE's programmes in South Africa, through CHW's page on GlobalGiving! You are helping to improve the education of children from disadvantaged communities around Cape Town.
CHW's supporters have contributed towards science and robotics workshops for children and also to teacher training sessions run by ORT SA CAPE. The teacher training sessions will benefit a lot of children, as the teachers can implement the new techniques they learn with their current class, and can continue to do this throughout their career, with each new class of children they work with. ORT SA CAPE also arranges follow-up sessions, visiting the teachers in their classrooms and observing lessons.
In 2017 and 2018, ORT SA CAPE ran the first phase of a teacher training programme in Saldanha Bay, near Cape Town. The course was for Early Childhood Development (ECD) practitioners and offered training in the use of LEGO Six Bricks and Play Box as teaching aids in classes of 3 to 6-year-old children. The training was a success and the second phase of the programme is being run from April to July this year. Support visits to the teachers are planned to take place in the second half of the year. The current workshops are focussing on perceptual skills, using LEGO. In total, over 350 teachers will attend these sessions.
Bev from ORT SA CAPE gave more information about the Perceptual Skills training sessions:
---
"The importance of perceptual skills can never be emphasised enough, as all learning is based on the ability to perceive the world around you. A child's cognitive progress depends on the ability to use their senses to understand and navigate the world around them. Perceptual skills are the basis upon which all other skills are acquired.
The Perceptual Skills teacher training course focuses on this important aspect of development as a critical part of building a solid educational foundation in the ECD learner.
Through our extensive work, ORT SA CAPE has found that teachers do not have the much-needed knowledge to ensure the development of perceptual skills through focused, purposeful and tailor- made activities. Therefore, the aim of this workshop was to ensure that perceptual skills are understood and are planned into daily activities by the teachers.
At previous workshops presented by ORT SA CAPE, teachers of the ECD centres throughout the West Coast have been trained in using the LEGO Six Bricks and Play Box as educational tools. This recent workshop however was more advanced and made an in-depth study of developing perceptual skills in the Grade R [Reception] age group.
This workshop was enhanced by the unpacking of scenarios by the teachers. These scenarios each describe a learner struggling with a certain learning area, for example, to identify differences/similarities. Teachers had to recognise the specific perceptual skill that was lacking and then design activities that might help develop this specific skill."
---
Karen from ORT SA CAPE told us the reactions of some of the teachers who attended a session:
"Shamila is a novice teacher. At 20 years old, this is her first year in the classroom. She works in a school in Saldanha Bay and has thirty 4- 5 year old children in her class. She loved the training and said 'I've learnt a lot today about things I didn't know, it really helped me to understand the importance of teaching perceptual skills.' She thanked the facilitators for sharing their knowledge and cannot wait for the next training.
Another teacher, who has had 17 years experience, said "even after teaching for many many years, I learnt so much.' "

A massive thank you to CHW's supporters who contribute to this project during GlobalGiving's challenges, and throughout the year. You are helping to improve the education received by many children around the Western Cape. Your kindness and generosity is greatly appreciated.