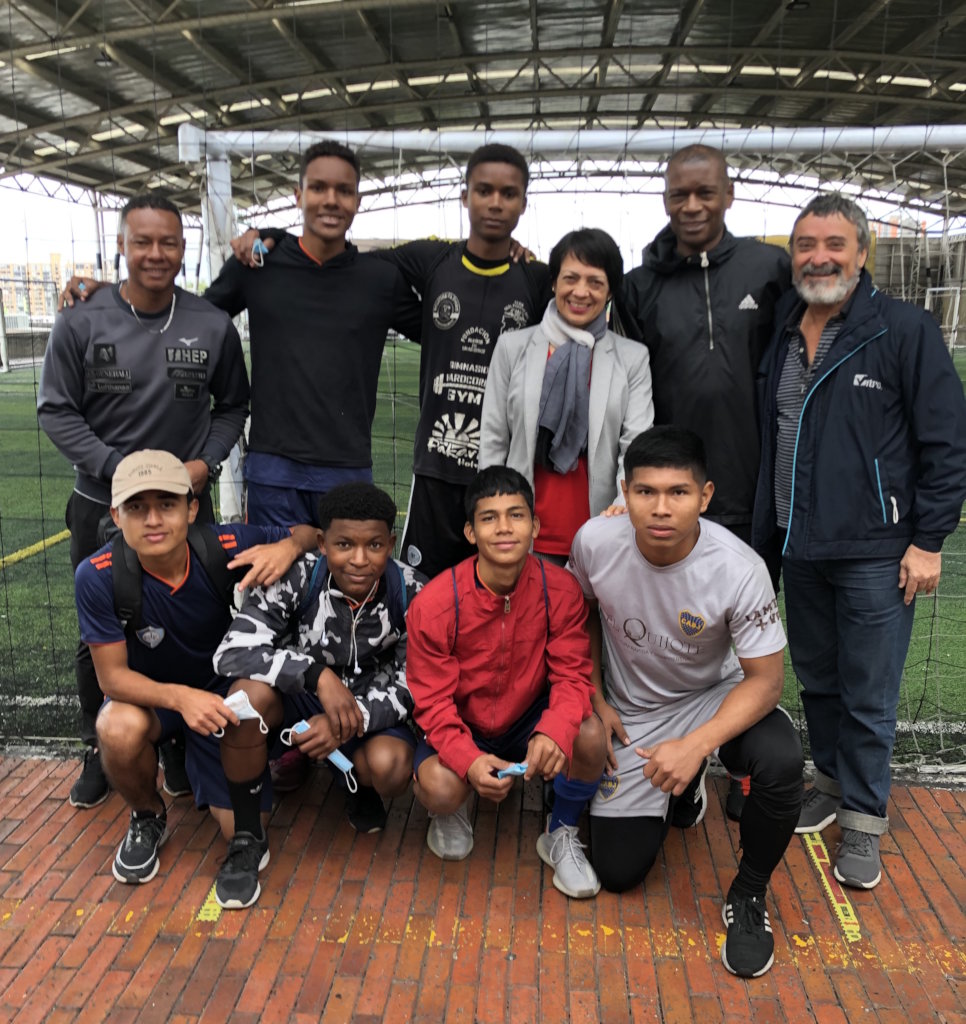 The VITAL program that we have been developing since 2009 in Cartagena, focuses on children and young people from vulnerable populations in order to help them overcome mental poverty and provide them with opportunities that allow them to fulfill their life project, taking advantage of the powerful tools of love, education and sport through our soccer club FC VITAL.
In February 2019 we started the VITAL program in Putumayo, a department in the south of Colombia, where the population has suffered greatly due to the violence generated by armed groups and drug trafficking.
In November 2019 we took 10 young people from FC VITAL to Bogotá in order to visit some professional soccer schools, looking for scholarships for the boys who had more sporting potential and better academic performance and thank God we succeeded, 3 of them were awarded scholarships in a professional school and 2 of them in another, where we already had a scholarship for a boy from the VITAL program in Cartagena, in total there were already 6 young people envisioning their goal of being professional soccer players. Thank God we had the support of the Betsalem Foundation and several sponsors to be able to place the 6 boys in Bogota, with good quality food and lodging. We also made an agreement with the private school George Williams to give them scholarships in virtual mode, the boys were very grateful for being able to receive sports training by professional clubs and to receive a very high level education compared to the poor education offered by private schools in their hometowns.
Unfortunately in March 2020 the quarantine caused by the pandemic started in Colombia, so the soccer schools had to stop training and the VITAL kids sadly had to return home, with a lot of uncertainty about achieving their dreams.
In January 2021 we took advantage of the opening to start trainings for small groups following biosafety standards.
In May 2021 we were fortunate to achieve membership in GlobalGiving and thanks to the donations we received through the campaign, we had the opportunity to bring Bonner Mosquera - former player of the Colombian national soccer team and former player of the sports club Millonarios - to Putumayo to meet our FC VITAL players, in order to ask him for scholarships for those he saw with more potential. Bonner has a soccer school and a "home" for the players in Bogota, shares with us the vision of forming the boys as good people, instilling moral values and also has a big heart, which is why he has given scholarships to 6 boys from FC VITAL.
Thanks to the support of our sponsors, Bonner Mosquera and the George Williams School in Bogota, these boys are changing their lives and are taking advantage of these opportunities with the hope that they will achieve big dreams, such as helping their families, changing the economic situation of their homes and becoming professionals, not only in sports, but also studying a university career.
If these young people did not have these incentives, what would await them is the coca business, the danger of recruitment by armed groups and drug traffickers and other social scourges that attack children and young people in this region of Colombia on a daily basis, for which we sincerely thank all the sponsors who join our cause and fight with us to offer a better future to hundreds of children and young people in this area of Colombia that needs it so much.
In the last 3 months, in spite of the national strike and the floods caused by the overflowing of the river, we have assisted 250 children and young people with educational and sports programs. We continue with faith and confidence that more children will have opportunities, achieve their dreams and be agents of change.
A heartfelt thank you to GlobalGiving for giving us the opportunity to be a member and to all our sponsors:
Adriana Monsalve
Albert Steffes
Alejandro Reyes
Alejandra Reyes
Alfredo Horacio Correa
Ali Duerr
Andrea Vélez
Anouk Van Opstal
Arturo Muñoz y Celeste Freulon
Bettina Maurer
Blanca Ligia Higuera
Camila Pazos
Camilo Rios
Cármen Verdejo
Claudia Inés Correa
Consuelo Báez
Cristina Prieto
Daniel Lombana
David Giles
Esteban Duque
Felipe Vergara
Francisco Gaviria
Fredys Castro
Gabriel Duque
Ines Higuera
International Materials Foundation
Jhon Rocha y Carito Espinosa
Joaquín Grillo
José manuel Reyes
José Perez
Juan Carlos Rengifo
Juan David Hoyos
Ledys García
Lili Mesa y Mauricio Muñoz
Lina Lombana
Luz María Jaramillo
Marcel Van Opstal
Marcela Correa Higuera
Marcela Muñoz y Andy Sonnen
María Isabel Miranda
María Paula Miranda
María Perez
Mariana Muñoz Báez
Mauricio González
Michael Beck
Natalia Vergara
Germán Díaz y Nelly Higuera
Nicolás Vergara
Norvy Barreiro
Orlando Martínez
Pablo Toro
Paola Torres
PartnerRe NorthAmerica
Peter Reyes
Pilar Prieto
Pilar Venegas
Ricardo Mojica
Ricardo Muñoz de Lara
Santiago Duque
Shirley Salcedo