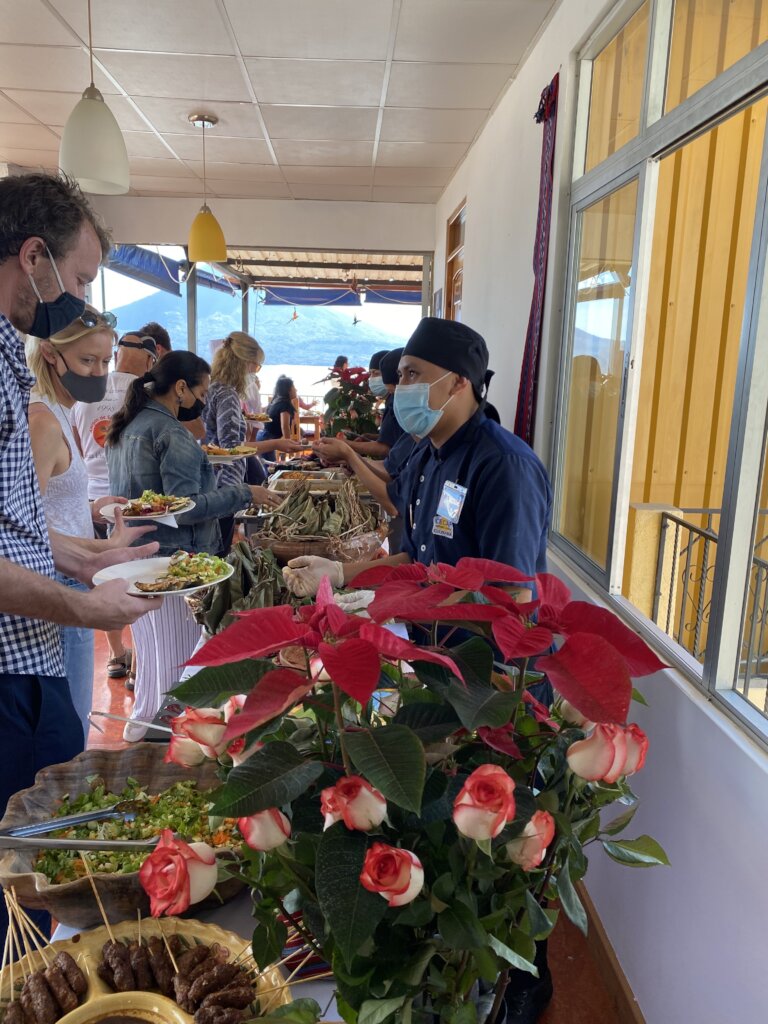 December was a month of Graduation for all the students to whom we gave scholarships to study crochet, cooking (one year long), embroidery, painting and music.
The Students of Cooking clases created a lunch at the school (Cecap) with all the food they learned to make and we could all go and try. More than 100 people attended. Then a few weeks later was Graduation day with the support of Cecap and Amigos de Santa Cruz an NGO in the nearby village that has the school.
It was a very emotional day as the students were proud of their achievements and happy to start to look for better jobs. Now that they have the certifications they can apply and qualify for jobs that are better payed and expand their knowledge with more practice.
The beginning of the year was a lot of planning for 2022 and make all the things that we could not do before become possible. This implies a lot of administrative work in researching better prices to make drums and order them. Board meeting to define how big and how much money to spent on the Playground and search for different options. Find new volunteers to do clases this year. A new guitar and piano teacher started giving clases once a week. Children don´t have the opportunity to learn to plan an instrument other than at the Community Center in Tzununá as schools don´t provide this.
Jewelry making started again. This is an afternoon every week and it is amazing to see how with the same supplies children express their creativity in different ways. The goal is to develop the patience, finish the project that they decided to do and don´t do it for them. We are present to help but promote that girls and boys do their own project.
This goes along some other educational projects that happen at the Community Center aimed at empowering and teaching about do it your self. In school too many hours are spent copying books. So we try to make a difference. Children have lots of fun creating jewelry and feel really happy with the results!
Another part of January was spent doing publicity for the scholarships for 2022 and opening inscriptions. We observed that part of the lessons learned from 2021 is spent more time in giving talks about the advantages of keep studies. As many young people choose to work in non qualified jobs instead of applying for the scholarships and open new opportunities. We hope that this will result in more inscriptions and empowering people to get qualifications that will allow them to have jobs better payed and sustain their families!