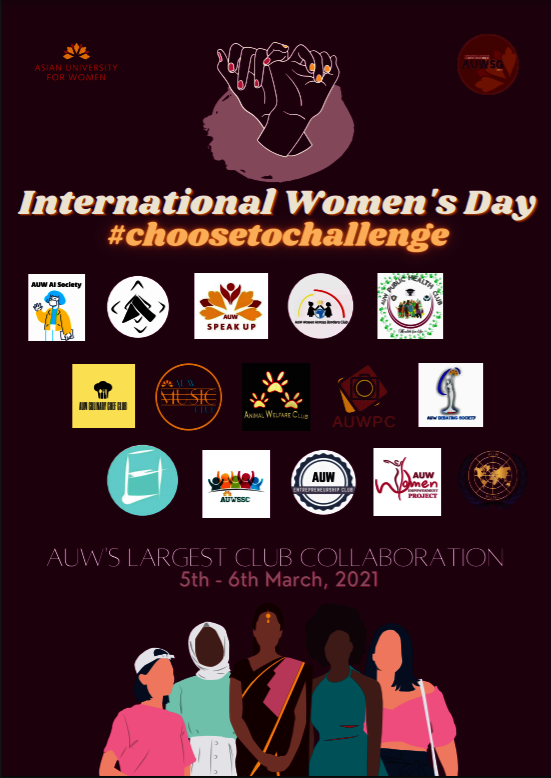 This year, the AUW Student Government collaborated with fifteen AUW student organizations to organize the largest student-led event in AUW history for International Women's Day. Inspired by the United Nations' International Women's Day 2021 theme, #Choose to Challenge, each club carried out unique events that touched upon the different ways women have fought against gender bias and inequality, and celebrated women's achievements. The ambitious event took place over a span of two days, and featured various guest speakers from the AUW community.
The events covered important issues, such as combatting women health challenges and taboos, establishing female leadership in STEM fields, and encouraging female entrepreneurship. One event organized by the AUW Public Health Club featured AUW alumnae, Aditi (World Health Organization), and Sabina, who opened the event by speaking of the menstrual taboo in Nepal and Bangladesh. While these topics may be common in close circles, students recognized that these health issues are still regarded as taboo, putting women at risk. Similarly, the AUW Debate Society discussed several historical, legal and medical issues women face through a brief policy debate, demonstrating their strong public speaking skills.
Celebrating the Challengers was the largest collaborative segment organized by five AUW clubs: Women Empowerment Club (WEPC), Women Across Borders Club (WABC), Social Service Club (SSC), Speak Up Club, and the AUW Music Club. The aim of this event was to celebrate the accomplishments of women leaders in the AUW community. AUW alumnae Karima (Human Rights Commission of Pakistan), Neealana, Dipasa (Women Lead Nepal), and Sarala (UNPRPD) shared their accomplishments, as well as the barriers they faced as female professionals paving their own paths. Reflecting on the event, students said, "…this event allowed us to celebrate not only strong women but also our strong AUW sisterhood that continues to empower and support us".