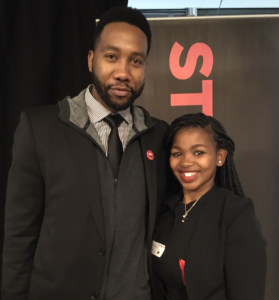 Happy New Year! I hope you have enjoyed getting to know two mothers2mothers (m2m) adolescent Peer Mentors, Amanda and Lumgile, who were featured in our last two project updates. m2m recently produced a video about our adolescent programme and as a thank you for your support, we would like to share it with you!
The video provides more background about the adolescent programme in KwaZulu-Natal, the epicentre of the HIV/AIDS epidemic in South Africa, and features Sanelisiwe, a former m2m client and current adolescent Peer Mentor. Sanelisiwe is 22 years old, HIV positive, and a mother of three young children.
Referring to education about sexual health and HIV, Sanelisiwe says, "in the Zulu culture, it's just so wrong to talk to your parents about such things. And the only way to fight against that is to engage with the youth..." m2m's adolescent programme does exactly that by providing adolescent girls and young women (AGYW) with someone to talk to that is closer to their age. Peer Mentors empower AGYW with information they can use to protect themselves. They teach AGYW that if they have become sexually active, they should use protection so that they won't be faced with an early pregnancy or be infected with HIV. Peer Mentors also teach AGYW to know their worth as a woman and not let other people define it for them.
Sanelisiwe is very busy as a mother of three, Peer Mentor, and global advocate for HIV and adolescent health. On the eve of World AIDS Day last month, Sanelisiwe spoke on a panel at the STOPAIDS Conference in London. Her fellow panelist, Ndaba Mandela, the grandson of Nelson Mandela, had also travelled from South Africa to advocate for adolescent sexual health.
Sanelisiwe says, "my dream is to ensure that every single young woman out there achieves their dream." Your support of m2m's adolescent programme is helping her dream is coming true.
Warmly,
Gwendolyn Burke