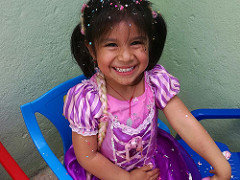 Centro Infantil Bellota (The Acorn Childcare Center), in Quetzaltenango, Guatemala has served 20 children this spring. We have continued to provide our children with a rich early learning experience, breakfast, lunch and 2 snacks daily and provide a supportive and loving environment for children and their families. Every month, we also hold a conference for parents so that families can incorporate what their children are learning at school in their home lives.
Monthly/Weekly Learning Theme
Every week, we have a different learning theme to deepen and enrich the children's learning about the world around them. This past week, the children were able to get to know and taste a wide variety of fruit and vegetables. They each asked when learning about a new fruit – "Are we going to try it today?" They were excited to taste and share them, and to tell their friends about the fruit or vegetables that they have at home. They had a lot of fun preparing a fruit salad. Each child contributed by bringing a particular fruit with them that day. They each told their friends what fruit they had brought, and they all tasted it. Then they worked together to prepare the fruit and combine it into a fruit salad that they all shared, enjoying the results of their combined efforts.
They each gave a short presentation about a fruit and vegetable using some materials that they prepared at home with their parents. This activity really helps to develop the children's confidence speaking in front of the group, and helps them to express themselves well.
Celebrations
Wednesday 25 March, we had our Summer Celebration. It was a wonderful activity with warm water in the sunshine. The children were able to play with balls and splash in the water, which they really love. As an additional celebration, we set up a projector inside the Centre showed the movie, "Penguins of Madagascar" on a big screen. Going to a cinema is too expensive for their families and they really enjoyed having a movie shown in the Center as a special treat.
Profile of a New Student
Eliza started with us on 17 March. She was abandoned by her mother, who struggles with drug addiction and works as a prostitute. Her mother is thought to be in Mexico now. The woman who cared for her for 9 months after her mother left her then brought her to the government's court system because she could no longer provide for her. The Court placed her with a foster family - the Mérida González family – who have welcomed her into their family so that she does not have to go to an orphanage in Peten. She is loved and cared for in her new home. She took a little while to adjust to coming to the Centre, but soon began to play with the toys. She still always seeks the help and support of the teachers or other adults in whatever activity she is doing and likes a lot of comfort and affection. She likes adults to help feed her at meal times. During the two months that she has been at the Centre so far, she has begun to play with friends though she still struggles to share toys. Her favorite time is snack time because she loves the fruit that she is given. She also enjoys art activities – painting, coloring, cutting and sticking, and using play dough.
We are very grateful for all of the support of our donors. You have made it possible for our children to learn and grow in a loving and nurturing environment. Thank you so much!