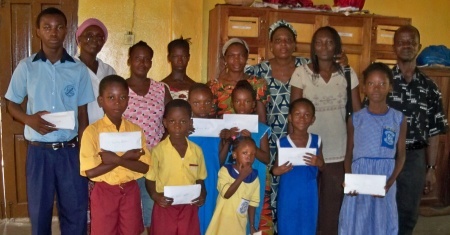 Warm greetings
Activity Update: So far this year we have together provided scholarships to an additional 10 students. See - photo of some of the children and their parents – taken at the award ceremony in Freetown. The new shipment of books and school supplies has arrived in Freetown. In the next update, we will provide additional information and share photos etc.
Please take a moment to watch the brief "thank you" video – linked below that made my day. With passion and fluency, in this special video message, Thomasia one of the scholarship beneficiaries extends thanks and gratitude on behalf of the other beneficiaries to you our GlobalGiving donors.
On one hand, it's disheartening to be reminded (in this video) that even today, there are a lot of children out of school. Fortunately, on the other hand, it's heart-warming to be reminded that together we are shaping the lives of these children and making a difference. As Thomasia states towards the end of the video – "Your sponsorship has made it possible for our parents to send and keep us in school. We are grateful for your support. We thank you GlobalGiving, Develop Africa and other donors for giving us hope and a future".
These words from Thomasia made my day! The realization that my involvement is "giving hope" and "helping to provide a future" warmed by heart. Thomasia's words will remain with me and continue to encourage me to do so much more.
I hope her words made your day brighter too. I hope your heart is warmed too as you listen to the video and read this update. It's truly amazing how together we can help ensure that children are able to complete their education. I trust also that you would be inspired to do more – however you can. Remember every bit counts.
Without your support all this would not have been possible. Develop Africa is truly grateful for your past and on-going support. Thanks again for your support. Your feedback and suggestions on what we can do additional to expand our impact are so very welcome.
We wish to invite you to help spread the word about the joint impact we are making. Please invite / encourage your friends, family members, co-workers etc. to get involved. You can email this link to them or post this on Facebook etc. Together we can do even more and make this world a better place…
Cordially
Sylvester
Links: