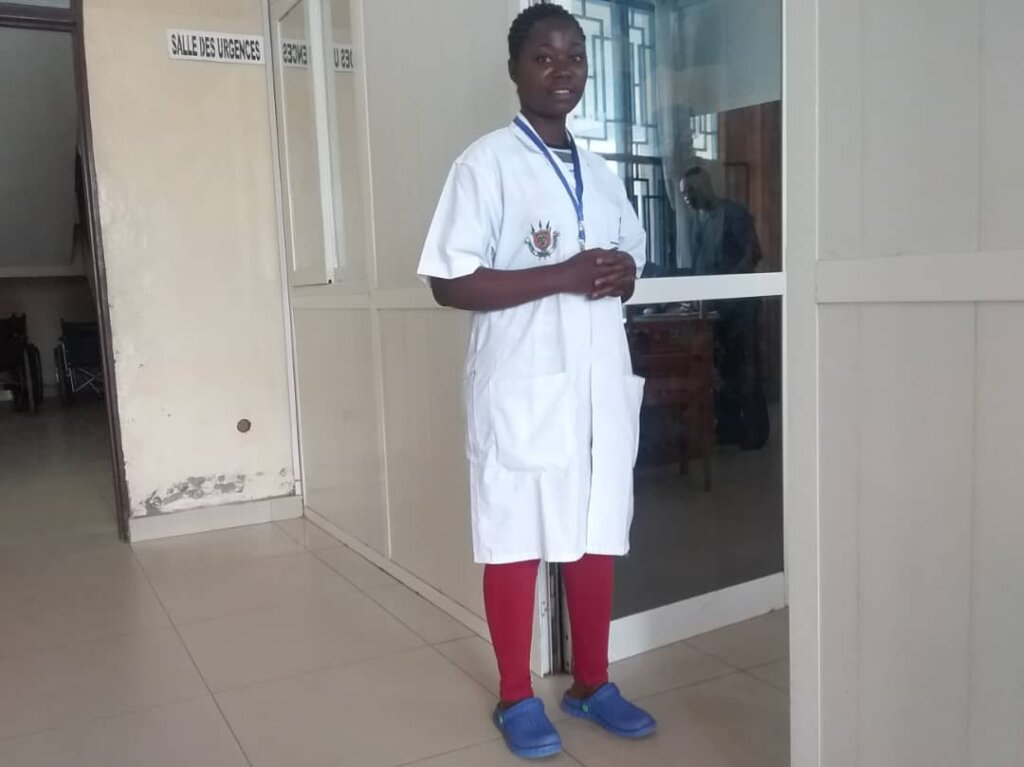 [This is the final report for this project, which has provided funds for Claudine to study to become a nurse. New donations will be accepted only through Giving Tuesday, Nov. 30. Please visit our sister project, here on GlobalGiving, that provides activities strengthening the economic development of Claudine's home village, Rwenena. For more information, see the end of this report.*]
As this project comes to a close, it is only fitting that Claudine gets the last word. The following passages are excerpts transcribed and translated from her audio reflections of last week.
"Hello my [donor] family. How are you doing? I am well. This is Claudine in Africa. I greet you in the name of Jesus Christ.
[Growing up in Rwenena] "When I was in Rwenena, my mother and I suffered for a long time. Living there are many children - orphans like me (with one or more parents dead) – and many widows. Often, my mother lacked the means to pay my school fees. In fourth grade, through Mama Annette, you began to pay school fees and continued to do so until now. I am here only because of you. I don't know where I would be today without you.
[Why nursing?] "When I was young, I fell ill frequently, and medicine was a mystery to me. I am pleased that now, thanks to my studies, I can understand illnesses and administer treatments.
"Rural health centers lack qualified nurses and are run mostly by public health officers. When I become a nurse, I will go to [village communities] to help my people. My goal is to help people and above all, to help my village. We need nurses there.
[Thanks to the recurring donations of 3 generous families, Claudine attended secondary school in the town of Uvira.] "When I was in secondary school, without notifying me, the family with whom I lived fled the country during one of my school breaks to visit my mother. I was abandoned. I said to myself, "I can't end my studies like this. I need to continue my studies." Fortunately, I was able to get housekeeping work from a friend's neighbor. She provided me room and board and gave me money to finish secondary school.
[We had lost contact with Claudine, but SAFECO's outstanding field manager, Moza, succeeded in locating her. After Claudine expressed a continuing desire to study, we facilitated her attendance at Hope Africa University, where she remains today.]
[Attending college] "When I came to Bujumbura for college, everything was different from the village where I was raised. In Rwenena, there are trees and other forms of nature all around. Bujumbura is a large city, where there are motor scooters everywhere. But I adjusted.
"From the start and even today, my university studies have not been easy for me. Not everyone can finish. I have seen colleagues perform well in their studies but who have had to leave for lack of money. I am not smarter than them. Really, I am not very smart. But I still feel the need to study.
"I remain determined to succeed."
[Claudine is scheduled to complete her program at the end of 2022.]
*What you can do next:*
Make a final donation for Claudine no later than what is likely to be today, Giving Tuesday, Nov. 30.
To raise funds for continuing programmatic opportunities in Rwenena - Claudine's home village - I formed a new partnership earlier this year with "Reach Out NGO", here on GlobalGiving. Reach Out is based in Cameroon but has recently extended its outreach to DRC with the addition of this Rwenena-based project.
The Rwenena community is on an unprecedented path to success through community-led development. I'm extremely proud of the work accomplished with my Congolese partners at FOPAC-SK as we work through Reach Out.
You can find and donate to it by searching GlobalGiving for
Project # 51955, Advance Economic Growth for 50 Women in DR Congo
https://www.globalgiving.org/projects/advance-economic-growth-for-50-women-in-dr-congo/
(If you need to find the project within Reach Out, you may need to click forward to an additional project page to find it by its title.)
For those ready to take your commitment to All Things Rwenena to the new step, I hope you will consider becoming a recurring donor to this project as the one through SAFECO ends. New monthly donations (up to $200 per unique donor) started between December 13 and December 17, 2021 will have their first donation matched at 200% after four (4) total payments.
Thank you for your support.