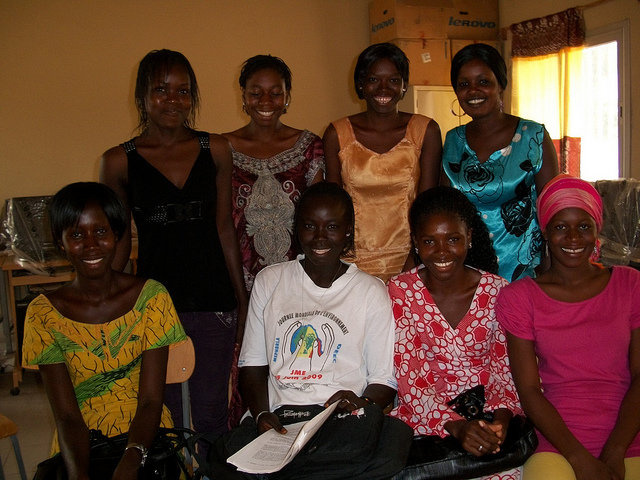 Your support has impacted the lives of hundreds of girls and their communities in rural Senegal. Thanks to people like you, Fana has been given the chance to finally attend school and has encouraged other girls in her community to go to school too! She recognizes the importance of educating girls and has used the skills she's learned from the program to help others. Here is her story:
"My name is Fana and I am 19 years old; I am a scholar in high school in Sokone in the "Sisters to School" program. Education is often considered the fastest method for changing conditions for girls and their families, and is also the best way to fight poverty.
My village didn't have a school when I began my studies. The closest school was 2 kilometers away in Sokone. My parents didn't have the means necessary to pay for my studies. It was very difficult but I was getting by.
When I passed 6th grade, I started middle school in Sokone; things became more complicated when I was housed with a family where the father didn't want anyone to light the lamps in the bedrooms to do schoolwork at night. This made me a little crazy because I loved my studies and I wanted to be among the best in my class. Luckily, Madame Adji's (Senegal Project Director) daughter was in my class and explained the problem to her mom. Madame Adji invited me to her house in the evenings so that I was able to study until 10pm. At the end of the year, one of our teachers began housing me. This is where I live during the school year, even today. I live in better conditions.
I became a scholar in high school in 2013. I regularly received enrollment expenses, school supplies, toiletries, training, and advising. I took summer classes in 2013 to prepare for the 2014 final exam. In sum, the program has allowed me to improve my academic performance, and I won the Prize of Excellence in French at high school in Sokone.
My parents support education for girls, but do not have the means necessary to support my sisters. My village has a school now, and I support the girls in my village, encouraging them in their studies and educating them based on the training I've received through the program. We also educate parents, especially the mothers of girls. The whole village likes the school, and all the children go there.
I want to become an important person and work in a field that supports vulnerable populations, especially women."
Thank you for your support and commitment to Women's Global Education Project and for helping young women like Fana!
Links: