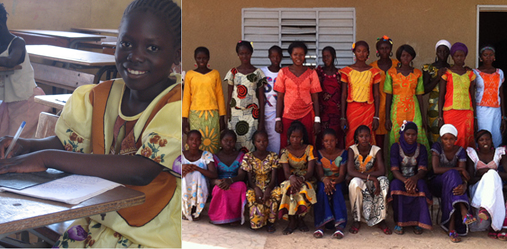 Thank you for supporting Women's Global Education Project and our Sisters-to-School program in Senegal! Your support helps WGEP provide critical scholarships to more than 300 girls in rural Senegal, girls who otherwise would not have the chance to go to school.
One of these scholars is 15-year-old Christine. Christine has been a WGEP scholar since she was in grade school. Your support over the years has helped Christine do well academically, finish elementary school, and move into middle school. Christine shares her story here in her own words:
Hi, my name is Christine and I am 15 years old. I have participated in the "Our Sisters to School" program in Sokone, Senegal since 2005. I started as an elementary school student and I am now in middle school.
My family was always supportive of education, but the closest school was 5 kilometers away since my village, Santhie Berra, did not have a school. Also, my parents did not have the means to pay the required enrollment fees for me to attend school. It was at the time when I was becoming very worried about my future that I learned I had been chosen as a WGEP scholar. Now, I live in Sokone with my grandmother and attend a private school. Since becoming a scholar, I have received enrollment fees, school supplies, toiletries, tutoring, training and advising.
My family appreciates the program because they know that I couldn't attend school without it. My whole family benefits from the knowledge I gain in the workshops; I explain everything to them when I return from the village, and I do the same thing with the other girls in my village. This means that the whole village knows about the program; we love it and we hope that it continues and helps other girls from Santhie Berra.
Each day, I do my schoolwork first, but then I do housework, such as sweeping, cooking, and laundry. I also have fun talking with my friends. I often talk with my mom, like my Sisters to School mentor recommends.
Links: