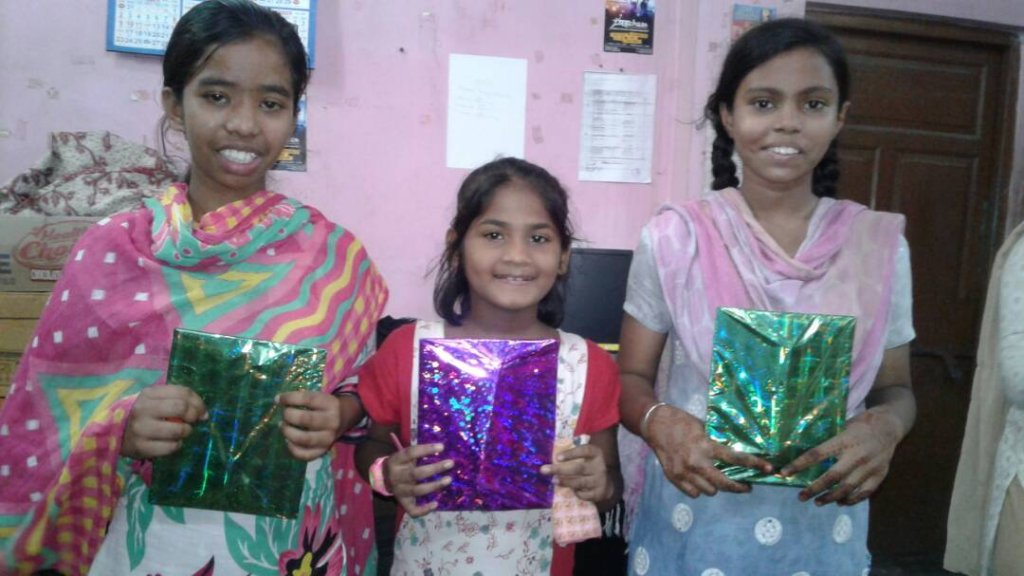 It is very hot indeed in Kolkata this week. The Monsoon rains are just a few days away and everyone is sweltering in 37 deg C as I write. Imagine how difficult it must be to sleep at night in a tiny airless room shared with your extended family.
It is also Ramadan – a time of fasting and prayer. Families share Iftar (or breakfast) after the sun sets at around 6.20 pm having had no food or water since before 5 am. Some of our girls will be fasting for the first time this year: they may fast just a few days this time and build up to the full month as they grow older. All of them will be looking forward to celebrating Eid when Ramadan is over.
For school children and students all over India it is results time. Exams were in March and the results are now coming through. I am delighted to tell you that all except one of our girls has passed her exams and all of them are starting the new academic year in the next grade. The other girl hopes to be promoted to the next class anyway and we will work especially hard to help her catch up. She is only 6 years old and studying in an English medium school so we expect her to do well in the long run. She is very fortunate to have your support so that she does not get left behind.
With the new school session beginning, we are busy sorting out any fees that need to be paid (school session fees, private tutors), making sure all the girls have uniforms and well fitting shoes. With the monsoon rains just days away we ensure every girl has an umbrella a well as a school bag and a lunch box. Each girl will also receive all the books and stationery she needs for the beginning of the academic year. And importantly we ensure that every girl has proper nutrition by arranging small payments direct to the guardians.
These are all the practical ways in which you are supporting the girls. They are from such impoverished families that none of this would be possible without your help. But of course, the girls receive so much more than this: they have access to the Gyan Azhar library, use of the books and computers; they attend extra curricular music and art sessions; we take them on excursions; and they have opportunities to volunteer with other organisations. And being a member of this group of 17 sponsored girls is a source of great pride and motivation.
Our special congratulations go to Nafisha who has passed her class X (public exams at aged 16, GCSE equivalent) and is applying to other schools for her class XI – XII studies. We must also congratulate Sabahat who has passed class XII and is applying to go to college. Without your help neither of these girls could have dreamed of gaining such qualifications. You have enabled them to reach for the future their mothers wish for them – economic independence, choice, dignity and freedom from poverty.
I am still looking for donors to come forward to take on individual girls. For instance, we support Nafisha from the general fund, but I think she would benefit enormously from knowing she has a sponsor encouraging her. Apart from a monthly donation via Global Giving, you'd be able to send & receive notes, and have detailed feedback on her progress. You would also be very welcome to come to Kolkata and meet her.
Please contact me directly if you'd like to be a personal sponsor janemanson@tished.org