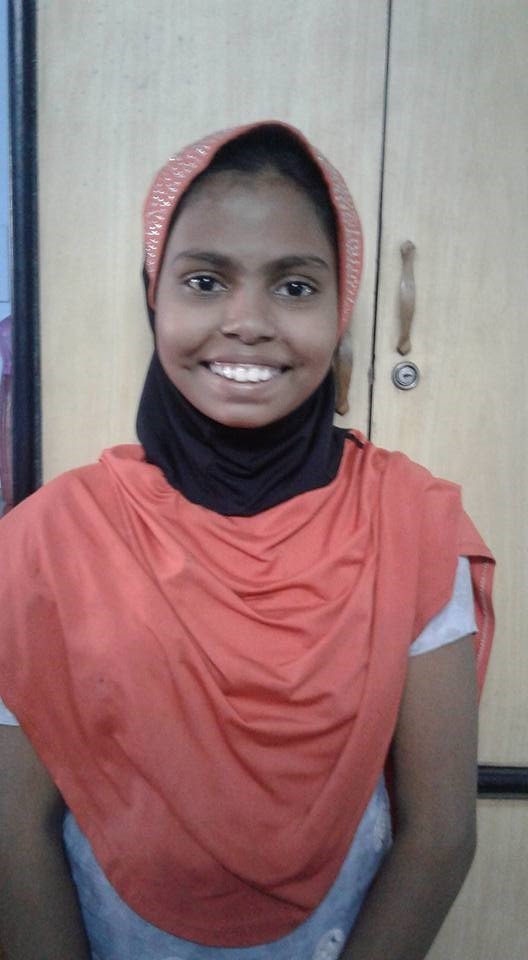 Thanks to your amazing generosity we have now raised enough to sponsor these 15 girls for a full 12 months.
Four of the girls have a named sponsor, and the rest have been covered by donations to the project in general. Thanks to Global Giving's match funding bonus events, many of your donations have been increased by 50%.
This is a great result and the girls are all absolutely delighted.
Zainab has been sponsored by Jean. Zainab is 12 and in class 7 at her local Urdu High School. Her father, Hussain, is a driver earning just 3000 rupees a month (£36). They live in a rented room of about 9 m2. It is a daily struggle for him to feed his family of five and keep Zainab and her siblings in school. But Zainab is a bright and enthusiastic student who loves school and wants to complete her education and become financially independent. She is fully supported by her parents so we expect Zainab and her family to flourish under the sponsorship scheme.
What does sponsorship mean for Zainab? Zainab's school expenses will now be covered: session fees, school fees and private tuition fees. Her family receives a small stipend to buy healthy food and supplements. When she purchases books or stationery she claims back the cost of these from the sponsorship fund. She'll get a school bag, a tiffin box (lunch box) and school uniform and shoes as required.
But being a sponsored girl means much more than this… Tiljala SHED is most fortunate to have a small library dedicated to the girls in the heart of the slum. This is the central meeting place where the girls can go to study in peace, use the books and the computers. Here they have dance lessons, guitar lessons, craft sessions or just spend time with their friends in a safe place. For girls in these traditional societies, it is not possible to hang around in public places. So the Gyan Azhar library is a real lifeline. Tiljala SHED's staff are always on hand to help out, listen where necessary and mentor the girls. It is a happy place with a real buzz. Among the activities laid on for the girls in the last 6 weeks have been
remedial maths classes,
an excursion to a theme park (organised by the Round Table organisation),
awareness meetings for girls and their guardians covering health, nutrition and child/women's rights among other issues
craft sessions to make bead jewellery, dream catchers and greetings cards
weekly guitar classes
a visit by the children of the private school La Martiniere who brought gifts
First Aid training
It is the contact with one another, the inspiration from the older girls, the kindness and dedication of the Tiljala SHED staff and the sense of belonging to an important and life changing programme that makes the real difference to these girls.
Your donations make it possible for vulnerable girls from very deprived communities to dream of a better life and to reach out for it through education.
On their behalf a huge thank you and please keep on donating. There is a long way to go…