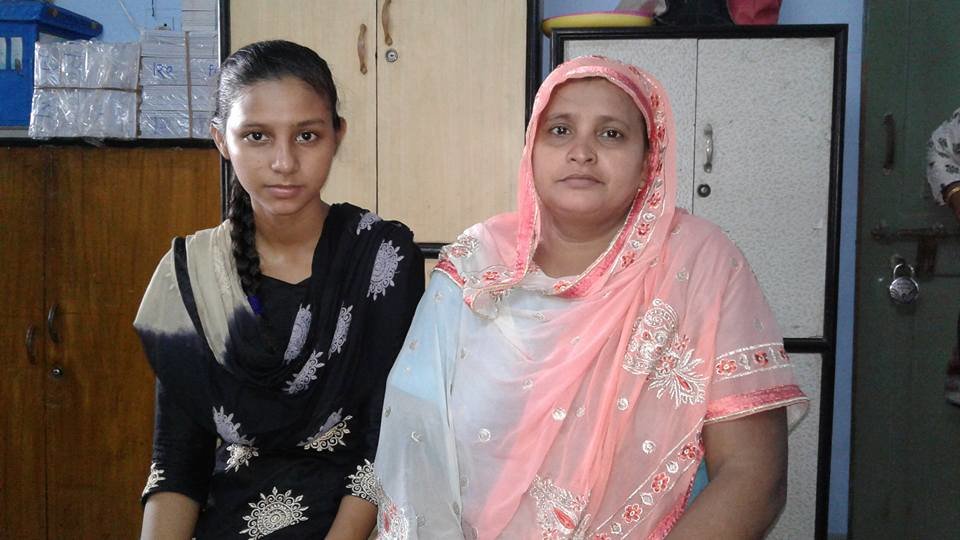 "Ayesha is 12 studying at Anjuman Girl's High Secondary School. She lives with her family of 5 in a single room. Her father is a painter who paints posters. His monthly income is not stable because his work is temporary. Ayesha's brother is a labourer in a small shoe making shop and his wages are very low. Total family income is £30 a month, not enough to run the whole family. Ayesha may have to stop studying due to her poor family income. She is a bright student; she aims to become an art designer. If she gets proper guidance and financial support then she has a bright future ahead."
This is what my colleagues wrote about Ayesha in 2016 when we were first looking for a sponsor for her. There are two things that strike me about this: first, that hand-painted posters, once a huge industry which produced the most wonderful advertising posters whether for Bollywood films, butter or cement, are definitely a thing of the past. I wonder that Ayesha's father finds any work at all. Ayesha's mother is a delightful woman who is totally committed to ensuring Ayesha gets the education that she herself never had, but she is illiterate and works entirely within the home making sure her husband's meagre earnings stretch to fill all the needy stomachs. The other striking part, is that Ayesha might have had to stop school if she hadn't been sponsored. The reason for this is not that school isn't free. Ayesha's school is a government school and there are no fees. However, school uniform, books, bus fares etc all had to be found, and this was beyond means of the family. The next thing would have been to marry her off so that someone else would feed and clothe her. All that bright ambition would have been wasted and Ayesha would have ended up just like her mother.
Happily, Ayesha did find a sponsor. Sheila has supported Ayesha over the last three years. There were moments when I worried she might drop out. In a very traditional community like this, a girl who takes a boyfriend, can be hustled into an early marriage – thus abruptly ending her education. But she has stood firm and I'm thrilled to report that Ayesha has passed her class X exams (equivalent to GCSEs) and has enrolled into class XI. So she remains on track. It isn't easy from here though: class sizes at the Anjuman Girls High School are as big as 120 girls, so she will continue to need all the support we can offer under this sponsorship programme. Sheila's contribution covers all books, extra tuition fees, transportation costs, uniform, shoes, school bag and any necessary nutrition or medical needs. She is a member of our Gyan Azhar Library, a safe space to work, borrow books, to use the computers and internet. She attends cultural activities – dance, craft and also lifestyle sessions on nutrition, menstrual health and online safety.
We are desperately looking for more sponsors like Sheila, who will commit £30 a month to supporting a girl like Ayesha. The equivalent of one hour's private tuition in UK provides a whole month of vital educational support.
Thank you