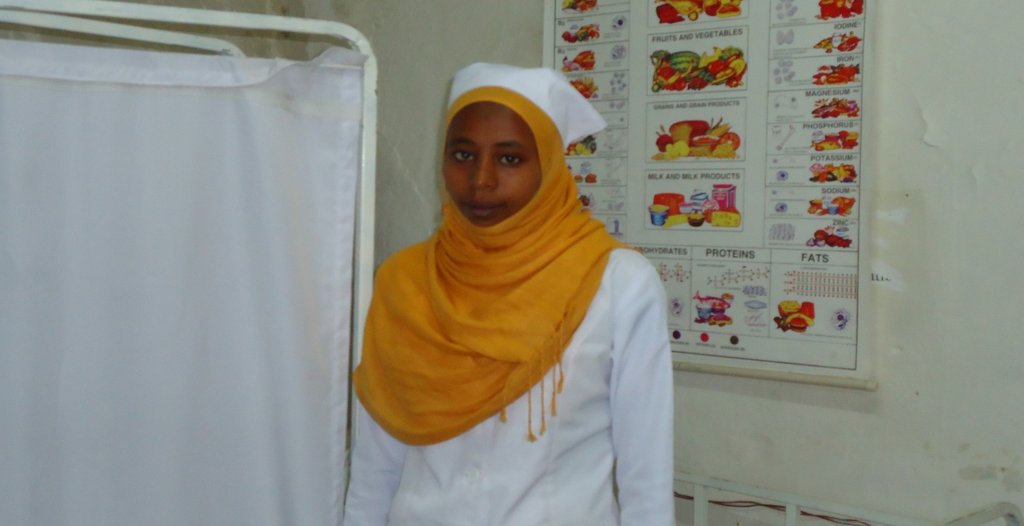 Happy New Year from Tsehay, Fatuma, Hawa, Almaz, Eyerus, and Haymanot at Alkan University in Ethiopia! These nursing students at Alkan University have just finished a busy semester, where they began interacting with patients more closely, and practicing the skills they have been studying and learning over the course of their training.
We asked the students to report back on some of the interactions they had with their patients and the challenges they faced after completing this past training block. From challenging client cases, to administering medications, to consultations on what family planning option is best, the nursing students have been utilizing the skills they learned in the classroom, in the field.
Fatuma told a story about her apprenticeship at a health station, where her training helped her properly care for a client and respond quickly to a crisis. She was working with a patient who suffered anaphylactic shock after administering a dose of penicillin: "One day a patient was coming to take penicillin medication. I was alone and it was my first time to inject that medicine. I gave her and the patient went into shocked. But I immediately I gave adrenaline and she recovered."
Tsehay talked about a problem many health care providers in the US talk about as well. The challenge she discussed was clients not taking the full course of their medications. Despite this she says "[nursing] taught me how to work with patients. I am happy working with patients. I am satisfied when I am giving care to them even in difficult circumstances."
Almaz told of an instance when she was administering vaccines during her apprenticeship and faced reluctance from the client. "When I was attending my cooperative training at the health center, I was in the EPI room to give vaccine. One mother was not voluntary to give the vaccine for her child…I aware her that no problem would have happened and she became voluntary." Almaz learned that by sharing her knowledge, she can ease fears and help the community.
Regardless of the challenges, all of the students mentioned their love of the profession and their relationship with the clients. Hawa says about her clients, "My relationship with them is friendly. I communicate with them, giving care and help them as much as I can in an ethical manner."
To our donors, thank you for your continued support of these incredible women. And to our nursing students, thank you for sharing your stories with us and best of luck as you complete your year!