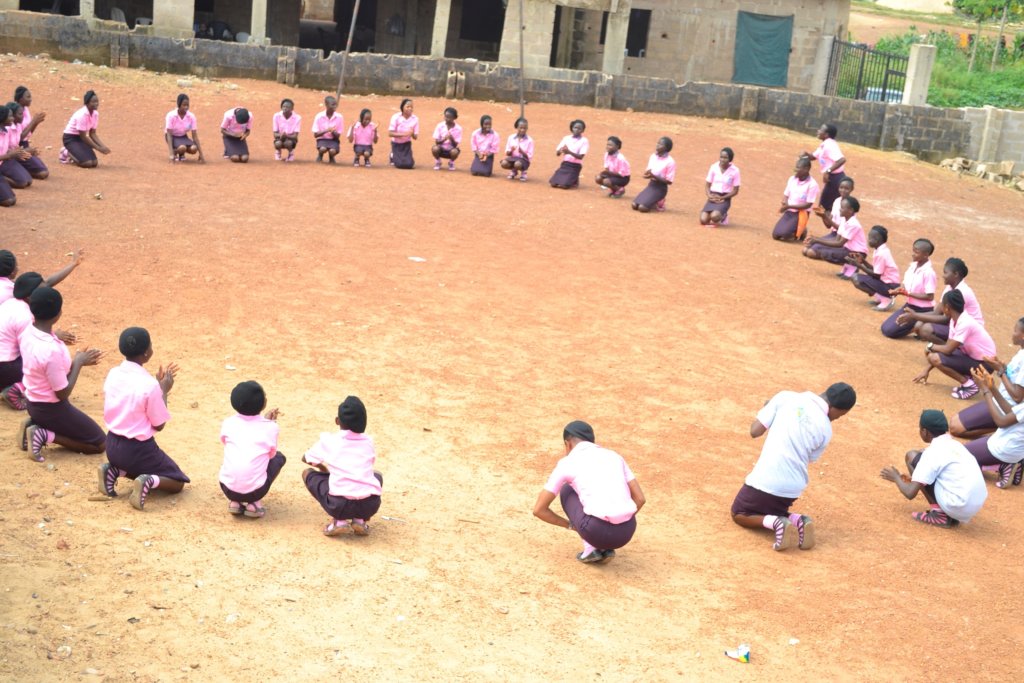 Dear Donors,
Greetings from Girl Child Art Foundation.
"One extra year of secondary school increases a girls' futures wages by up to 25%". - World bank.
I am sharing with you a success story of our Girl's Leadership clubs.
Over the years we have worked on several projects with the aim of improving the education and future of vulnerable girls in Nigerian communities. Our projects have covered areas such as the use of Art to advocate for education, promote the sexual reproductive health and development of girls in and out of schools in Nigeria. Our strength has always been in the provision of free, friendly training class on various topics, targeting girls and youth in local communities.
However, over time we have learnt to cut unnecessary costs and make more impact. We decided to reach more girls and more rural communities through school clubs with the help of our volunteers and staff. Since the second half of 2016, we started visiting girl's schools and co-educational schools to establish our clubs. We have been able to reach 42 schools in 3 states of Nigeria- Enugu, Ebonyi, and Lagos. These volunteers reach out to the school principals, book a time with the principal to enlighten the girls on our goals. When the girls indicate interest in our programs, they enroll for free. We also identify with teachers in the school who qualify as educators for the club. Quarterly trainings are done for the educators from various schools to ensure they work in line with our vision.
In our years of working with Nigerian girls from various cultures and family structures, some of the few common issues we have observed that most girls' dreams are suppressed through either pressure from family, living conditions, poverty, battered self-esteem, early marriage, sexual abuse, and no access to information. Giving girls a voice and helping them discover new opportunities will encourage them to complete or further their education, building support groups and DREAM BIG.
With the clubs we are able to reach more girls in need for psycho-social support, build confidence through our art classes, career counseling, provide opportunities through ICT, and help with needs as small as sanitary pads.
New girl members of the various clubs are also able to share their stories including their experiences at home and school. We interviewed 350 girls from various communities and they shared their experiences:
-35% got negative pressure from family that affect their ability to concentrate in school e.g. parents fighting, fathers beating their mothers, some live with people as house helps, illiterate parents wanting them to stop school for trade.
-15% shared that poverty related problems like distance from school, inability to afford school fees or entrance exam fees to senior class or college, no money to transport them to school, combined with chores and walking to school daily are challenges they have to deal with.
-18% had battered self-esteem caused by sexual harassment from male teachers, male students, heartbreaks from transactional and non-transactional sexual relationships etc.
-12% of the girls are forced to drop out of school for early marriage.
20% had little or none of these issues mentioned but they needed a support group.
So far, your donations have helped us reach about 8,653 girls in 42 schools through our school outreach programs, pay school fees for 6 girls who nearly dropped out of school. Your donations have also helped in transporting volunteers to the various communities, buy learning materials for our outreach programs, art materials for our free training classes, and conduct 1 free basic training on computer skill and screen-printing summer classes for 35 girls.
In conclusion, most of the girls do not know what to do. There is more to life that affect girls' academic success rate. These issues are not usually taught or discussed in the school curriculum. This is where we come in as a club so that girls can share their experiences, information, learn new life skills, develop their talents, build confidence and look forward to a brighter future.
In weeks of participating in our club activities, we have seen the self-confidence in the girls while interacting with them. They are now taking their education seriously to be amongst future business leaders, which is the most important aspect of what we are aiming.
BIG THANKS for those of you who donated with swift response when we called for help. There are lots of girls with the need to know the right steps to take in order to attain a good education. Your generous support will change someone's life.
We ask that you share our campaign with your network of friends and colleagues. We also welcome your professional support and volunteer services in areas you think you can be of help.
YOU GUYS ROCK!