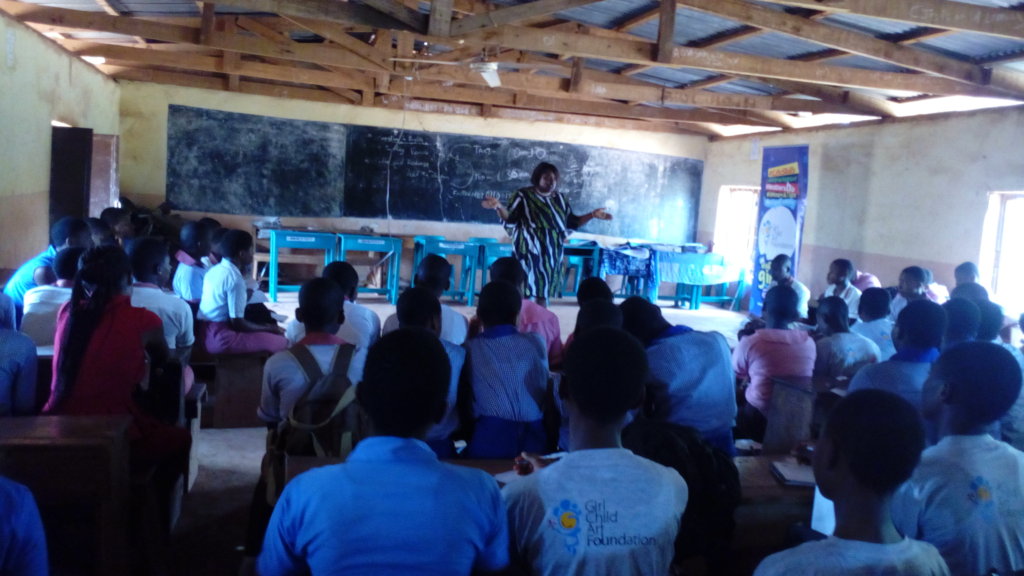 A young girl started this organization in 2003 because she wanted to create a friendly learning environment that inspires girl to reach great heights, break stereotypes and succeed in life above all barriers. I want to share a bit of her personal experience that inspired the organization.
Ada Onyejike Ananaba the founder of GCAF is the first child of 8 children -6girls and 2 boys as the last, she was automatically the caregiver for her numerous siblings. Her father was a medical doctor and mothers a health scientist (teacher). Despite their education, she watched them look for a male child, as they believed by culture that the female children would not keep the family name or lineage. According to her cultural beliefs, the 6 girls will be disinherited while everything her father owned was for the 2 boys. Amidst all, she was to also study sciences and become a medical doctor or pharmacist else she was seen as not intelligent. Back in school her performance as a science student was also not exceptional and she was sent out of Chemistry and mathematics classes as she scribbled on her books during classes and missed my geography class to attend arts classes as a science student. Nobody cared about what exactly she wanted to be in future. She was not allowed to make her choices.
Before she graduated from School, she has been passionate about providing platform for educating and inspiring in and out of schoolgirls. Then in 2001 the idea of Girl Child Art Foundation (GCAF) was born. Since then, she has been welcomed into many homes in Nigeria, met countless number of girls who are looking for someone to listen and give them a voice, give them freedom to express themselves and freedom to do something and not be judged as doing it wrong.
It has not been an easy journey, we have failed countless times but we have never lost focus or courage. From our part of Africa it is a priority for most schools and parents to insist that their pupils or wards study sciences. So we have failed already by mentioning arts in our name –Art Foundation'. In some cases some principals of school would stop us from the school gate saying things like—we don't encourage ARTs here. While some parents on hearing or name would just conclude that we are a distraction to the children's education. But to the contrary GCAF through her programs has trained, built the self esteem and confidence of over 6,000 girls who are scientists, lawyers, accountants, artists and very dynamic successful girls who proudly testify positively to our impact in their lives, careers, performances and confidence.
Our membership started by calling 8 girl-children in Enugu state Nigeria, in a school compound and under a tree. Then we trained girls on issues around their development using ''paintings, dance and Drama ''. Over the years we have worked on several projects with the aim of improving the condition of future women and vulnerable youth in Nigerian communities. Our strength has always been in the provision of free friendly training class on various topics, targeting girls and youth in the local communities. Our projects have covered areas such as the use of Art to advocate for education, promote the sexual reproductive health and development of girls and youth in various communities in Nigeria. Over 90% of our graduates today a University graduates and most of them are still aiming for high goals.
Access to funding through grant making agencies including the UN agencies was an area we failed in. We didn't get funding because our approach- (Creative arts/ Life skills) and focus- Girls was not trending areas of focus for most grant making organization. They where concerned about women empowerment, rights of women and not girls. What we do didn't fit into the narrative that they report. So we never got funding, but we looked for alternative ways to support our work through individual donors, sales of products made but the girls, fundraising events. Finally, we got our first grant in 2005 through the US mission in Nigeria.
Lack of access to skill development centers, youth friendly learning environments and inability to afford skill development afterschool programs are some of the areas we can help break down barriers. No segment of the society faces more exploitation, and injustice like women and girls. Today we are happy to know the UN has decided to pay attention to girls and it is developing into a worldwide movement. World leaders, economists, and policy makers all recognize that an adolescent girl is the most powerful force for change, yet less than 1% of international aid is invested in her. We are happy that we no more sound odd when we talk about girls.
GCAF believes that creating an arena or forum for girls will contribute to the empowerment of young girls, as this will encourage them to compete with each other and not with boys. The organisation believes that girls will tend to lean on boys when tasks need to be achieved, but will be more competitive around girls. With years of experience we have learnt better ways to negotiate opportunities, how to manage our branch offices/ youth centers, how to manage our staff including volunteers. These experiences are learnt from series of trial and failures till we get it right. "We just do it anyways, no impossibilities in our dictionary, We learn from what we try-simple".
The organisation uses the arts as part of this process, since the arts are believed to promote personal creativity and expression. Girls are encouraged to play music, dance, sing, and teach people through their works, paintings, write-ups, and poems. This in turn encourages the development of confidence, independence, and self-esteem, which is, ultimately, the aim of the organisation.
Initially we could not communicate our impact right, but we have learnt with experience to continue to learn to tell our stories with clear indicators. We learn everyday. Another lesson is to stay true to the real story behind the initiative, why we where formed, what do we want to achieve and what have we done so far? These questions no matter has we diversify our approach keeps us in check.
Girl Child Art Foundation (GCAF) is a non- profit organisation that provides life skill program opportunities to over 17,000 Nigerian girls. Each year we educate and inspire more than 3,000 African young women through art.
GCAF utilizes all forms of art as a tool for promoting social rights and equipping the girl child (young girls between the ages 8-25) with skills to be independent.
The vision is to provide African girls with opportunities to discover their potential, dream and achieve a fulfilling future.
"Young women and girls are the core of GCAF programs. They are the reason GCAF was formed, we have reached more than 250,000 directly and indirectly and we strive to reach more".