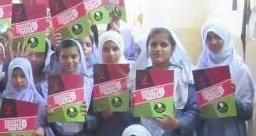 Educate a Girl Zakaat is for young girls age 4-16 to help them stay in their schools so they could get proper education which further will help them in achieving their dreams.
We have been meeting with and taking feedback from girls who have been educated through this program.
Meet Aliya. She is 9 and has a missing right front tooth, giving her a goofy smile and making her beautiful, big brown eyes seem almost enormous in her face. Her complexion is like soft mocha, but her voice is strong and firm as she shares her dreams.
"I want to become a doctor!"
"A doctor," we ask. "Are you sure. You are just 6. You may change your mind."
"I won't change my mind," she replies and then looks down to complete the old, beaten up jigsaw puzzle she is trying to put together.
"Why do you want to become a doctor?"
"I want to help people." Her words are simple and straightforward, but her big eyes share a story of childhood pain that she is not ready to put into words.
Every time you donate to this cause, you are helping a girl stay in school. Perhaps she will do a trade, maybe she will start a business, maybe she won't even work but she will be educated. And, maybe, like Aliya, she might be starting a journey to a dream that she hadn't dared dream before.
All because of you.
Together we are transforming lives