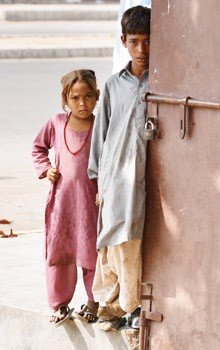 As mentioned in our previous reports, under our programme of Educate a Girl Zakaat, we are paying the school fee of those who couldn't afford it otherwise and could accept zakat too. As by these reports we get a chance to connect to our donors so for this project we decided that we will keep updating or reminding our donors about zakat too and in this report, that's exactly what we are going to explain.
The Zakat al-maal, one of the pillars of Islam (along with the Shahada, the prayer, the Hajj and the fasting of Ramadan), is a tax on savings. It represents an unalienable right of the poor upon the rich. Every Muslim is liable to Zakat, and must pay tax if their savings exceed a certain threshold called Nisab, which is indexed to the price of gold, or that of silver and keeping this all in mind and knowing its importance, we give this project our extra time and attention.
Many people might won't know but Islam has specified the beneficiaries of zakat and which distinguish zakat from the charity.
Those who qualify to receive zakaat funds are as follows:
The poor and the needy are those who cannot meet their basic needs.
The destitute who live in absolute poverty as well as those who cannot meet their basic needs.
Those employed to collect and distribute zakaat.
Slaves who need money to purchase their freedom.
Those who have run into debt and cannot possibly pay it off, regardless of whether they have assumed debt for public or personal interest.
Those who struggle in the cause of Allah: This includes those who fight in defence of their religion and country as well as those who engage in any activity which aims to support and propagate Islam.
Those whose hearts are to be reconciled: These are those who have recently embraced Islam or those expected to embrace it. The duty of giving zakaat to this category of recipients does not belong to individuals but rather to government bodies, Islamic centres and charitable organisations that determine the real benefit behind that.
The travellers who are undergoing financial difficulties even if they are very rich back home.
Regarding the deserving beneficiaries of zakaat, the Qur'an states, "Zakaat is for the poor, the destitute, those who collect it, those whose hearts are to be reconciled, for those in debt, for the cause of Allah and the stranded travellers. It is a legal obligation from Allah. Allah is All-Knowing, All-Wise." (Soorat At-Tawbah, 9:60)
We hope this explains about zakat more and our wonderful donors and supporters like you all will understand the reason we began this project.
The mission is always same, to serve the humanity, be there for those who are in need so join us in making other's lives better.
Together, we are Transforming Lives!