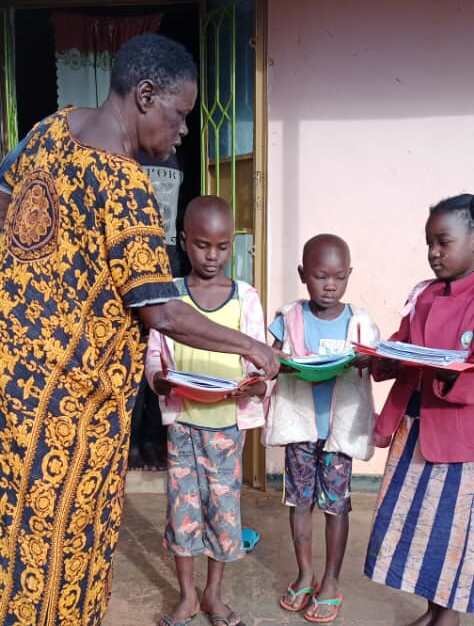 One of the longest official school closures in the world lasting two years finally ended in Uganda the second week of January 2022.
February 2022
Children's report of 12th February 2022
Number of children as supported per group
Tororo 151
Bugiri 165
Rwen 285
Amoni 74
Total 675
Areas of support
ü Nursery
ü Primary
ü Secondary
ü Technical
ü University
Our activities
Education
Scholastic materials
Uniforms
Feeding children at school
Feeding children at home
Child headed families
Health care HIV Aids
Centre schools
School dropout / girls
Referrals
Fees to up
Child's day
Challenges
Development
Suggestions
Conclusion
Education
All our children from nursery level to university level are now at school and we thank God for that and it is our prayer education system continues as it was before covid-19.
Scholastic Materials
We received funds from our donors early.
January though the River Fund we have been able to provide all the necessary scholastic materials for all our children in our four groups and our children are very happy to be in school so is everybody.
Uniforms
Our children have now been provided with uniforms we received funds early and we have provided uniforms to our children in time.
Feeding children at school
Food like beans and maize has been provided for children to feed at school we are grateful for that fund was given to us in time.
Feeding at home
Children who stay with old women feed with their grandmothers at home. Food has been provided for them.
Child headed families
Always food is provided for them and we have provided food for these families. These children feed at home and at school too.
Health care / HIV Aids
We try to keep our children healthy on diets and medical care especially those HIV /Aids positive. Their clinic days are always known to them and we make sure they take their drugs in time stick to covid-19 rules of wash and wash.
Long term survival skills are essential for a balanced diet to keep healthy.
Centre schools
They are coming up slowly, since the covid-19 problem has become a big problem.
School drop out
These are mostly girls they have grown very big and some have dropped out of schools. Such children are visited and encouraged to go to school. Teachers and parents have counseled them with the help of our trained counselors in every group.
Referrals
Some of our girls have been referred to project places like PEFO and other organizations for tailoring, hair dressing and catering.
Fees top up
We give some little to up to OVCs where necessary to help our children learn especially in higher learning institution this is always done whenever we receive funds as we received in January 2022, we made a top up to those very needy in all our four groups depending on the needs of the group.
Child's day
Now that schools have opened fully this day will begin again as it was before. Each group has planned for this day in the nearest future.
Challenges
Our group leader of Tororo, Rose has died. It is a great loss. May her soul rest in internal peace.
Developments
Schools have fully opened up and all our children go to school.
We have bought uniforms and food has been given out.
God bless you
Compiled by Teopy