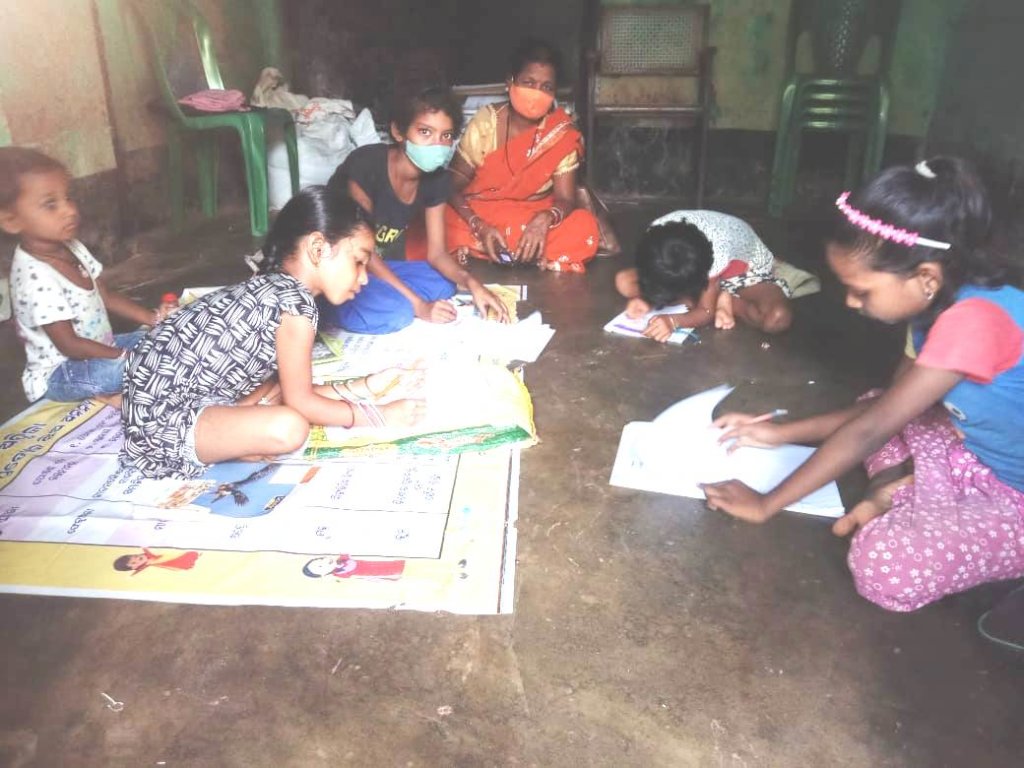 We are happy to present the project report of the project entitled "Educate 3000 Marginalized Slum Children in Odisha" before the donor agency and all other well-wishers. This was the most difficult and we had to take a lot of difficulties to across this quarter of intervention due to outbreak of Corona pandemic in India. However, with all these odds, the pandemic has given us opportunities for stress regulation, research for alternative learning, online communication and many other ways of communication and social order.
Education is an essential component and fundamental rights of all children in India. It enhances their skills, personality and attitude. it is the foundation upon which we build our future. It is the only way by which a desired change and upliftment in the society can be achieved. It is process of acquiring knowledge and information that leads to a successful life. In order to impart quality education to these marginalized slum children Ruchika started its first initiative in the form of Platform school in the year 1985 in Bhubaneswar. In addition, Ruchika is running Remedial Education centre in slums of Bhubaneswar and providing remedial coaching to marginalized slum children to increase academic proficiency and to reduce dropout rate. Our focus is to provide children with the opportunity to learn and develop. So, they can grow up to be an integral and healthy part of their communities.
Goal and Objectives of the Project:
The Programme Objective was to reach out to all the slumchildren of Bhubaneswar to increase academic proficiency and targeting a significant reduction of drop-out in the schools as well as ensuring Right to Education Act, in its true spirit in the target area.
Specifically, the programme focused on improving the lives of the marginalized slum children through a three-pronged approach:
Provision of Specialized Remedial Education to enhance academic proficiency. The approach identifies children with low proficiency and designs appropriate before or after school remedial support including competency building, counseling parents and children, family visits, etc.
Community mobilization to raise awareness on quality education and greater involvement of the parents and community at large in the education system
Specific activities with school authorities, district level authorities and the Education Department (Government of Odisha) to ensure quality of education as well as realization of maximum provisions of Right to Education Act 2009 (RTE).
The programme aimed at directly benefiting slum children through remedial education centres and school going children through activities implemented in slums and in neighbourhood schools.
Remedial Education during the Pandemic:
This is the most challenging period for the people all over World. During this emergency, Ruchika team continues to work remotely. All the supervisory staffs are preparing the e-leaning videos and uploading in You tube so that all children living in Odisha can access the education during this pandemic. Now the Positive rate in Odisha is decreasing, so, our remedial teachers are doing small group teaching through daily home visits and are also providing study material kits along with sanitation and hygienic kit to every child. They are also providing emotional support and guidance to children to encourage them for learning. Children have also encouraged for the co-curricular activity in which they are doing paintings, paper craft making, preparing teaching learning materials and so on. Teachers are also taking the follow up of e-learning classes and our adolescent group (Balika Mandal) members and Basti Education Committee (BEC) members are engaged to look after the e-learning education of the slum children.
Training and Workshop:
Learning is a continuous process. Therefore, we have always believed in enhancing the capacities of our staff as well as of teachers. Building capacities not only motivates the teachers but also directly benefits the children enrolled at the schools.
Recently, we have conducted 2 days training for our teachers and staffs to upgrade their knowledge and teaching skills. The teachers were very excited and the training was conducted in participatory way.
All the teachers actively participated in the sessions conducted on understanding curriculum, friendship education, joyful learning, e-learning, Covid-19 safety measures, personal hygienic, issues related to children and storytelling.
Activities with Govt School teachers :
Children's are out of school due to school closure in response to COVID-19. The sudden closures of the schools have disrupted the flow of learning of the students and the existing method of imparting knowledge of the educational institutes across the world. In the given condition Odisha Govt. has been conducting e-learning and Books have distributed among the students. In the mean time our remedial teachers have helped to govt school teachers in distributing textbooks to the homes of school children and helped in the process of enrolment of children in Govt. school. Child protection policy posters have posted in intervention Govt School. This mutual cooperation's during COVID-19 have built good rapport among them. This time Ruchika have provided Wall clock to the neighbourhood schools to keep good contact and rapport with the School teachers.
Eye camp for the children:
The health challenges of people living in urban slum communities are quite different from those who live in rural areas. Through these camps eye check up camps, a rapport is built with the community to get to identify and appreciate the health challenges faced by the people. Therefore, a free Eye check-up camp was organized by Ruchika in 2 slums of Bhubaneswar with the help of Care Netram. A team of specialized eye doctor and Technician were examined around 160 children's and adolescent girls, while 9 adolescent boys and girls were found less site vision and provided with spectacles in free of cost. The Specialists spoke to children about how to increase awareness and improve access to eye health care services. This camp will bring a change in behavior of the students and they would now start taking preventive measures to avoid eye health problems.
Community Vaccination Drive:
The long-term solution to the corona virus disease 2019 (COVID-19) pandemic is safe vaccination program that has broad clinical and socioeconomic benefits. As we also know that slum people are living in polluted and unhealthy environment where the houses are so lumbering. This is quite impossible to maintain the social distance. In the mean time the vaccination drive was started for the people to take vaccine against Covid-19. So Ruchika have started the vaccination drive with the help of Reliance Foundation and sensitized the community people. Totally 130 slum people from different slums of Bhubaneswar got vaccinated. Through this Ruchika is ensuring the good health of people living in the slums of Bhubaneswar.
Empowering Adolescent girls:
Ruchika works with adolescent girls and educating them on helping the children to continue their study during this pandemic at home, create awareness among slum people regarding the RTE and good health of their children, promote girls education, teaching people as well as children on follow all covid-19 guidelines and so on. Adolescent girls are our peer educators who creating awareness among the community people on different issues like child marriage, trafficking, child labour, abuse etc at the same taking action against the issues.
We want to thank you for all your continuous support and we also look for more support to provide quality education to children.