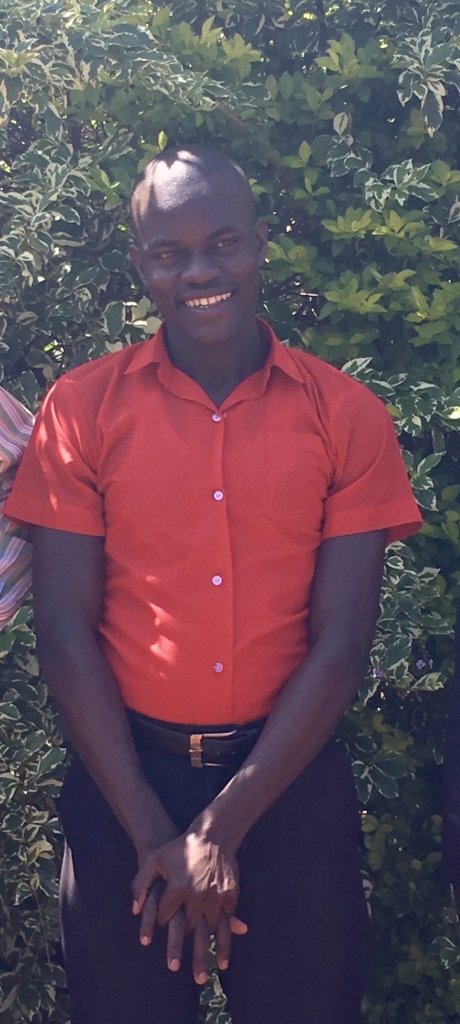 A few months ago, I went over to Moses' house for tea. I'd known Moses for some time, and knew bits and pieces of his story. I knew that he was a total orphan, living with an uncle, and that he was very bright. I knew he was one of our top-performing graduates, and that he was now in university. But that day, over tea, I came to learn just how incredible Moses is.
Moses was born in a town just north of our project area, which sits along the border of three ethnic groups, which have been in conflict for many years. Both of his parents died when he was young, leaving he and his older brother to fend for themselves in an often-hostile, insecure environment. Neither went to school. Moses, curious and smart, tells me he used to sit with his neighborhood friends in the evening, teaching himself math, science, and literacy by following along as they did their homework. His brother, who worked odd jobs around the town, had saved enough money to pay a mechanic to teach Moses his trade and was planning to send Moses, around thirteen years, into this work when the Kenyan presidential election occurred in 2007, and violence erupted in the country.
As a multi-ethnic, unstable town, Moses's home was hard-hit by the conflict, sending him fleeing to an aunt's house in Chulaimbo, where the Umoja Project works. Upon learning he had never been in school, but seeing his capability, Moses's aunt and uncle had him take a practice exam for the Kenya Certificate of Primary Education, an extremely difficult test that covers material from eight years of education and determines a student's ability to continue on to secondary school. It's scored out of 500 marks, and it is very rare for a student to achieve 400 or above. Moses, in his first exposure to education, scored 395 marks – the highest score in the school.
Moses continued on to secondary school, with the support of the Umoja Project, again performing well enough to go on to university. He's now in his third year at Embu University, where he studies commerce, and was just elected to be president of the 5,000-student school.
Of his constant-smile and courage, Moses tells me: "Ever since I lost my parents…their absence in my life, and then the kind of bracket life had placed me into, giving me a life that is so unrealistic, a kind of life that you don't know what's coming tomorrow, living in a hostile environment, with hostile people, nobody is giving you that positive information about life, everybody is discouraging, nobody wants to tell me that you can make it. So I gained my courage out of what I used to see in the community. And I also gained my courage out of the fact that I was an orphan. I always used to tell myself that being an orphan does not mean that's where life will end. But it's just an eye opener so that you may know that tomorrow, there's a positive life. So it's from that I gained my determination."
An investment in education is truly an investment in a future.
Watch Moses tell his story HERE.