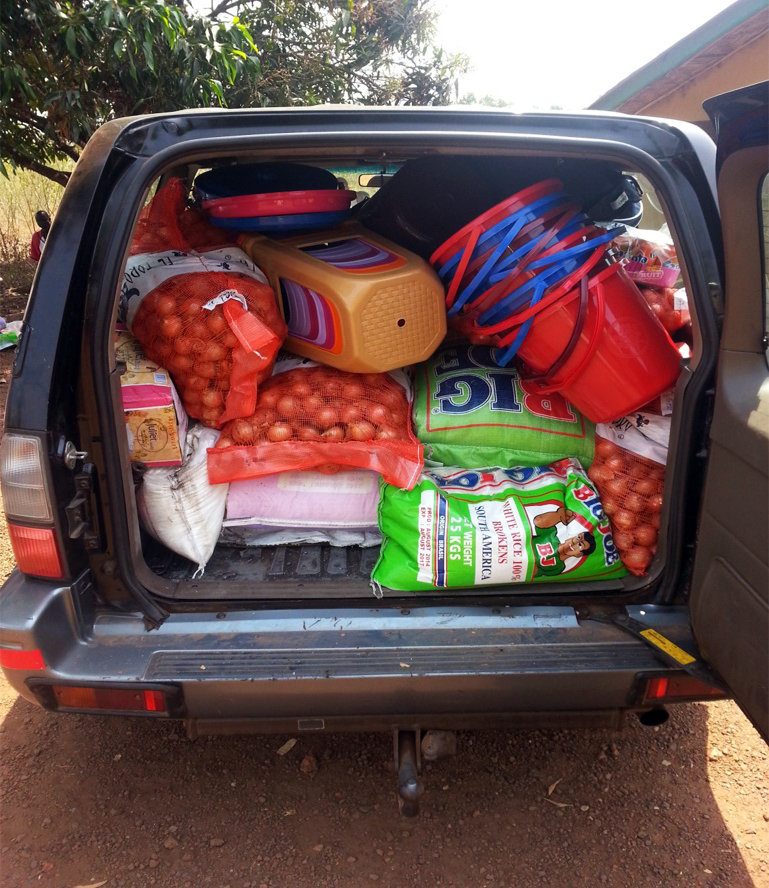 On February 2, 2015, a Greatest Goal Ministries team of five began a week long outreach to support the disabled of Sierra Leone during this Ebola crisis. With funds donated through GlobalGiving, food items and medical supplies were purchased. The areas reached were across the country with very rough roads.
Disabled groups from across the country were very excited to see us and to receive care and food supplies. Some said that GGM was the only team that has met them with and the outreach was timely. They also felt the message was explicit and clear for them to understand.
In the western area the team met with the deaf and with the blind at Wilkinson Road and the blind at Grafton. They also met with the Grafton polio victims. As the photos suggest they were very glad to receive food items and medical supplies and the Ebola message.
In Port Loko, one of the hardest hit Ebola areas, the amputees were very glad to see us. We were told that we are the only organization that has met with them since the Ebola crisis began, especially because movement has been very restrictive. They emphasized that their major problems are toilets facilities and clean water wells. These problems remain a real challenge for them and they are requesting GGM to help them with such facilities.
Lungi disabled persons were very grateful for the Ebola message, food items and medical supplies.
Kambia disabled persons were very much appreciative of the fact that GGM was able to reach them for the first time. Reaching them was a very long journey but the GGM staff was committed to reach them with food items and assorted medical supplies.
Kono has been hard hit by the Ebola crisis. The roads are very bad and the drives are long to reach the disabled. But it was good, according to them, that we actually took the venture to reach them. They said they were very much excited that we had them in our thoughts.
Kailahn was by far the farthest distance and it was a challenge for GGM team members.
What was made clear to the team is that there has been no Ebola at any of the disabled community sites, deaf, blind, and amputee or polio victims. That was good news. But travel restrictions due to the Ebola crisis has created even greater difficulties.
Information was also gained about how the disabled are surviving in their various communities. The team learned that most of them don't have toilet facilities or water wells to help them. It is a real challenge for them to cope with life.