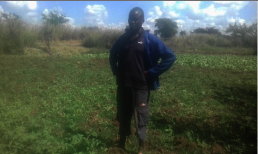 Hi folks,
This report comes courtesy of our partner in Malawi, the Grace of God Orphan Ministry. They're working to provide families in need with access to seeds, knowledge, and the tools needed to help grow those seeds. This is done to help combat food insecurity, as well as provide proper nutrition to families all throughout Malawi. SPI sent them seeds in April and now those seeds have grown and provided fresh vegetables for families in need. In Malawi, 90% of the country is living in poverty or near poverty, so making sure local families and communities have access to proper vegetables and nutrition is incredibly important.
Two families in particular, Joseph's and Emmanuel's, have some great stories to share with you. Joseph, his wife Mary, and their four children have made their own garden with the seeds, and their garden is well underway with all sorts of vegetables and fruits being grown for the family to enjoy. They've had so much success that Joseph plans to expand their garden and add different vegetable varieties. He will then sell excess produce for income.
Joseph also gives credit to the garden for changing his family's eating habits and providing greater nutrition to his children, helping them become stronger and healthier. They've grown all sorts of vegetables, from spinach and tomatoes to onions and peas. To ensure that the kids don't get bored of eating the same thing all the time, they continually find new ways to cook and eat the vegetables and fruits they've grown.
Emmanuel's story is similar. He says that seeds have been a great help to them. By growing and selling them, Emmanuel says he will be able to pay for his kids' school, and be able to continue feeding his family.
The seeds are an important step to self-reliance in Malawi. Families are looking into fertilizer and water pumps to help combat the dry seasons in East Africa and to grow the seeds year round. The agricultural industry in Malawi is a massive part of its economy, so access to seeds and equipment to grow plants and vegetables is essential to Malawi's economic growth, and improving the lives of the people living and working there. Making sure families in need have access to affordable seeds is crucial to ensuring the health and nutrition of families everywhere, and in an impoverished area like Malawi, that's especially important.
The COVID-19 pandemic has affected the world in a massive way, and it'll take all of us working together to return to a sense of normalcy. On behalf of Seed Programs International, thank you so much for your continued support this past year, and into 2021!
— The SPI Team