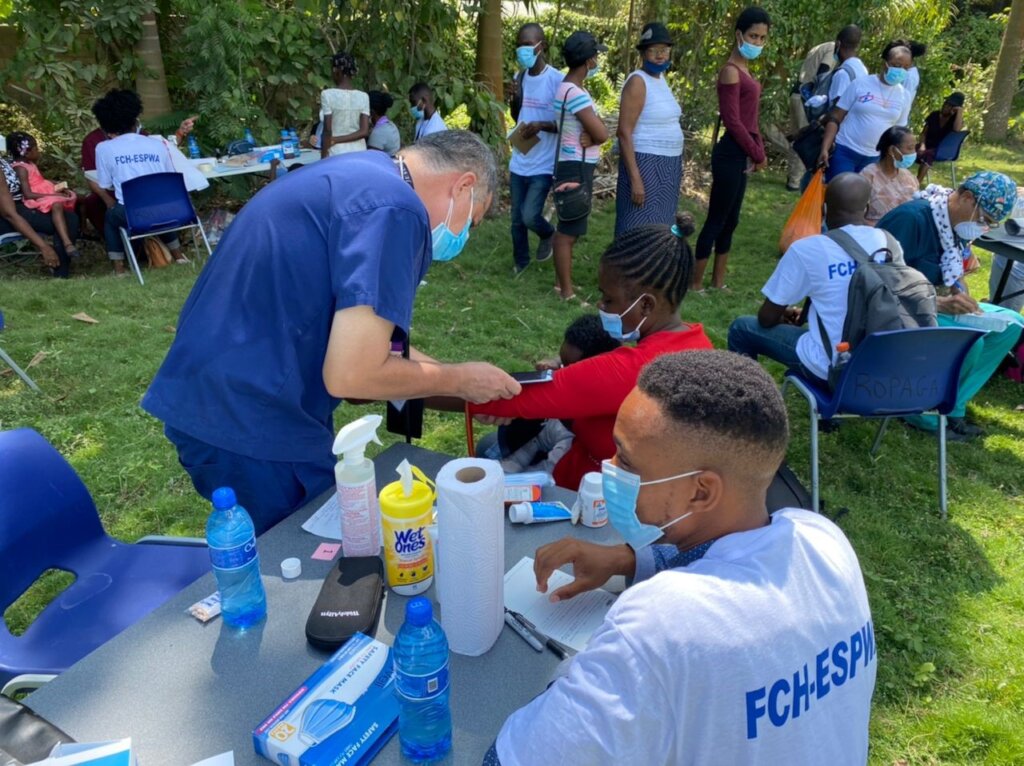 The August 2021 Haiti Earthquake did not just destroy the regions we serve; it broke our hearts!
We've done our best throughout our past eleven years of working for and with Haitian communities to help them meet their dreams and find pathways to making their modest dreams a reality. Hurricane Matthew had devastated the Grand Sud of Haiti in 2016. A region crucial for Haiti's food security and its environment. The region and the country had not quite recovered from Matthew when the earthquake hit. Haiti has had to face countless issues for the past few years (if not to say the past decades). It hurt. We responded, because it is our country, our communities and because we can never stop caring.
We want to thank you, our supporters and donors for coming through for us in our time of needs. We are also grateful for the hundreds of other institutional and individual donors who stepped up to the plate and offered their support and solidarity. A special note of deep and warm thanks to the team of GlobalGiving who offered us unrestricted grants that allowed us to move fast and be there for our communities at the onset. We are so grateful to all of you. You support has been priceless. We will never forget the ones who lent us a hand when this disaster struck us down and hurt our communities.
What have we done? A lot. It's hard to describe the type of energy that our network poured into our disaster relief and transition efforts.
We served more than 5,757 families or a minimum of 28,000 community members. As per is our practice, we focused on the most affected communities and the most impacted families of these communities. We worked with local authorities and local leaders to determine who needed the most help.
Communes helped: Jérémie, Roseaux, Marfranc, Corail and Pestel. Pestel for example had lost 95% of their housing to the earthquake (the rest of the homes being structurally damaged). They had no access to water. People were sleeping in the street in Beaumont. Thousands were hurt, dead. Too many had lost everything.
Jérémie
- Gébeau, mobile clinic: more than 600 patients
- Haute Voldrogue: 125 families received food and hygiene kits
- Haute Guinodée: 125 families received food and hygiene kids
- Fourcand, Centre-ville: 50 families received food and hygiene kits
- Knowing that there will be a next disaster, we organized a training in first aid to 82 community leaders
Roseaux
- Fon Kochon, Pousin, Bwa Sèk, Chaplèt: 150 families received food and sanitary kits
Marfranc
- Ravin a Chal: we distributed food and hygiene kits to 50 families
Corail
- Pat laj, Boukan nwèl, Champy: 155 families received food and hygiene kits
Pestel
- Kasavon Dezè, Madan dòm, Kasan, Nan Mizo: 205 families served with kits
- Kafou Zaboka (Twou Bwa), 85 families received food and hygiene kits
Beaumont
- St Martin, Terre Rouge, Bois Misket, nan Ginen: we distributed food and hygiene kits to 155 families
The kits included:
- Rice
- Beans
- Wheat flour and cornmeal
- Cooking oil
- Cans of salmon
- Spaghetti
- Sugar
- Soap
- Laundry soap
- Tampons
- Toothpaste
Other actions:
- Distribution of 37.000 gallons of water to Corail and Pestel.
- Gifts of medication and medical supplies to hospitals and health centers in the following localities: Corail, Pestel, Lopineau, Sassier, Léon, Prévilé, Latibolière, Grand-Vincent et l'Hôpital Ste-Antoine de Jérémie.
We worked with AMAR, a humanitarian group from Puerto Rico to serve more than 600 community members in remote communities. We hired a number of young people to support this initiative's logistics (translations and orientation of medical staff).
What are our next steps? Reconstruction. We held a regional meeting of community leaders on September 11 to figure out with them the communities' priorities. Our plan reflects and integrates these priorities. We are working on more from installation of water cisterns in Pestel to the reconstruction of a health center in Latiboliere.
Join us! Support us!
With a million thanks to all of you,
The Haiti Community Foundation Network (ESPWA and the Haiti Community Foundation) on behalf of the Haitian communities that we continue to serve.