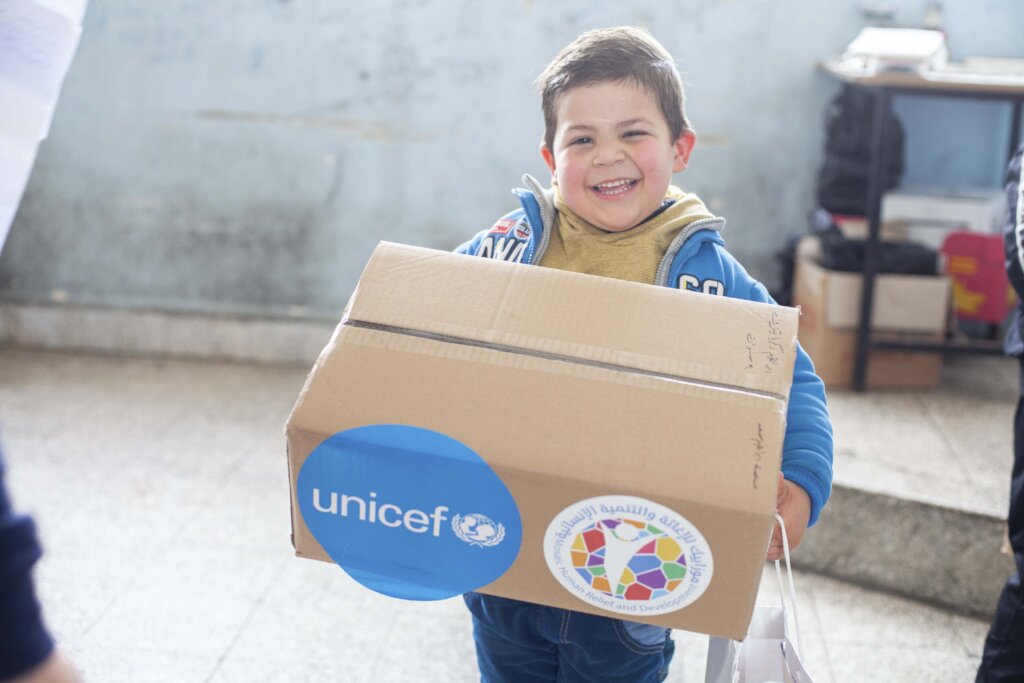 Dear Friend,
In the early morning of February 6, a 7.7 magnitudeearthquake struck while many children weresleeping,followed by a second 7.5 magnitudequake later in the day. The initial earthquake was themost powerful to hit the region in almost 100 yearsand came at the worst possible time for vulnerablechildren and families. Prior to the earthquake, Syria already had twothirds of its population requiringassistance due to a worsening economic crisis,localized hostilities, massdisplacement, acholera outbreak anddevastatedpublicinfrastructure. Theearthquake has immediatelydeepened that need.UNICEF teams are currently providing emergency support for communities across both sides of the Syria-Türkiye border. In Syria, UNICEF staff continue to expand on-going humanitarian assistance to children and families affected. In Türkiye, UNICEF is committed to complementing the Government's humanitarian response, working to reinforce life-saving support for vulnerable children, young people and their families.
With your timely and flexible contribution, UNICEF was able to support the immediate needs of children and communities affected by the earthquake. In the 100 days since the devastating earthquakes UNICEF has:
Helped 188,846 children and women access primary healthcare in UNICEF-supported facilities in Syria

Reached more than 250,600 children and their caregivers in Türkiye and more than 269,931 in Syria with

with

mental health and psychosocial support

Provided 140,286 children in Syria and more than 332,580 in Türkiye with formal and nonformal education opportunities, including early learning.

Supported 80,226 vulnerable people in Syria with humanitarian cash transfers

Helped 97,769 children in Syria receive micronutrient powder, and 120,166 primary caregivers of children (aged 0-23 months) receive

counselling on infant and young child feeding practices.

Reached more than 724,560 people with WASH interventions

in

Türkiye
Thank You! Withyour generous support, the children and families affected by the earthquakes in Syria and Türkiye have received critical support in devastating times.
In partnership,
Alia
*Photo caption: Ali, 8, displaced by the devastating earthquake, holds the box of clothes he received from UNICEF at Jaafar Nasef school-turned-collective-shelter in Lattakia governorate, Syria, on 30 March 2023.
In early April 2023, UNICEF with partners reached children, affected by the earthquakes and living in collective shelters, with 800 packages of clothing and other essential items in the Lattakia governorate. The packages included t-shirts, pants, shoes, pyjamas, and other clothing items as well as some toys.