Project Report

| Apr 18, 2023
Early Intervention for Children in Guatemala
By Sharon Riquiac / Mauricio Mogollon | Ocupational Therapist / Organizational development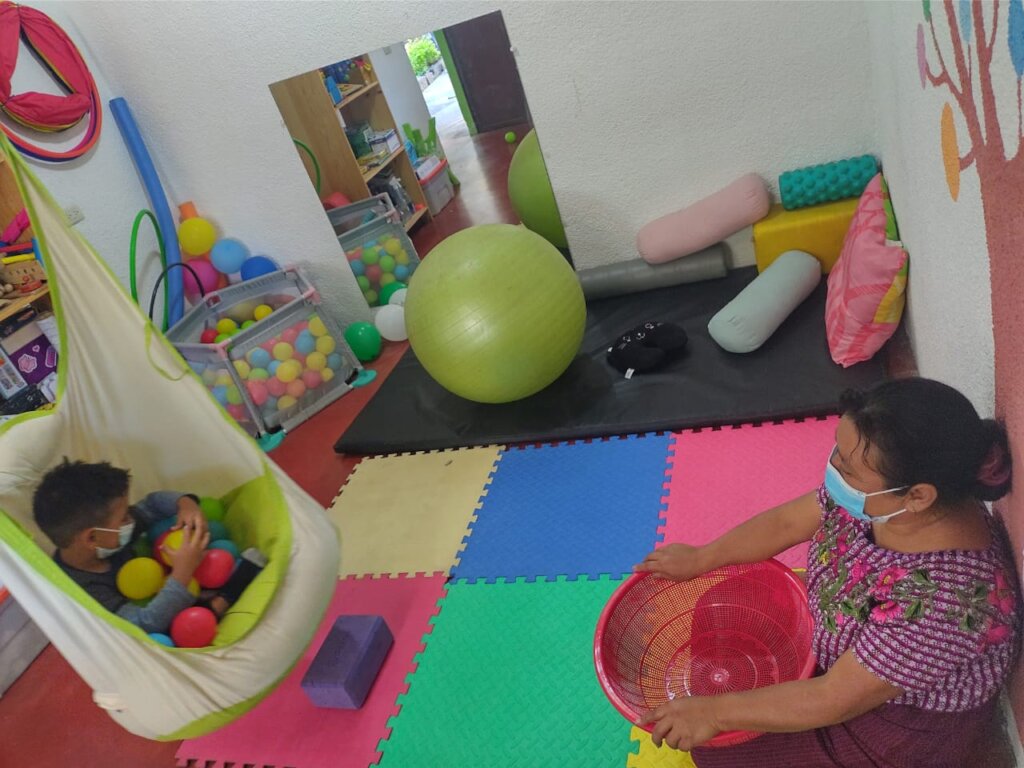 Thanks to you and your support we have the opportunity to start a new year in ADISA! A new year with new challenges and opportunities to continue our work with children in their communities.
We have started the year working, serving and following up to 34 children included last year in our Project. 8 new children had joined our activities during this first quarter. They were referred from other families and health center staff from communities. This makes us very happy and proud to be a center where people from community and government programs are referring children to be supported and included.
In this first quarter a total of 42 children are participating in our project, we have served 207 therapies, 42 initial evaluations and assessments and we have developed 42 working plans for children, each one on individual needs and objectives based.
This year as previous, together with children´s parents we have developed their individual plans in order to ensure parents responsibility and to ensure that they are involved in their children development. Parents have now a better understanding on regard their children progress, they are now with a commitment to implement activities in home and with family to improve children`s conditions.
First quarter is all the time a little complicated due to new schedules between all therapy services and we have to ensure all children are included in their needed services and therapies.
We are very excited to see that some children participating un our project are now enrolled in their community school; parents are now more involved in their children therapies and they are sending photos and videos from their activities implemented in their homes.
ALEJANDRO LIFE STORY
Alejandro is 2 years old boy, he has 2 brothers, 7 and 10 years old. Alejandro´s mom is very responsible with his plan and therapies and in other ADISA`s activities like parents' school, mental health and others. Alejandro´s family is living in extreme poverty conditions, despite of their daily challenges they are involved and supporting Alejandro with his therapies, medical follow up supported by ADISA.
Alejandro´s mom had a very complicated pregnancy; she knew about her pregnancy at fourth month due to fainting in the community street. With a lot of complications Alejandro was born in the community health center, he didn´t cry when he born, her mom was very concerned. Since baby, Alejandro was very little, his mom saw a different type of conduct and activities as regular babies. Alejandro was crying just a few times during the day not as his brothers, he wasn't moving at all and he could stay at bed during a lot time. All this situation caused alarm and concern with all family. The family went to a hospital when Alejandro was 6 months old, the hospital referred him to ADISA to evaluations and therapies due to delay in his development.
When Alejandro visited ADISA he was referred to physiotherapy and early stimulation program. During his evaluation and developing plan we identified multiple autism spectrum traits, he didn´t see people to their eyes, he wasn´t looking for sounds and showing any interest for toys or movements. His mom was explaining us that Alejandro didn´t cry, laugh or making sound she didn´t know if Alejandro was hungry or uncomfortable because he didn't express any emotion.
The first though from family was that Alejandro was deaf and blind child, he was all the time watching at same point spending hours just like that. When he was 1 year old, he was referred with a neurologist for his evaluation, we performed a hearing and visual screenings and other evaluations, as result, there wasn´t any disturbance. When he was evaluated for autism the result was that Alejandro was showing all traits of the spectrum, but due to his little age a certain diagnosis was impossible. The neurologist gave a lot of recommendations to implement into their therapy plan and at home.
All those recommendations were implemented in his therapy plan as by his mom at home, we are using a few techniques to stimulate his motor reflexes and all his senses.
Now, Alejandro is 2 years old, he can stand by himself, he is crying when something is bothering him or if he is hungry, he can identify his family members and now he is comfortable out of home, (mom`s work, ADISA, grandma home), he is working with some textures, sounds and others, he is now saying "no" and "mamá" he is interested in some toys like balls and other with lights and sounds. He is laughing with his favorite toy and when his playing at the balloons pool. His mom is very happy and thankful for all the support serve to Alejandro, she thought she would never see her son smile or try to walk and is excited to continue with the therapies at ADISA