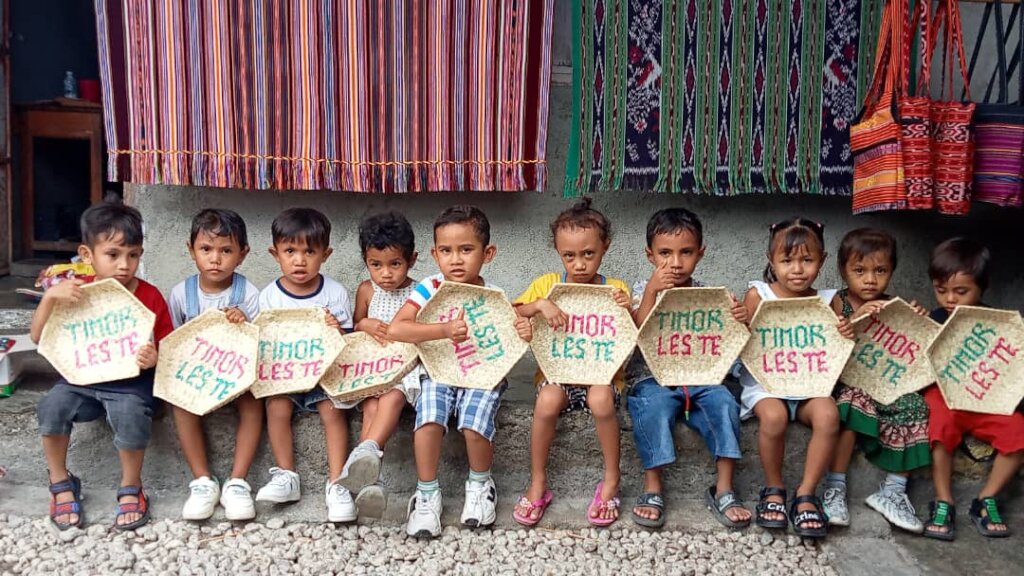 Now we have three classes operating; Sprouts class is for children aged 2-4 and our Explorer class (transition to school) is for children aged 5-6.
One class in the morning and two classes in the afternoon.
We currently employ, 6 teachers and 1 cleaner/cook.
In this term, we welcomed our new and existing families and children and settled back into our preschool routines. This term Our focus is on teaching and learning to recognize and regulate their own emotions. We are enforcing a positive attitude toward learning such as persistence, engagement, and curiosity.
Language:
This term we encourage children to learn different languages from each country where the child from, we are learning about the greetings and songs such as (English, Portuguese, Cambodia, Tetun, France, Germany, Bahasa Indonesia, and Vietnam)
We also introduce our mat time in the Portuguese language once a week. Children start to learn about greeting, the human body, memory games and singing different songs.
Cooking Programme:
We also cooperated with parents, Mrs Akiko and Mrs Manae in this term. Mrs Akiko is one of our old student's moms from Japan. We worked together with them and teach our children of making the Japanese traditional food called "SUSHI" This project helped our children to enrich their knowledge, and most of our children enjoyed and practised a lot making sushi. The main point of this project is to help our children to know the different identities around the world, as our first term topic is about culture and identity.
Mathematical and Science:
Children are naturally curious and begin to explore the world around them. They are naturally born scientists, investigating, questioning, exploring and experimenting. This term we have stimulated our children's thinking and involving ideas and understanding, of how the world works, through all the different experiments. We have been focused on hands-on experiments such as volcano eruption, slimes, magic colours, travelling water and bubbles. We are looking forward to having the new experiments in the next term.
Early mathematical learning is a gradual process of moving from concrete to abstract understanding. We believe mathematical learning comes alive when it's grounded in our children's interests, abilities, proposes, and cultural understanding. This term we are focused on numeracy, patterns, measuring, sorting, counting, grouping, and shapes. We encourage our children to think mathematically, through estimating, connecting, problem-solving, and playing with abilities.
Physical Movement Programme (PMP)
Skateboard
this year we added our new physical movement activity called "skateboarding" Our children had been practising balancing themself on the skate. Most of our children already know how to ride skates. We are looking forward to working together with our professional player Maun Jino to help our children to learn new skills such as turning the skate and another style of the playing the skate.
Physical Movement Programme
We also have been, practising a lot of, our physical movement program with our PMP teacher Pedro. Every Monday, we have learnt a lot of gross motor skills, coordination, concentration, eye tracking skills, team working, and self-balancing throughout the different games, such as the musical chair, soccer, running race, balloon race, parachute, Duck-Duck-Goose, Brain Gym, Circus dance, Yoga and etc.
Place-Based Education (P.B.E) Exploring our Community.
Excursion
On Wednesday 16th and Thursday 17th of February, 2023 we had our excursion to the Tais Market in Colmera. During the visited the children were all naturally curious to find out about the various kinds of traditional costume and equipment, which is on display and for sale at the Market. Salenda (scarf), Belak and Morten (necklace), Xapeu (hat), Pasta (bag), Babadok (drum), Surik (sword) Kaebauk (Crown).
This experience strengthens our learner's identity and reinforces a sense of
belonging and pride in their local environment. Today children were fully immersed
in learning more about the culture of Timor-Leste, by exploring the Tais
Market. This experience links into our curriculum of place-based learning and our topic for this term is learning about the different "Cultures" in our classroom and therefore building a stronger "Identity".
We believe in connecting the classroom to communities and learning through being
involved. Immersing children into a richly diverse world gives children a strong
sense of their identity through community and their place in it.
Transition to School Programme (5-year-olds)
Our teaching and learning programme follows the Jolly Phonics Programme. We have been using this programme for over 5 years consistently and it delivers good solid results, as all our children learn to read and write before starting primary school. This consists of children learning the alphabet letter sounds and actions, through singing and moving. This term our children have been learning to practice the first 12 alphabet sounds s, a, t, i, p, n, c, k, e, and h. We have been practising a lot of games and reading rainbow sight words.
Teacher's professional day
Planning and preparation for term 1.
Planning lessons prepared, classroom set up and decoration.
Teacher capacity building will be held on the 3rd – 5th of April 2023.
The topic of capacity building will be:
Good learning story writing refresher.
Play-based learning refresher.
Positive behaviour reinforcements
Written Children Learning Stories
Our teachers have been practising for two years + to write children Learning Stories! This year our teachers have improved their writing skills. We noticed a big developmental shift in their computer skills, and ability to think about the new learning that teachers noticed, recognized, responded to and recorded.
Mota (teacher) has increased her written ability in English and computer skills. She also has done great observation, notice, recognised, responded to and recorded the new learning and help children to gain more new learning skills.