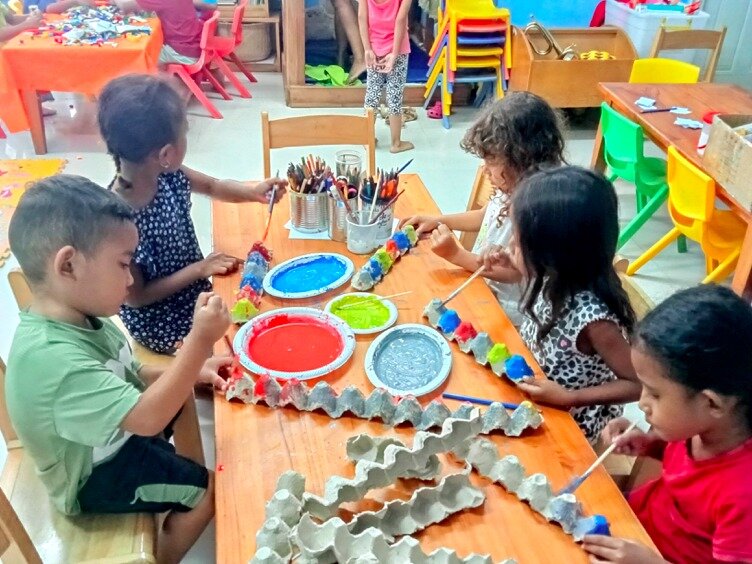 Currently, Ba Futuru's preschool has 42 children. There are 9 children who are full-time students and s6 children are from Ba Futuru's neighbourhoods in Seroja communities. In this term, we have 5 children who are new so we welcomed our new families and children and settled back into our preschool routines. Our new children have been exploring our fun and educational environment with curiosity and are beginning to develop a sense of well-being and belonging in their new surroundings. Our children have been exploring outside learning with many different play areas.
Reinforcements of positive behaviours in the classroom. We delivered a comprehensive programme on how children can practice their positive behaviours with their teachers and peers. Children learnt about emotions through being able to label emotions and self-regulate in appropriate ways. We revisited our good friend programme, which reminds children how to play like a good friend. Ba Futuru Preschool Attributes. We have 10 attributes that nurture skills, knowledge, positive attitudes, dispositions and behaviours.
This term, our teaching and learning programme has been focusing on 3 attributes are; Guardian of the earth, Creativity, and Teamwork. I believe our children have a good understanding of these attributes as children are able to nominate their peers who they see doing things in these three areas. We have been practising once every week taking care of our garden and picking up the rubbish around our Ba Futuru environment.
Transition to School Programme (5-year-olds)
Our teaching and learning programme follows the Jolly Phonics Programme. We have been using this programme for over 5 years consistently and it delivers good solid results, as all our children learn to read and write before starting primary school. This consists of children learning the alphabet letter sounds and actions, through singing and moving. This term our children have been learning by practising our jolly phonics Group 3-4 there are 18 alphabet sounds such as Group 3: g, o,u, l, f, b. Group 4: ai, j, oa, ie, ee, or. Moreover, we have been practising forming the letters correctly on the air, black and white board, then on paper and creating the craft relatedly to each letter. On other hand, Children also practice their reading skills through learning of sounding out each letters sounds and also early reading books for 5 minutes each day, one on one with a teacher.
Montessori and Play-Based Learning Maths Programme
We continue to explore different ways of learning maths. Our children are all at different levels of maths learning, therefore we cater lesson plans to the individual's skill level. Currently, we are focusing on one-to-one correspondence, measurements, shapes, colours, addition, substruction and classification. Children enjoy learning our fun math games inside the classroom and outside the classroom.
Place-Based Education (P.B.E) Exploring our Community.
Place-based learning engages children in our community, including our physical environment, local culture, history, or people. With place-based learning, children get to see the results of their work in their community.
What's happening in our larger Dili community? These experiences enrich our children, through gaining knowledge about the place where they live. We use these experiences as a foundation for learning more about language, art, maths, science, and other subjects across the curriculum.
This term our excursion took us to the fire station which is very closed to our preschool. We are invited every year and it has become an annual excursion.
Our children get the opportunity every year to experience it. The children were very excited to try on the firefighters' helmets and boots. The firefighters explained why it's important to have the correct uniform and fire gear to keep them safe from being burned. They gave us a tour of their fire truck, pointing out the different things, water hose, water tank and ladders. Then we had the opportunity to hold the big firefighters' hose and to spray the water, like a real firefighter! Having a career as a Firefighter and helping the community is one of our children's aspirations when they grow up! Needless to say, they were extremely happy to participate in this trip.
Teachers' Professional Training
We had a half-day refresher session on our child protection programme, it's about Keeping safe. We focused on what we want to nurture in our children through teaching skills, knowledge, positive attitudes, dispositions and behaviour on how to respond to harm and look for assistance.
The teachers have had a refresher course with Mrs, Nadia and Mr Helio from Ba Futuru staff about the psychosocial Mental Health Support for Children who have Experience Traumatic events. Our teacher learning a lot of strategies and methods how to respond to those children.