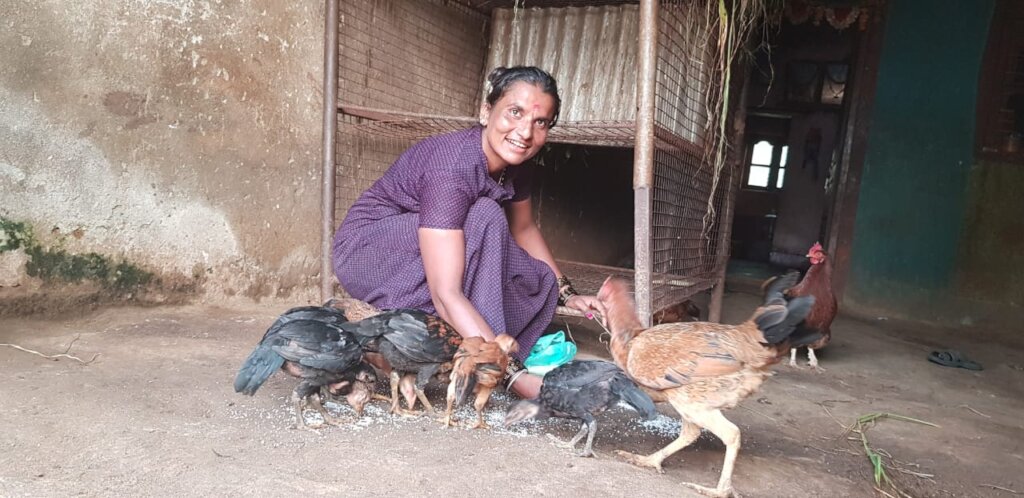 Dear donors,
Greetings from Bangalore Baptist Hospital.
"There's a continuous flow of customers to my griding mill now, and so is my income," says a smiling and relieved Hanumantha. "My mill is regularly open now. Previously I would often fall sick due to diabetes and close my mill. I visited many hospitals; spent time and money, but my sugar level was always high. After I began my treatment with you, I feel better, and my sugar level has become normal now. Now with your e-mobile clinic in our village, it's even more convenient. I don't have to travel to see a doctor; I can see the doctor and talk to her on mobile. This is great," says an excited Hanumantha.
"Life was difficult during the second wave of COVID," whispered Leelamma, gazing at the ground. "We were terrified as to where could we go if there's an emergency. "Not many people came here to help us, and we have felt forgotten," she added. "But you have come. Thank you. Now, I am a regular visitor to the e-mobile clinic, and I can talk and clear all my doubts with the doctor. We are saving time and money. You are distributing my medicines at my doorstep," she gratefully tells our healthcare worker during an e-consultation.
Thank you. Because of you, all of this — and much more — is possible. Thank you so much for being committed to building a healthier environment for rural villages.
e-mobile clinics
With the spread of COVID, people are still hesitant to seek treatment from hospitals, and our e-mobile clinics, held in their villages, are seen as welcoming facilities.
To ensure the patients receive proper treatment at the e-clinics, we have trained our healthcare workers to perform BP measurements, test GRBs tests. Depending on the readings, they connect patients to the doctors. Doctors prescribe the medicines, and our healthcare workers distribute the medicines. Our e-mobile clinics work well for chronic diseases and act as an effective triaging system for hospital referrals.
During June, July and August, through our e-mobile clinics, we treated 790 patients primarily for various ailments.
Mother Teresa Hospital in the village
Patients who are referred from e-mobile clinics visit Mother Teresa Hospital, where the doctors are physically available. 14-year-old Siri and her father experienced a severe toothache, and they found no relief from medicines bought over the counter in their village. Smiling after many days, they say, "We are so relieved. My daughter and I could not eat for days, and neither could we travel to the city to a hospital. We are happy that we came across you." A friendly atmosphere and close connection with the doctors and nurses make the community christen Mother Teresa Hospital "Our Hospital."
We treated 2161 patients at Mother Teresa Hospital for various diseases.
Concessional support to poor patients
From e-mobile clinics to Mother Teresa Hospital, patients who need emergency treatment, surgery are referred to our main hospital. Most of them are poor and cannot afford the treatment which they essentially need. Assessing their ability to pay, we offer a concession. Sometimes, the entire bill is written-off.
49-year-old Ravi, a vegetable vendor who experienced severe pain from varicose, was referred from our Mother Teresa Hospital. Ravi is recovering after a few days at the hospital. Ravi came without any family members with unbearable pain. One of our team members helps him with all the hospital procedures, for he cannot walk and is an alien in a vast hospital. For someone who earns only US$4-5 a day, or there are times he does not earn even a dollar, and to a family which is no stranger to poverty, a hospital bill of US$ 350 would have been an impossible one to pay. If not for the concession, the poor such as Ravi would rather suffer and not get the treatment. We did waive off a considerable amount of his bill.
Then there's this 24-year-old Prema, who has been diabetic from the age of 12 years. She dreamt of becoming a lab technician, but prolonged diabetes blighted her dreams. Always listless, she remained at home, needing her mother to take care of her. Her father, working hard as a farmer could barely feed this family. During COVID, her younger brother too lost his job. Now and then, she is in and out of our hospital. "We have no more tears to shed; you are the only saviour for us," the parents tell our healthcare worker whenever he visits them. With a concession in the hospital bill, Prema is recovering i is still looking forward to sparkle in her life.
Our care, treatment and the concession we offer is something that gives a touch of hope—a feeling of being loved and noticed.
Mental Health
With the emergence of COVID, one of the critical areas needing attention is mental health. Loss of lives, depression, livelihood robbed, and school closure–all bundled have created a new-found challenge.
To help the community cope with such challenges, a team of physiatrists and phycologists travel to our camp in one of the villages, treating new and existing patients. With regular home visits, we track their progress, and they or any family member can call us for any emergency.
On a recent prison visit to provide a general health check-up, many prisoners and the authorities showed keen interest in counselling, anger management strategies and instilling peace. We are in the process of arranging further visits to the prison. Meanwhile, we have offered to run a dental check-up for the prisoners at our Mother Teresa Hospital. It looks that they have never had a dental check-up.
Sujatha is one among the many people we have counselled, treated, provided medication and brought in a change in her life. Married to a person with alcoholic habits, Sujatha was depressed over many incidents. Even after her husband turned sober, she suffered from anxiety, suicidal ideation and a sudden burst of anger. Sujatha would sit the whole day without speaking to anyone.
Though she is still under our treatment, we were surprised to see her active and running behind her hens and goats, merrymaking on our recent visit.
Along with Sujatha, we are joyful, too, for we see a different Sujatha now.
We are encouraged by your continued support; it gives meaning to what we do. Some of you have been our long-term donors. Thank you for believing in us and our cause. We'd be grateful if you shared this report with your family and friends who, like you, would be keen to support the poor who face several challenges in seeking healthcare.
Gratefully,
Carolin George