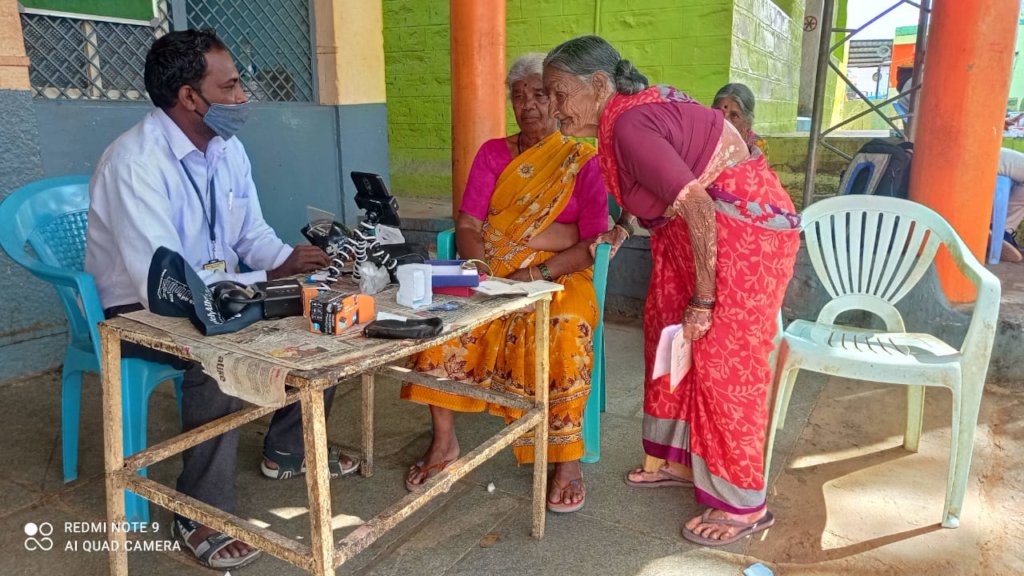 Dear donors,
Thank you for sprucing our efforts to innovate healthcare for the rural community, especially during the second wave of COVID-19. Alongside the effects of COVID, the community must find ways to protect themselves from further complications of diabetes and hypertension.
For the past few years, you have continually supported our Smile on Wheels project that took healthcare to the doorstep of the poor. With the arrival of COVID, the spread of the infection, lockdowns, and social distancing mushroomed, compelling us to halt the Smile on Wheels. However, people with complications of diabetes and hypertension were left without regular testing and medications which could lead to further complications. Therefore, we had to interchange the Smile on Wheels with e-consultations in the rural villages and urban slums.
It is sad to think that someone in a village or urban slums may not know that their diabetes and hypertension are at dangerous levels. It could be the sweet and loveable 70-year old widow like Nanchamma or a familied person struggling to provide for his family—like Muniraju.
"My medicines dried up; I was not sure if my diabetes and blood pressure were normal or way above," said Nanchamma when our healthcare worker Krishnamurthy met her in her house. Nanchamma's sullen face and disturbed mind were injected with fear and anxiety. "I haven't seen your doctor's face for the past two months," she said. Krishnamurthy told her about our e-consultation, and she could attend when we hold it next in her village. She shook her head in affirmation, though she clearly had doubts about his assurance.
Nanchamma arrived for the e-consultation. She sat among the cluster of the other community members who had gathered. When the phone rang, she couldn't believe her eyes. She sprang from her chair, pranced towards the mobile and greeted the doctor. "I cannot believe it. Now I can talk to you?" she asked the doctor. She spoke endlessly about her dizziness, pain, loneliness, and healthcare dearth during COVD-19.
After the first e-consultation and the medicines in hand, she already had more pep in her step. Although quiet and timid upon arrival, she left the hospital a spunky soul who was always smiling and giggling, anticipating freshness in her life.
45-year-old Muniraju's blood pressure and diabetes increased to a high level during COVID. But since he had a cold, no nearby clinics or hospitals were ready to treat him. An agriculturist, he was worried about not being able to work in his field. "I didn't know where we would get our next meal," he said. Nandish, our healthcare worker, advised him to join the e-consultation. Not only did we treat him for his diabetes and blood pressure, Nandish regularly checked on his temperature and oxygen level, even though he tested negative. Muniraju is excited about returning to his field, and the entire family is relieved that healthcare through e-consultation was at their doorstep. They have buried their bag of worries and are working their way to lead healthy and pleasant life.
With your support, we conducted 779 e-consultations from March to May 2021. Our e-consultations are swelling the joy of the community, flooding relief and dotting their life with a puddle of resources to lead a healthy life.
Your prayers and support are greatly appreciated through this trying time so that we can continue to care for those who so desperately need hope and healing.
With gratitude,
Carolin George
Head – Community Health Division