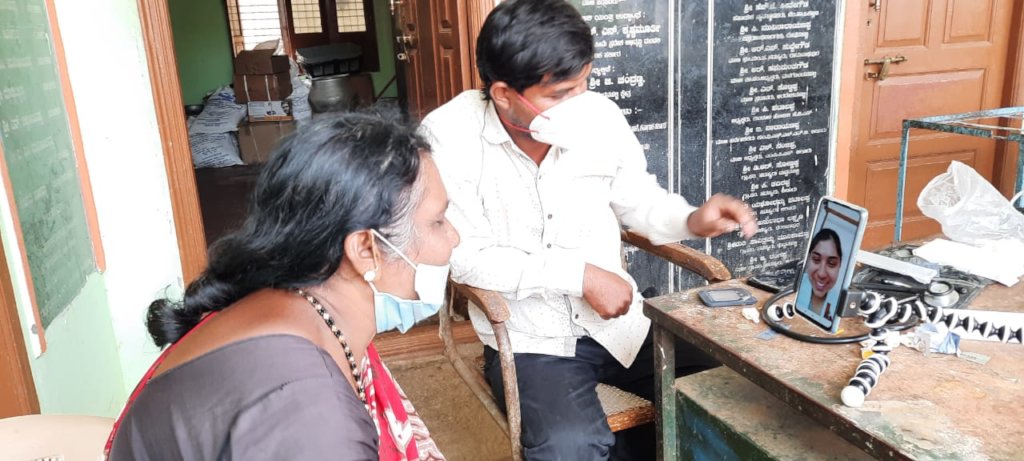 Dear donors,
Thank you for your continued support. Amidst all the chaos created by COVID, your love and care spread many miles and touched lives.
E-mobile clinics
In rural areas of Bangalore, there's no such thing as a quick trip to the doctor. That's a luxury most cannot afford, and distance to a healthcare centre is another barrier. COVID has made it even more difficult.
Before the spread of COVID-19, our Smile on Wheels, along with a team of doctors and nurses travelled to villages to provide preventive medical services. However, after COVOD-19, we feared that if a team of doctors and nurses travel from the hospital, it would risk the community. Therefore, to ensure the community stays safe from COVID and also continue to provide basic healthcare, we began our e-consultations. In the case of any emergency or complications that we cannot solve over e-consultations, our team would travel to the villages, or we will bring the patients to our hospital.
We conduct e-mobile clinics monthly in each village. Our healthcare workers visit each village, identifying people who have ailments or the community leaders connect people who need our support. For those with diabetes and blood pressure, our healthcare workers take the reading and connect them to our doctors. Similarly, for any other ailments too, they can get connected through our e-consultations. Thus, the community save money, time and travel cost involved in reaching any healthcare centres or hospitals.
So, you brought the doctors to them through 601 e-consultation, making it possible for people to receive medical care, for the past three months along with the necessary medicines at a concessional rate.
A fresh start to life
40-year old Manjunath from a rural village in Bangalore can't stop thanking the "kampooter doctor sir" (an online doctor) for asking him about his health, prescribing the right medicine and also checking on his diet, which brought down his blood pressure and diabetes.
"I need a monthly check-up and you visiting our village and connecting me to a doctor is like magic. And now we can see and talk to the doctor," he says with an amused smile, to our healthcare worker, Madhu.
With assured healthcare at his doorstep, Manjunath works confidently in his field, yielding happiness, good health, and a bountiful harvest.
Thank you for helping us hold e-consultations in the villages.
Living with hope
"Life is difficult," whispered the 84-year old Narasamma, gazing at the ground. Raja, our healthcare worker, had to lean forward to hear her feeble voice. "I wasn't expecting anyone to come and help me. Seeing you makes me live with hope," says the teary-eyed Narasamma.
"Narasamma is a widow, living alone. She recently lost her only son. Her struggles mirror her weathered skin, wrinkles and puffed eyes. You gave Narasamma hope through our e-consultation. She need not travel ten kilometres to reach a healthcare centre. Instead, she speaks to our doctors from her home, clears all her doubts, and the pharmacist present during the e-consultation in villages immediately distributes the medicines.
Raja's visits rejoice her heart, and Narasamma lives with hope.
Together, we have reached many exciting milestones in the past. Could we kindly ask you to continue and share work with your family and friends who may be keen to support? Thank you for your support and for being there for us and helping us carry out this amazing work and transform lives.
With gratitude,
Dr Carolin George