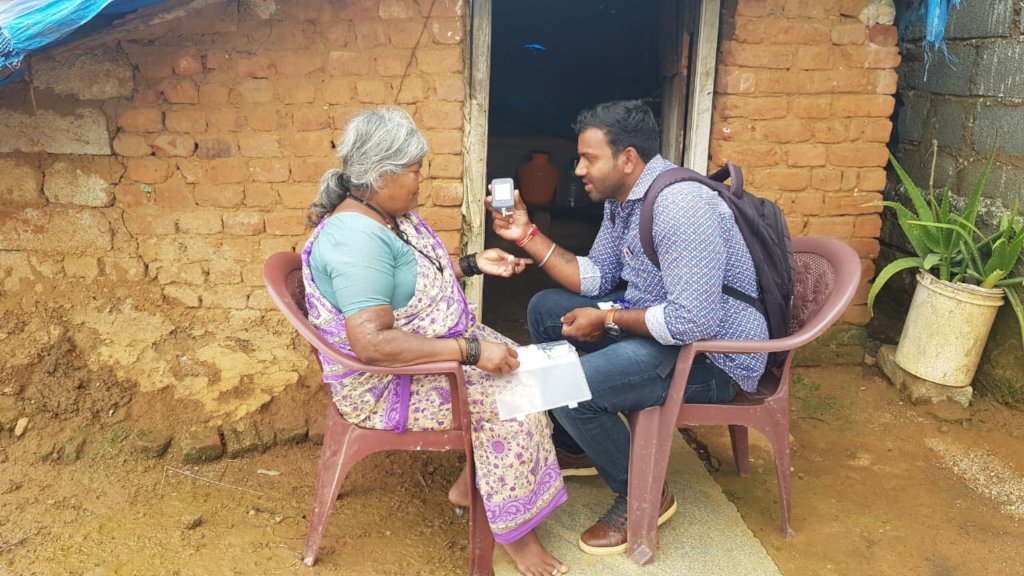 Dear donors,
Greetings from Bangalore Baptist Hospital Society.
Everything we do at Bangalore Baptist Hospital is fueled by the belief that taking healthcare to the doorstep is possible —and it is possible, because of supporters like you.
Thank you for being with us and you make a difference.
60-year old Narasamma (above) struggles every day to get basic healthcare from where she lives—a small village called Bannimangala, around 40 km from Bangalore city.
When our community health worker, Nandish first spotted Narasamma, she looked tired. "I feel so sick. I can't do any work," she complained. He checked her blood pressure and it was way too high and so was her blood sugar. It was clear Narasamma needed help fast.
Our mobile clinic reached just in time.
Narasamma hardly had any idea about her tiredness, giddiness, excessive thirst and frequent hunger. "Everything looked so foggy. I can't even make out who's standing next to me," she complained to our mobile clinic doctor. "For so many years, Narasamma has lived with hypertension and diabetes. She has cataract in both her eyes and could barely see," Dr Bindhya, who treated her, tells us.
Dr. Bindhya's first step was to bring down Narasamma's blood pressure and diabetes. With the support of our healthcare worker, who visited her often, it was easy to treat her. People such as Narasamma needs awareness, motivation and support, and our healthcare workers ensure such facility.. Hailing from the same villages, their rapport is cordial and so is the trust and confidence.
"She does need surgery to remove her cataract in both her eyes. Let's wait till her high blood pressure and diabetes are under control," says Dr. Bindhya.
Narasamma is getting better and back to doing her household work, even though she does her cooking by guessing and touching the provisions. When Dr Bindhya asked her, how do you manage your household work, she said, "I guess - by touching.... this is rice, this is dhal, and then I cook. " There's a big smile on her face, even in the midst of such chaos around her.
And that's where you come into Narasamma's story. Our healthcare worker spotting her on time, Dr Bindhya treating her and our planned cataract surgery - such avenues are possible because you support this lifesaving work. Thank you for helping us to take our mobile clinic to the doorstep of the poor.
From August to October 2019, we provided primary care to 2886 people in our mobile clinics; monitored sugar level (GRBS) for 911 people; treated 432 patients for diabetes and performed 60 cataract surgeries at our hospital.
We hope you'd continue to support us in our drive to take healthcare to the doorstep of the poor. Please share this report with your friends and relatives who may find it a blessing to help persons such as Narasamma to have the cataract surgery.
With gratitude,

Carolin George