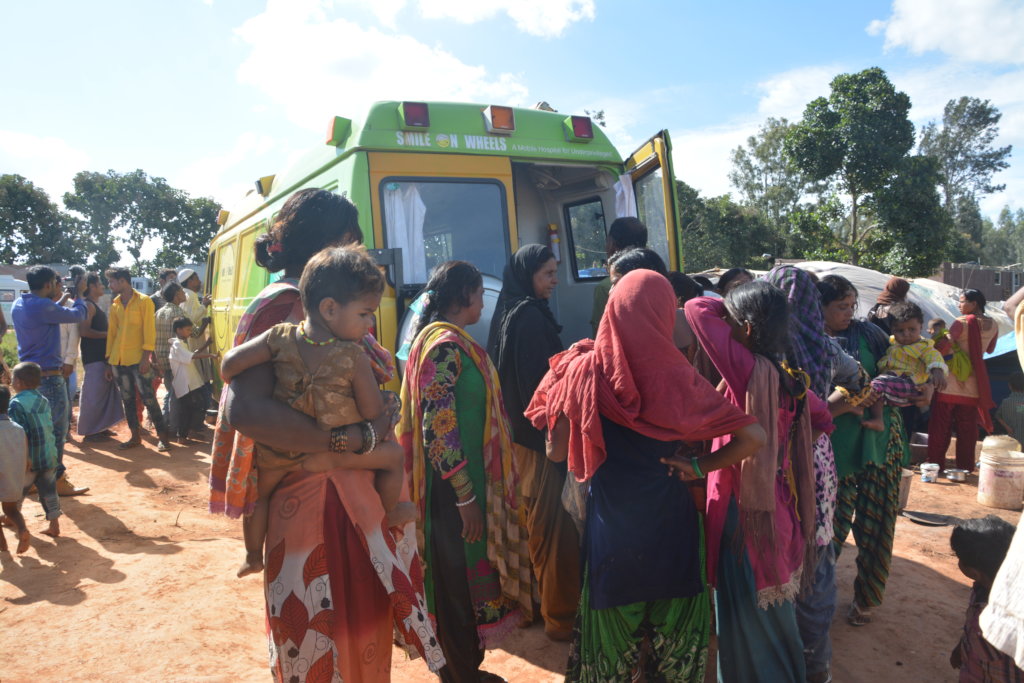 Dear donors,
Greetings from Bangalore Baptist Hospital Society!
Thank you for the trust and confidence you have in our work. Together, we did make a difference!
The basic medical services which should be the right of the poor are either not available or easily accessible to them or they are unable to afford what is available," says Dr Leeberk, who heads the outreach services, underlining the critical need for primary healthcare to reach their doorstep. He adds, "You should see the smile and relief on these people's faces when they receive the treatment."
While most people come to our mobile clinics seeking medical care, we are aware of many others who come just for the love, comfort and reassurance, which they receive aplenty. Because of your steadfast support, I am happy to report that 2899 persons visited our mobile clinics during the period October to December 2017. Thank you for being part of this important mission!
Through your support, we were able to check blood sugar levels for 1152 persons.
Non-communicable diseases (NCDs) like diabetes accounts for six out of ten deaths in India.

"Not too sure why – however, I do get tired often and feel dizzy," said the 70-year old Shivalingappa from Thammanahalli village in Devanahalli Taluk, Bangalore Rural, during one of our house visits. Our healthcare worker advised him to visit our mobile clinic.
"His blood sugar and pressure was way too high when he reported to our mobile clinic at his village. We quickly did an ECG and started him on treatment. Shivalingappa is a rejuvenated man now! He visits our mobile clinic regularly for his check-up and medication. "I feel good after meeting the doctors in the van. They listen to me patiently".
On a recent visit, he said, "I'm not able to see properly. Please check my eyes." We referred him to our hospital for a cataract surgery. Shivalingappa can see clearly now and is able to work in his agricultural field as well.
"I see the beauty of my wife better now," chuckles Shivalingappa.
Without your support, Shivalingappa wouldn't be enjoying such good health. It's amazing that simple, direct solutions have the immense impact on the lives of the poor such as Shivalingappa.
Thanks to you, we were able to conduct 51 cataract surgeries.
To the poor, healthcare at their doorstep is a true life changer. Unlike many others who burnt a hole in their pockets or agonise over their visits to a crowded hospital, you have helped them get comprehensive counselling and primary healthcare without all that stress.
Gift of a vision
Flashing a toothless smile, Ashwathya says, "I can hear well now and I don't feel so tired anymore. In just one visit to the van clinic to my village, I got a solution to all my problems. The doctors at the clinic give us so much time and patiently explain in a language that we understand. We feel so blessed." The 72-year old Ashwathya from Bannimangala, Devanahalli Taluk, is all smiles after he experiences better hearing after a long time.
We treated Ashwathya for a high level of blood sugar and pressure. He is on medication now and is also regular in his visits to the clinic.
During a friendly chat with the doctors, he shared his difficulty in hearing. The doctors then referred him to the District Disability Centre where Shivalingappa received a free hearing aid.
"I enjoy talking to my wife now, which I missed previously," says Ashwathya to our healthcare worker, with a twinkle in his eyes.
Through your donations, we treated 907 diabetes patients and helped them regulate their diabetes.
We do have challenges; travelling long distances, working in environments with limited lighting and ventilation and in hot and humid conditions day in and day out can zap your energy. But its the smile we see on the patients that give us the satisfaction that keeps us going. You have made this possible through your donation. Thank you!
I hope this report demonstrates the impact your support has on the poor. We look to you for your continued support so that we can offer affordable and accessible healthcare at their doorstep.
With gratitude,
Gift Norman