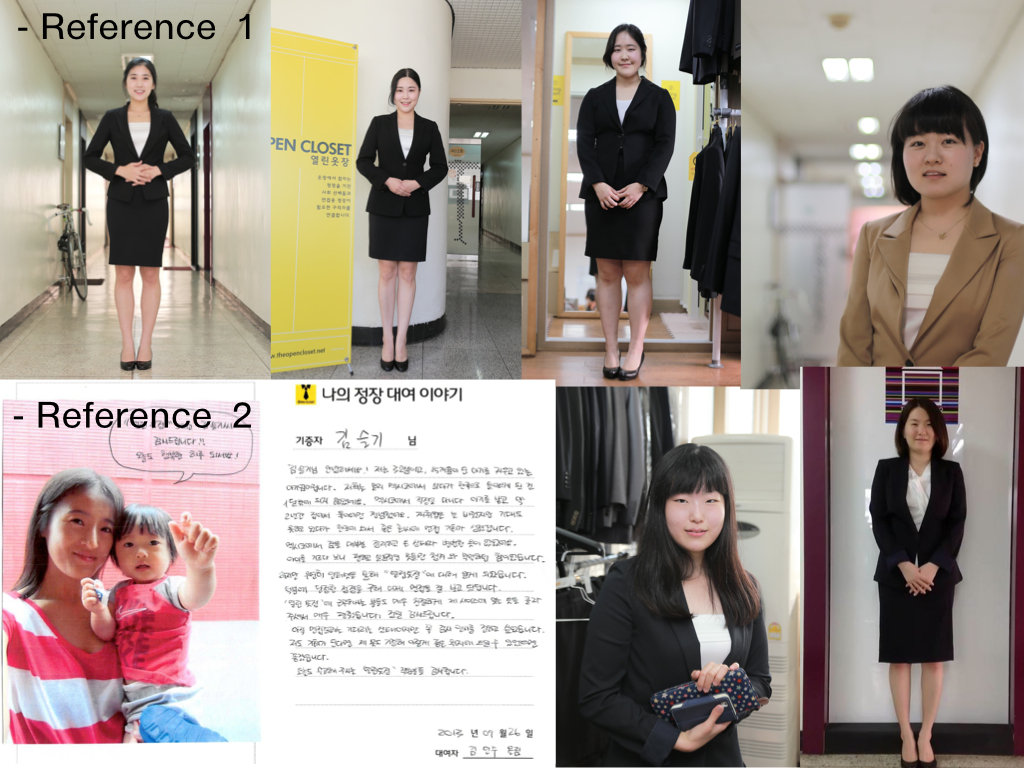 Non-profit organization Open Closet rents donated suits to young jobseekers at a minimum cost. All jobseekers can be the beneficiaries of our service, but we prepared a project for unemployed women in Korea this time. In the male-dominated society of South Korea, Korean women must overcome sexual discrimination when they find jobs. Cosmetics company Bobbi Brown Korea collaborated with us for helping them.
Our project has been approved to be on GlobalGiving on March 9. Since the registration, 12 donors have contributed 1,375 dollars. We are a young female job seekers at a lower cost to rent a suit. and We rent a suit for a career break women.
1989 young jobseekers used our sharing service from July 11 to November 11(up to the present). Among these, 582 people succeeded in getting jobs. 1,375 dollars we received are yet not used. It will used for female late-jobseekers, who are finding jobs late for their age, by consulting and making programs to restore their confidence.
Thank you very much for your helps and considerations.
Sincerely,
Manil Han
Project Leader
- Reference 1. Mrs. kim is writes Rental message.
Mrs. Seul-gi Kim(Donator) Hello! I am 32 years old and took care of 15 months old baby. We lived far away in Mexico was brought into Korea of one month 's been out .
Father of the baby dangle a job in Mexico for almost two years, was at home, focus on parenting . I want Re-employment but i have no expectations. but I have a chance to interview laid in good company to come to Korea. But I was clean In Mexico. So I had no clothes . I raised a child to usual . So I only had a comfortable and practical clothes . I was worried about .
But I accidentally "open closet " knowed through a internet. So I rend a tidy suit . And I have been looking good for an interview yesterday . The staff are very friendly, open closet to pick out clothes that fit my size was on . So I very much come in handy . I really appreciate it.
Interview results are still waiting . But just wanted to convey gratitude . If the opportunity presents itself , I will donate my clothes . I hope this can be used to good purpose . I sincerely thank .
- Reference 2. The picture above is the actual state of women lenders at open closet' office
- Reference 3. The URL address is gathered a rent message(in Korean). http://www.flickr.com/photos/99951911@N04