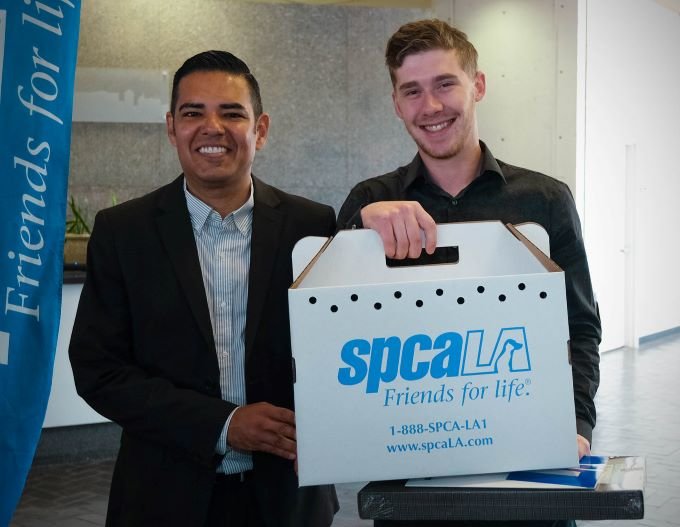 Recently, the City of Long Beach gathered to hear about the city's accomplishments over the past year, during the State of the City address by Long Beach Mayor Robert Garcia.
So many of the positive, laudable achievements in animal welfare in the Long Beach community are because of the support of people like you, as well as the amazing work of spcaLA and city staff and volunteers - thank you!
In the late 1990s, forward-thinking Long Beach Mayor, Beverly O'Neill, and a like-minded council recognized the need for a new approach to animal welfare. At the time, the city was impounding over 14,000 animals a year and had outgrown their Willow Street shelter. The city asked spcaLA - a charity, not a government agency or bureau - for help.
Because of people like you, we helped! spcaLA fundraised an excess of $6 million for initial construction and opened Phase I of the spcaLA P.D. Pitchford Companion Animal Village & Education Center in 2001.
Your support helped spcaLA find homes for over 40,000 Long Beach animals since the Village opened. And today, the animal impound rate for the city of Long Beach is down to 5,195! These amazing numbers can be accredited to our aggressive adoption programs, robust humane education initiatives, as well as building - and expanding - the Village.
Thank you,
Madeline Bernstein
President, spcaLA
Stay in step with animal welfare issues, read my blog or order my book.
Village Milestones
2001: Together with the City of Long Beach leaders, spcaLA brought forward Southern California's first public-private partnership in animal welfare: the PD Pitchford Companion Animal Village and Education Center situated on 6.5 acres in Long Beach's El Dorado Park. Now often duplicated, the Village fully integrates spcaLA, Long Beach Animal Care Services (LBACS), and all major program functions into one complex. It revolutionized the way shelters are designed and managed, setting a replicable benchmark in cost-effective, life-preserving care for abandoned and abused animals.
2004: spcaLA begins offering Friends for Life Camp, a summer day camp for youth who wish to participate in animal-related games and activities while learning about helping shelter pets. Additionally, spcaLA offers violence prevention and humane education initiatives like Pet Care Patch Workshops and Teaching Love & Compassion (TLC) at the Village.
2006: spcaLA partners with 95.5 KLOS to host the first Pet Adoption Day - an annual adoption festival drawing crowds from all over Southern California. Celebrating the 15th annual Pet Adoption Day in June 2020, the event has helped over 4,000 shelter pets find new families.
2007: spcaLA opens Phase II of the Village. spcaLA fundraised for and built catteries for stray and feral cats in the care of LBACS. The catteries help to make the transition to adoptions less stressful for the cats. Additionally, phase two boasts an expanded spcaLA Marketplace and the spcaLA Pet Hotel and Grooming Salon.
2009: spcaLA launches the inaugural Air Chihuahua™ flight. Air Chihuahua matches Southern California's overwhelming supply of Chihuahuas and other small dogs with the demand for them in other parts of North America, thus putting "puppy mills" out of business for lack of clients. The first flyers leave from Long Beach.
2011: spcaLA launches an offshoot of our award-winning TLC program: spcaLA Court Diversion Program for Youth, an animal-assisted intervention program specifically made for justice system-involved youth referred by the Los Angeles County District Attorney's office and other juvenile justice professionals. The first sessions are piloted in Long Beach.
2017: spcaLA launches an educationbased component of Animal Safety Net (ASN) in order to expand its reach and deepen its impact within domestic violence (DV) support services. ASN Youth and Families offers animal-assisted programming for DV-affected families, in partnership with local domestic violence agencies. Further, for the first time since the program's inception in 1998, spcaLA offers ASN to humane organizations, prosecuting attorneys, and domestic violence professionals as a free, downloadable manual. The first ASN Youth & Families Program is piloted in Long Beach.