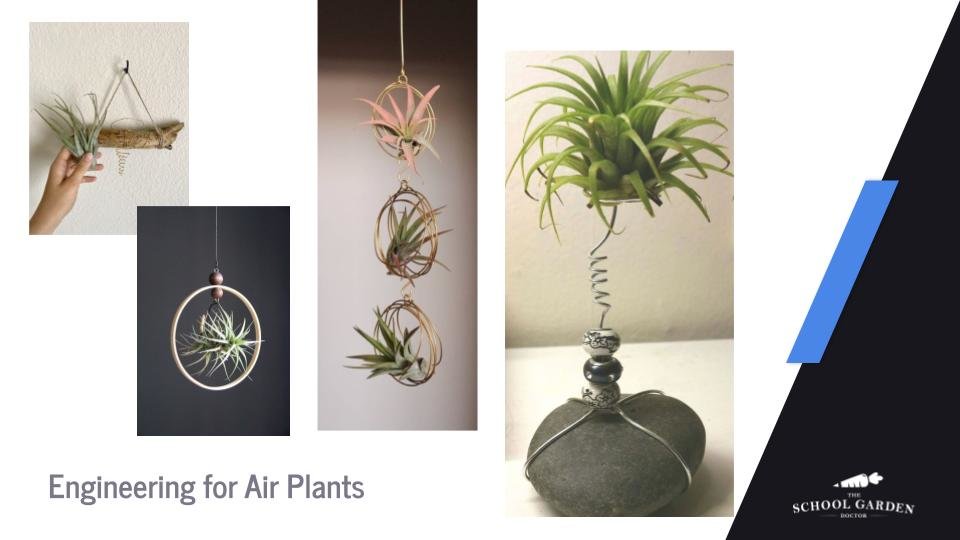 To date, one dozen eager girls have participated in Dirt Girls Grow Indoors, the "pandemic proof" version of the popular after school garden club that has been growing resilience since 2016.
During February, each participant received a mail-order box containing a pair of air plants. During virtual sessions, we engaged in discussion and activities to learn how to care for our air plants, and ourselves. One parent reported, Caroline had such a good time and she loves her air plants!
Each weekly lesson includes science learning, social connection, and mindfulness practice. For example, the first week introduced how to create a structure for displaying an air plant using everyday materials. We talked about three reasons scientists think plants are good for us and practiced "triangle breathing."
February's focus includes:
Lesson 1: Engineering for Epiphytes
Lesson 2: Identifying Air Plants
Lesson 3: Teaching about Tillandsias
In March, the program will move on to "Stress-Busting Succulents'' in which we will explore the resilient features of drought tolerant echeverias, haworthias, and sedums. To prepare for the March program, Dirt Girls will receive custom "grow indoors'' kits complete with potting oil, a set of mini-tools, terra cotta pots, a water bottle, and other fun items to foster their love of indoor gardening. All materials are provided FREE thanks to your generosity!
In April, we'll explore "Fitness with Ferns" by observing graceful movement and mindful motivations. The final growing cycle in May will engage participants in a "terrarium challenge" to design an appealing and thoughtful display that enlivens an indoor space while creating the right growing conditions for a range of plants.
I look forward to sharing more pictures and stories in June!
With Dirt Girl Gratitude for your ongoing support,
Carrie
Links: