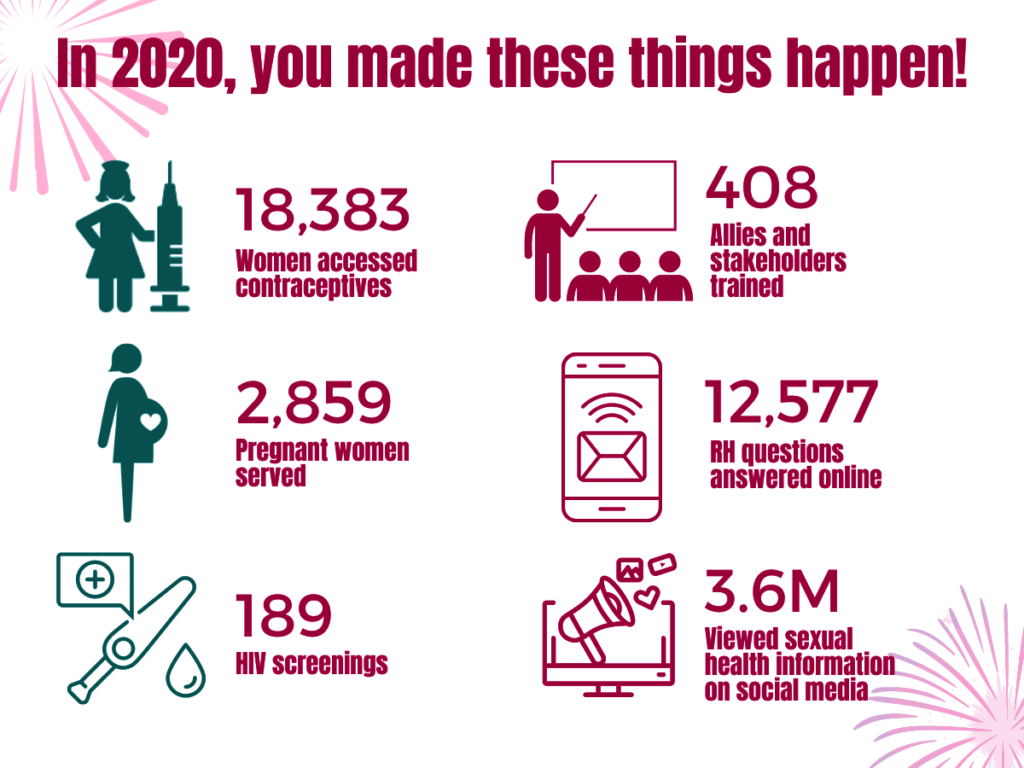 While 2021 has had a bit of a bumpy start, we were definitely glad to put 2020 behind us. Despite all the challenges that 2020 brought, we are delighted to report on everything you helped us accomplish.
COVID-19 created so many challenges to the work we do. But because the pandemic put more women and young people's lives at risk, we knew we needed to make sure we could keep providing life-saving essential services, education and stakeholder trainings.
Thanks to your support we managed to continue providing all this in 2020, and more. Here's a quick recap of what we couldn't have done without you!
SERVICES
With our programs and services, many women and young people were still able to access birth control, despite restrictions on their movements. Our clinical staff traveled to remote areas for women and girls who could not make it to our clinics. As soon as we were allowed to reopen our clinics after our lockdown closure, we installed safety measures and put an appointment system in place, in order to minimize COVID-19 risks to our clients and clinical staff. During the latter part of the year, pregnant women were again able to access prenatal care, as we resumed providing this service in our main clinic.
In 2020, you helped our organization:
Provide nearly 18,383 women and girls with their contraceptive of choice, ensuring that they do not have an unplanned pregnancy;
Support over 75 pregnant women and girls; and
Provide nearly 2,859 prenatal checkups and free prenatal vitamins:
Screen 189 clients for HIV;
EDUCATION AND TRAINING
Many young people still have a lot to learn about sexual health. Before COVID-19, we traveled to different schools all over Palawan, including far far-flung islands and remote municipalities. We taught classes about puberty, pregnancy, sexually transmitted infections and other sexual health concerns.
Since Philippine schools have been closed since March 2020, we've been unable to conduct in-person education sessions for large groups. We've gone online with information sharing and consultations, so women and young people can still access information on pregnancy, contraceptives, HIV and other sexual health issues.
We converted existing materials into bite-sized social media posts that are easily readable and comprehensible for online audiences. Through different Facebook groups for various stakeholders, such as parents, young people, health workers, and teachers, we were able to deliver information on sexual and reproductive health to the people who needed them.
In 2020, we were able to:
Reach a total of 3.6 million social media users with information on reproductive health
Deliver information to 1,713 people in Facebook groups
Answer 12,577 questions about reproductive health received on our clinic pages
SYSTEMS STRENGTHENING
We continued to support our government counterparts with the creation of local legislation that supports reproductive health services and education. Despite the mobility restrictions due to COVID-19, health centers did not have to worry about contraceptive stockouts, thanks to the logistical support we provided, especially when lockdowns began.
We contributed personal protective equipment for health care workers in Puerto Princesa. Frontliners and persons under quarantine for COVID-19 were also given free contraceptives and HIV screening.
Large gatherings were not allowed, so we had to scale down our training sessions with different stakeholders and trained them in much smaller groups instead. In 2020, we trained a total of 408 reproductive health allies, including youth council members, community health workers, service providers, nurses and midwives. We focused the sessions on how to make their services more youth-friendly, and how to continue providing reproductive health services during the pandemic.
Despite all the uncertainties and crises we faced in 2020, your support made this all possible. Thank you for continuing to believe in us.
We are excited to continue our important, life-saving work to make 2021 safer for more Filipino women and young people.
Thank you again for being our partners in improving lives and creating beautiful futures.