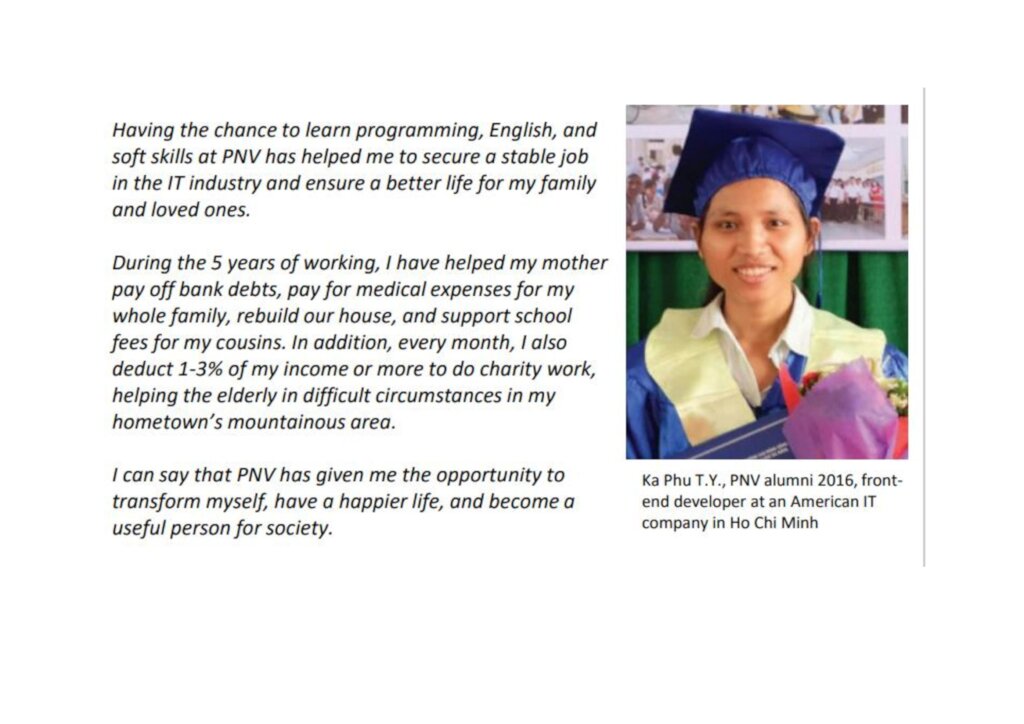 Our mission is to unlock the potential of underprivileged youth by empowering them with innovative education in key digital and soft employability skills. We work with our partners to effectively break the cycle of poverty for youth and their families as well as increasing equal access for girls in education.
The young people we train are virtually guaranteed to get a qualified job with a salary that will provide them with decent living conditions for the rest of their lives.
Based on the PNV Alumni Survey 2022, 99% of our 390 alumni have found qualified jobs after graduation with an average salary of ~$755 per month – which is 4 times higher than the minimum wage in Danang. This benefit reaches far beyond our graduates themselves; they reported spending ~31% of their total income to support their family and community.
In 2021, PNV has been honored to receive 2 certificates of merit from the People's Committee of Da Nang city and the Service Center for Da Nang Foreign Affairs – Da Nang's Department of Foreign Affairs for the contributions over the past 11 years to bring over the development of the underprivileged community.
Our model ensures lifetime employability, which allows our beneficiaries a sustainable exit from poverty. And thanks to a butterfly effect, we also help the families of our students (improvement of living conditions, access to education for younger brothers and sisters, etc.).
Thus 1 student supported by Passerelles numériques means at least 5 people helped.
Your support directly changesthe life of young woman and their families – THANK YOU!
-----------------------------------------------
How our program works:
Training and education program
Passerelles numériques Vietnam currently collaborates with Danang Vocational Training Collecge on curriculum design and training delivery. At graduation, students receive a college degree, recognized by the Vietnamese Ministry of Labor, Invalids and Social Affairs, as well as a certificate diploma from Passerelles numériques.
Our holistic program aims to endow students with the hard and soft skills necessary to become future IT experts. This coupled with a college degree ensures they are able to obtain stable, qualified, and well-respected jobs, bringing them another step closer to ending the cycle of poverty for themselves and their families.
A solid technical and practical 3-year training in Software Development & Testing
We train our students to be well-rounded, developing all the skills they need to become experts at the best IT companies. To this end, PN strongly supports learning by doing, which is why all of our IT topics include at least 50% lab-practice time.
Our program includes:
Focus on Java development using up-to-date platforms for both web & mobile, as well as PHP development via practice and project implementation.
Learning based on practice and projects throughout, to better build fundamental technical skills.
Specialization Module: selected by each student in the third year of the program. These modules are taught directly by IT companies' experts in their fields to help bridge the gap between our program and companies' needs. Current specializations offered are: Automation Testing, Web Design, and Mobile Programming.
A general training in professional skills
Passerelles numériques Vietnam also provides additional curriculum to enhance graduates' employability. Designed to match local company needs, it focuses on IT practice via practical projects, English language, professional and soft skills (logical thinking, autonomy, initiative, etc.).
The full curricula include:
50% IT theory & practice
25% English
25% Soft skills
Two internships
English occupies a central place in PN training approach. With the target of TOEIC 500+, PNV is aiming for students to be able to listen and read with ease. An intense focus is made on communicative English with classes stressing on pronunciation and speaking throughout the whole curriculum. English is considered as an essential tool: PNV trains students to have adequate IT vocabulary and the confidence to use it in front of any foreigners.
Soft Skills are a life-long learning to help students work effectively in companies while using organizational tools (Google-suite, Coggle, Trello) with ease. Four modules – Learning to Learn, Job Application, Professionalism and Thinking & Mindset – are built to make sure the students can maximize their employability after graduation.
Students have the opportunity to put into practice their skills during two internship periods:
Second year: 2 months to identify a working environment
Third year: 5 months to put into practice their IT skills and soft skills, as well as join real projects as a first step to the professional world.
Social and educational development
To prepare these young people to become mature and independent adults, we developed a personal development curriculum which revolves around PN's values: Trust, Responsibility, Solidarity, Respect, and a Demanding approach.
As part of this program, students live together in dormitories, located near PN Vietnam, where they learn how to become autonomous and responsible adults. They are in charge of managing a budget with which they buy food, pay for the water and electricity bills, organize cleaning and cooking shifts, solve group issues and take care of each other.
In order for our students to focus on their intense studies, PNV covers their needs and expenses including:
Training expenses: University tuition fees, extra classes, technical equipment, etc.
Living expenses: accommodation in dormitories, furniture and equipment, food, transportation (students receive a bicycle and a helmet each), medical care and health insurance, etc