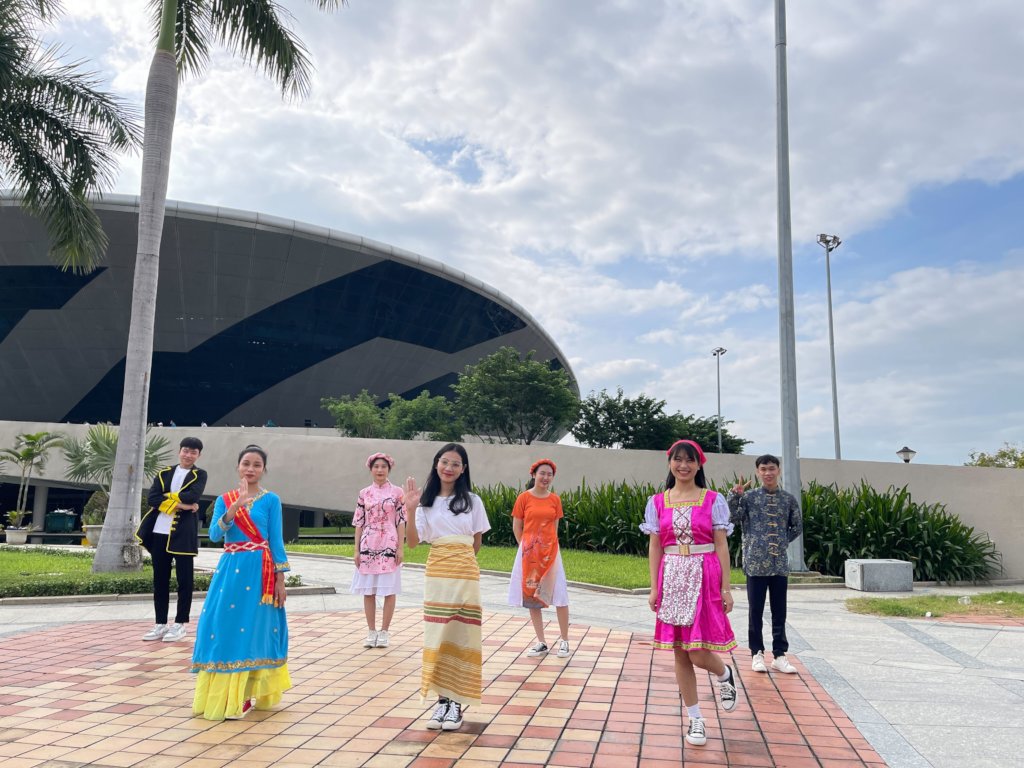 Passerelles numeriques (PN) provides vocational training in the IT field blended with soft skills training to underprivileged students from Southeast Asia. We ensure that our students are composed of at least 50% girls to promote gender equality.

PN's programs are gender-sensitive by design, addressing the problem in two ways:
Embedding gender equity in every component of our TVET program: student selection, soft and hard skills training, career orientation, and job placement

Forging collaborations with local networks of partners to further promote and support gender equity (educational institutions, corporations, alumni) ensuring systemic change takes place.
STATISTICS OF WOMEN IN PN'S PROGRAM
(As of October 2021)
Currently 203 girls out of 374 students (54%) are enrolled in our programs.
Philippines: 83 girls out of the 143 students

Vietnam: 45 girls out of the 131 students

Cambodia: 77 girls out of 147 students
In 2021, 117 girls (59%) are expected to graduate and enter the labour market.
Philippines: 93 girls from Class 2020A, Class 2020B and Class 2021 are expected to finish the 2.5 year training by December 2021

Vietnam: 24 girls from Class 2021 are expected to graduate in October 2021

Cambodia: 39 girls of class 2021 are expected to graduate in May 2022 (no expected graduation in 2021 due to some delays caused by pandemic)
STATUS UPDATES OF PN STUDENTS IN EVERY CENTER
(Composed of at least 50% women)
Passerelles numériques Philippines (PNP)
At PNP, 31 covid-positive cases have been reported among our students in August. To date, there are no more active cases. Cebu City has been under GCQ (General Community Quarantine) since September.
Regarding the training of the students:
Class 2021: the students are completing their internships and their Capstone project until December 2021.
Class 2022:

the students are completing their specialization course.

Class 2023

: integration of class 2023 (70 signed contracts, 25 male, 45 female). After following a pre training from June 21 to August 13, the students enrolled at USC, and they started class on August 23.

Class 2024:

the selection process for the next batch is at its first stage.
Passerelles numériques Vietnam (PNV)
Da Nang is locked down in different levels (red: high risk, orange: medium risk, green: low risk). Students have been studying remotely and 30% of staff is allowed to go to the office as long as they are not in red area.
Regarding the training of the students:
Class 2021:

The students presented their graduation project online on June 11. The ceremony will take place on November 6.

Class 2022:

The students are finishing their 2months online internship.

Class 2023:

The students started semester 3.

Class 2024:

The selection process for the nextbatch is ongoing. After the written test and motivation interview steps, the selection trips for social investigation have been postponed due to the covid situation.
Additionally, in March 2021, PNV conducted an online survey to measure our 10-year social impact (2010-2020) on disadvantaged female graduates and their families. There were 153/200 female graduates participating in the survey and the final result reported that:
93% of survey respondents have a stable job in which 73% are working in the IT sector. Their average salary is USD631 per month which is almost twice as high as the regional minimum salary, allowing them to escape poverty in a sustainable way.

86% of female graduates from PNV give an average of over 34% of their salaries back to their families, often enabling their siblings to continue education and support the community in times of the pandemic.

Almost 90% of female graduates acknowledge that the PNV project gave them an access to quality education and enabled them to obtain stable income jobs that they could not have achieved without PNV.

More than 70% of them have been giving back to PNV in various ways, such as: skills sharing, recruiting assistance, beneficiaries' selection support and direct financial contributions.
Passerelles numériques Cambodia (PNC)
In September, several were tested positive for covid. The PNC center is used as a quarantine area for the closed contacts to these students. The local authority decided to close downthe center for a period of 21days.
Regarding the training of the students:
Class 2020:

had their final state exam in July. All 66 students passed their exam.

Class 2021:

began the third module in March. It will end in December and internship will start in January 2022.

Class 2022

: started their 2nd year. They completed module 1 at the end of August. They selected their specialization and started module 2.

Class 2023

: The selection process for class 2023 is ongoing. After receiving 1526 applications, motivation interviews have been conducted online since the 4th week of July. Entrance exam and social investigation are still pending (depending on COVID situation and Ministry of Education decision to reopen high schools).
Moreover, last October 20, PNC organized a workshop on ''The roles of women in the digital economy'' for all PNC students with a guest speaker, Natalja Rodionova from Sistersofcode.
Below is a testimony from a student at PNV:
I am Nguyen, currently a 2nd-year student at PNV – Passerelles numériques Vietnam.
As a Bru, an ethnic minority, I was born and raised in a mountainous village in Dakrong, Quang Tri, where the stories of students dropping out are no longer unexpected. Facing their families' financial suffering, students relinquish their unfinished textbook pages to take up work, in hopes of alleviating the weight that expenses place on their families. Some girls choose to marry, abandoning higher education without knowing that it is a vicious cycle of inescapable hardship. I thought I was set to live a similar life. All three of my siblings are going to school, and both education and daily expenses were too stressful for my parents. Both of my parents are farmers. Their diligent labor could only get us by day to day, so higher education was out of my league.
I planned to move to Da Nang or Ho Chi Minh City after my high school graduation, to look for work or marriage, so that I could be responsible for my own life and relieve my parents' financial worries. PNV, however, was there at my high school to recruit when I was in 12th grade. When I heard that 100% of the tuition and living expenses would be cared for upon admission, I was thrilled.

When I first entered PNV, even the foundation lessons could stress me out. My studying was challenging because my IT knowledge was at 0. Every test, no matter how insignificant, could worry me. At my worst, when we had our first project in making a game on web scratch, I felt like I reached my abyss, of fear, of self-doubt. All my determination and faith were drained. The thought of giving up even crossed my mind. Fortunately, the words of encouragement and the support from my friends at PN put me back on my feet, and I am forever grateful for that. They make me believe that if other people can do it, there is no reason that I cannot. I wanted to dash forward believing that I could. I wanted to conquer the prejudice that girls could not study IT, that females could not study as well as males.
After a year at PNV, though I was not the best, though I was not all-knowing, I have cultivated confidence, the kind of absolute belief in myself. I now feel comfortable about computers instead of feeling out of place like back in my first days. I can now type faster and finish basic Python and Java exercises. A significant leap in my studying is my English ability. From a student that could only manage "Hello, how are you?", I can now converse with others in English and comprehend the language. Now, I can set clear goals for myself. Compared to my past self, whose concerns revolve around working a minimum wage job then marrying, my current self strives to graduate from PNV to secure a stable job. This is not only for myself but also for paying for my siblings' higher education and for alleviating the stress on my parents.
To me, PNV has been a wonderful opportunity that I am glad I did not miss. PNV has also been a turning point in my life, where I grew from timid to confident, from clueless to finding my path forward.
Links: